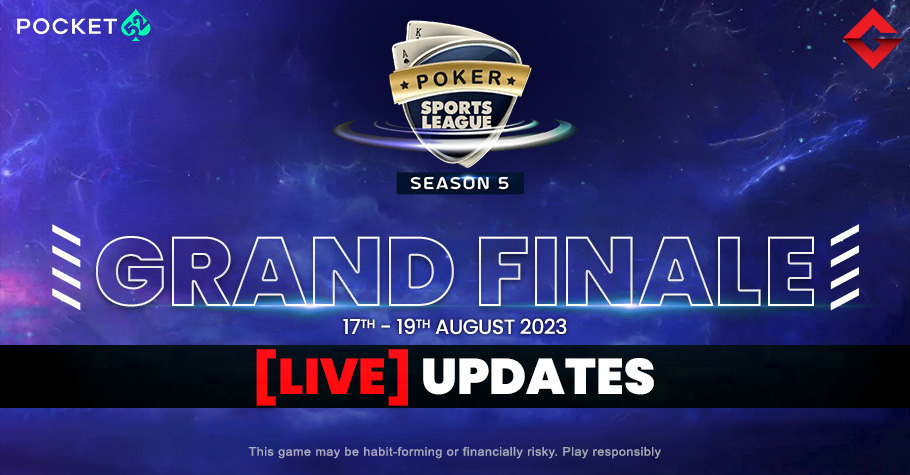 Poker
---
Pocket52 PSL Season 5: Grand Finale Live Updates
Player of the Series announced
Sahil Mahboobani from Delhi Czars took home the Player of the Series title for his impeccable play. He received 40 points in the series, with Shashank Jain coming second with 33 points. 
 

 

View this post on Instagram

 
---
12:15 AM: Mumbai Anchors Are PSL Season 5 Champions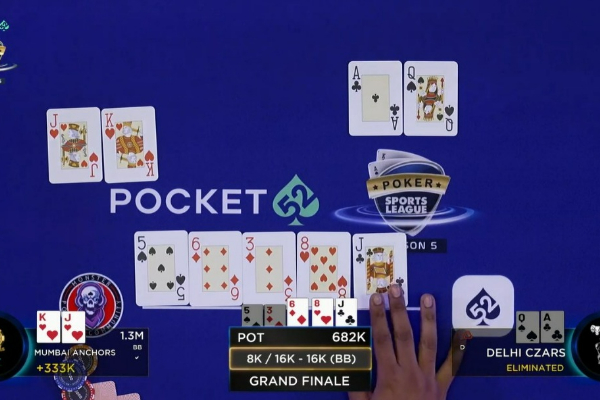 The PSL Seaon 5 wrapped up with Mumbai Anchors being crowned as the champions. In the final hand of the heads-up, both teams were all-in with Delhi Czars again looking to double up, but sadly that never happened as the Mumbai team won the hand and with that the coveted title.
Mumbai Anchors had KJs and Delhi team had AQo. After Mumbai Anchors snap called their rival team's all-in, there was a huge uproar in their respective rails. The dealer fanned out a board of 5 ♠ 6 ♦ 3 ♦ 8 ❤ J ♣. The river card sealed the deal for Mumbai Anchors' win in Pocket52's Poker Sports League Season 5. 
---
11:30 PM: Delhi Czars Bag A Crucial Double Up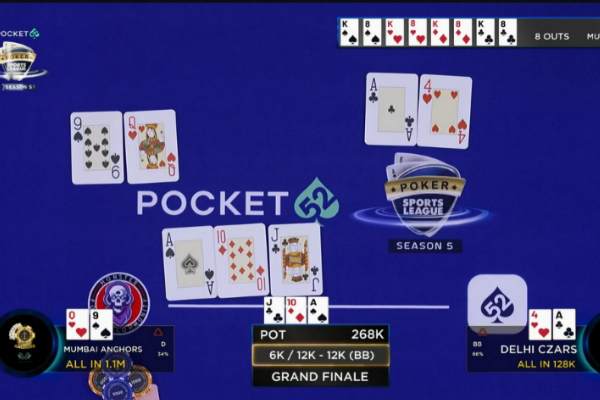 It was make or break for Delhi Czars when they let go of their King in a hand prior and Mumbai Anchors scooped the pot. This time the Delhi Czars went all-in with A4o and their rivals called with Q9o. The moment was raining hell on both the teams and the dealer was set to reveal the cards. The board ran out J ♣ T ♦ A ♠ 4 ♣ T ❤ . This gave the short stacked team their much needed double up.
---
10:45 PM: Goan Nuts Out In Third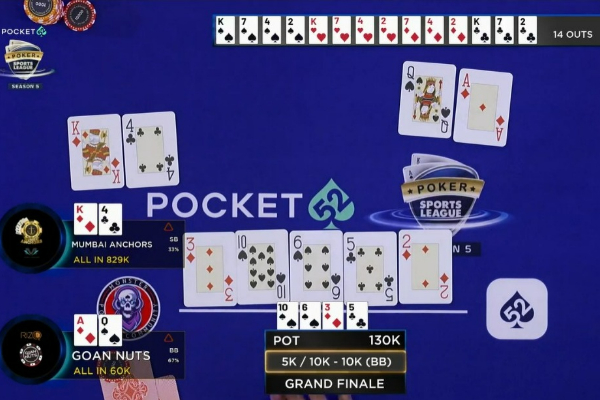 Sadly for Goan Nuts it was game over when their AQo did not hold ground against Mumbai Anchors' K4o. Both teams were all-in and it was a nerve-wracking moment for everyone around. The community cards fell as 3d Ts 6s 5c 2d. Mumbai Anchors were euphoric when that Duece showed up on the river. Not surprising, when the commentators called it a 25 Lakh worth Duece. Heads-up is set between Delhi Czars and Mumbai Anchors. 
---
8:35 PM: Chip count after eliminations!
Mumbai Anchors have a massive chip lead with Goan Nuts the short stacked side as we near the bubble. It remains interesting to see how all the teams fare out.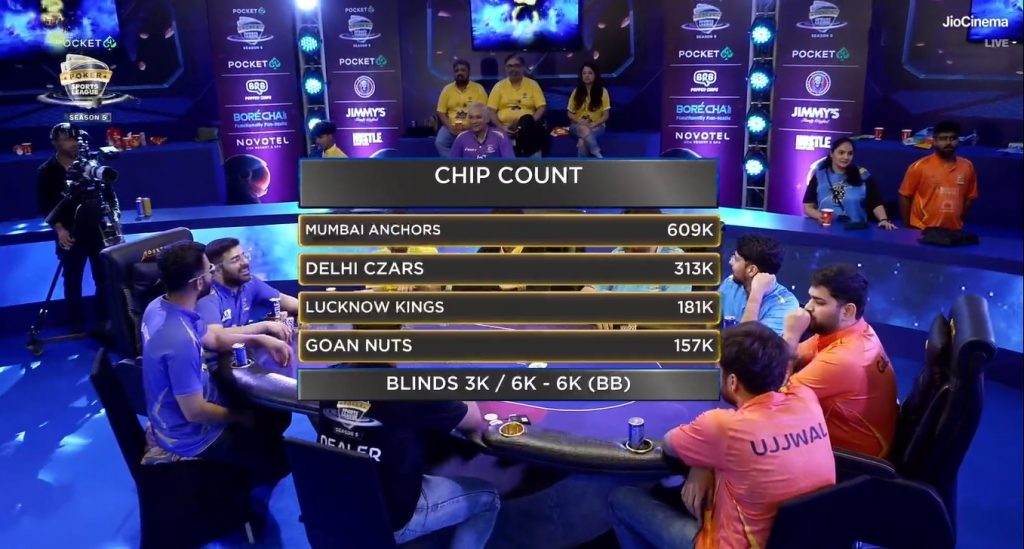 8:20 PM: Back to back eliminations!
Coming into the hand off fresh after eliminating Gujarat Falcons, Mumbai Anchors had poker gods blessing them with pocket aces (A ♠ A ♦ ). The hand saw Deccan Aces (A ❤ 6 ❤ ) go all win 56K. which was instantly called by Mumbai Anchors, who boasted a massive stack of 497K.
The crowd went wild as soon as Mumbai Anchors poker pro snap called the all in and showed his cards out.
The flop of 4 ♣ 5 ♠ 8 ♠ did no no favors for Deccan Aces who hoped for a 7 to complete a straight. However, 4d ♦ popped up on the turn with Kc on the river handing Anchors the second elimination in as many hands.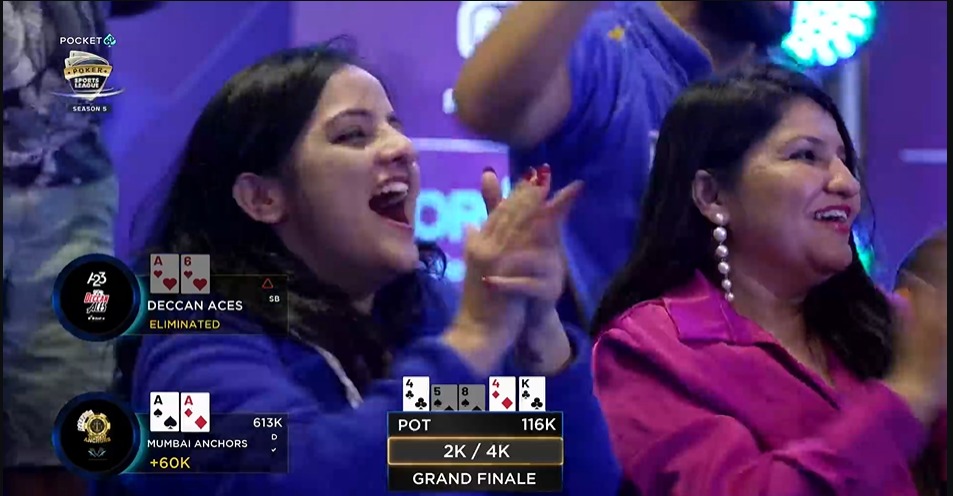 8:10 PM:  Gujarat Falcons bust out!
Akshay gets the better of Kanchan Sharma with the Mumbai Anchors pro holding Kc 7d against Sharma's T ♦ , T ♣. She decides to call from small blind which saw the Mumbai Anchor stars quickly look at the her pot and shove all in.
Sharma made a snap call, hoping for things to work out her way. However, the flop of 3 ♠ K ❤ 9 ♠ gave Akshay the King-pair with 2 ❤ on the turn and 2 ♠ on the river proving of no help for Sharma, with Gujarat Falcons being the first team to be eliminated on Pocket52 PSL season 5.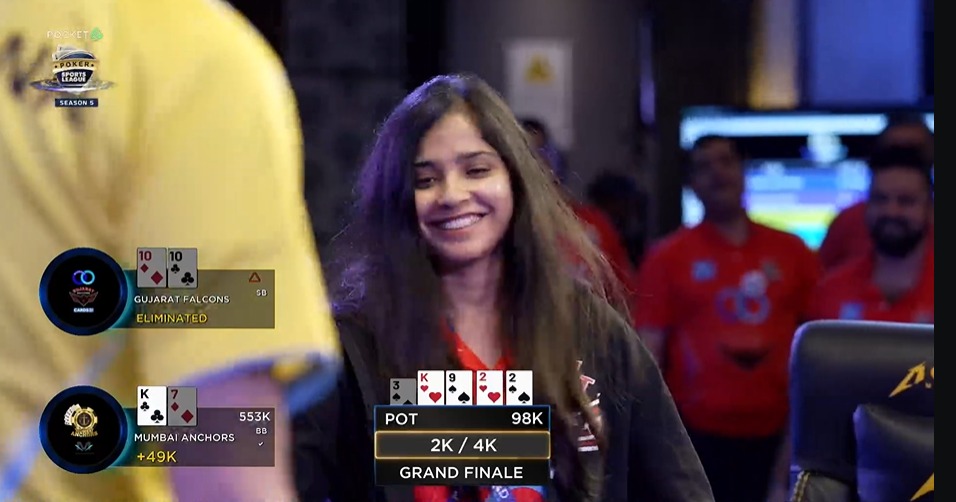 7:50 PM:  Pocket52 PSL Season 5 Finale Latest Chip Count 
Here's how things stand as the begin the Level 3 of the Pocket52 PSL Season 5 Finale.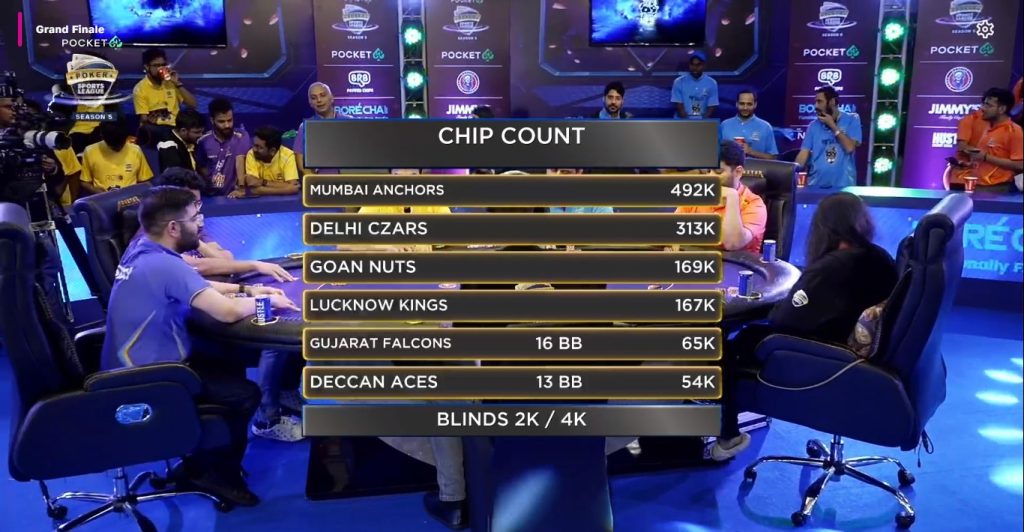 7:40 PM: Delhi Czars make it count!
The Delhi based PSL franchise has managed to make it count in this level, winning quite a few crucial hands to close down the chip lead against Mumbai Anchors.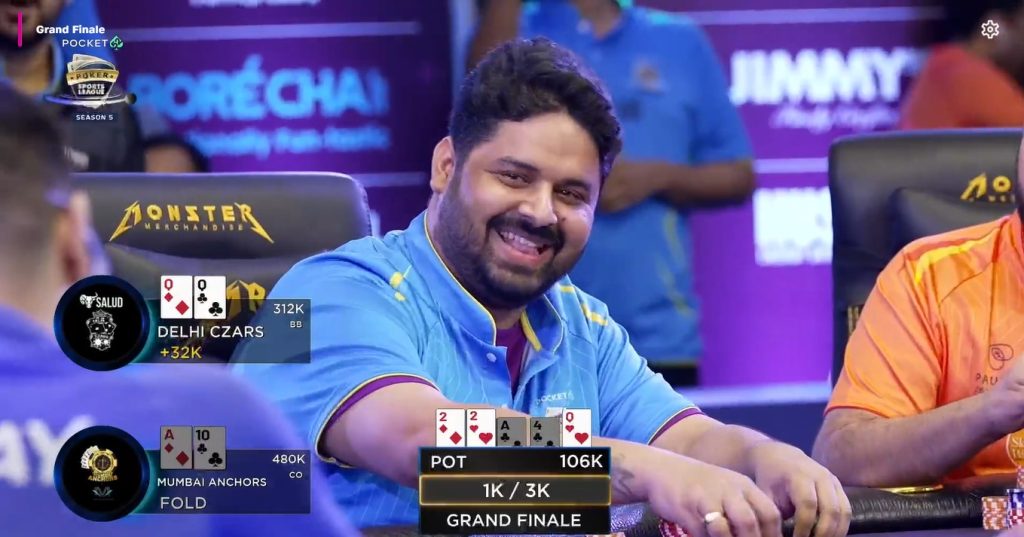 7:22 PM: Updated Chip Counts!
Mumbai Anchors have maintained a strong lead while the likes of Gujarat Falcons and Lucknow Kings manage to chip up following the end of the first level.   

7:15 PM: Lucknow Kings are back in the race!
Pocket Aces help the Lucknow Kings get a massive 30K+ Chip up, which looks to be a worrying sign for all the other teams! It could be deadly for others!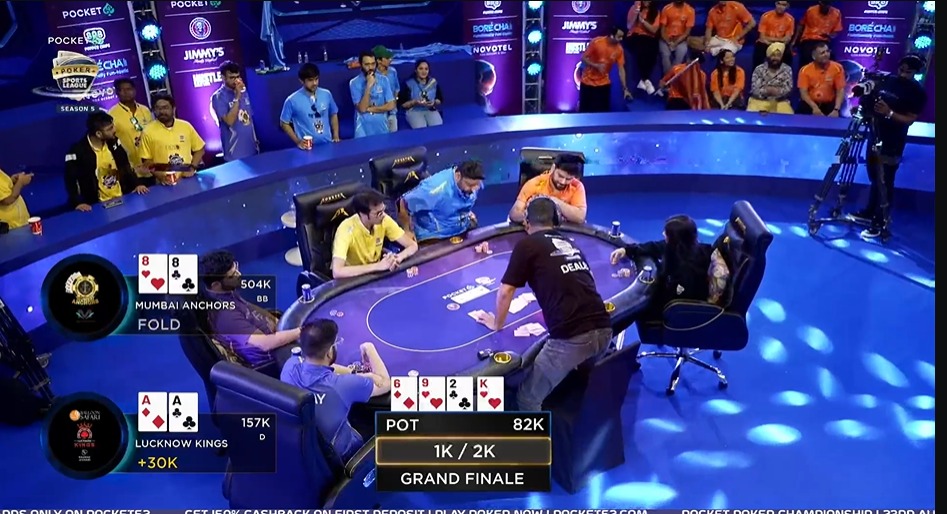 6:47 PM: Mumbai Anchors start off well!
Akshay has managed to put some early pressure on all the teams by winning a few quick hands, acting as the perfect big table bully on the table.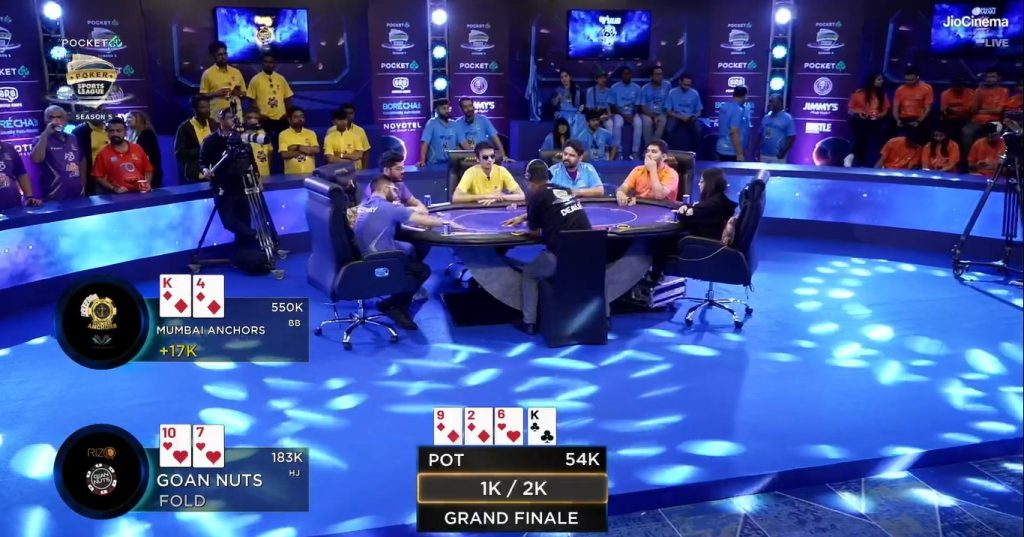 6:35 PM: And we are off!
The dealer has dealt the first hand of the day as we kick start all the day of the day. Who do you think will ship the title?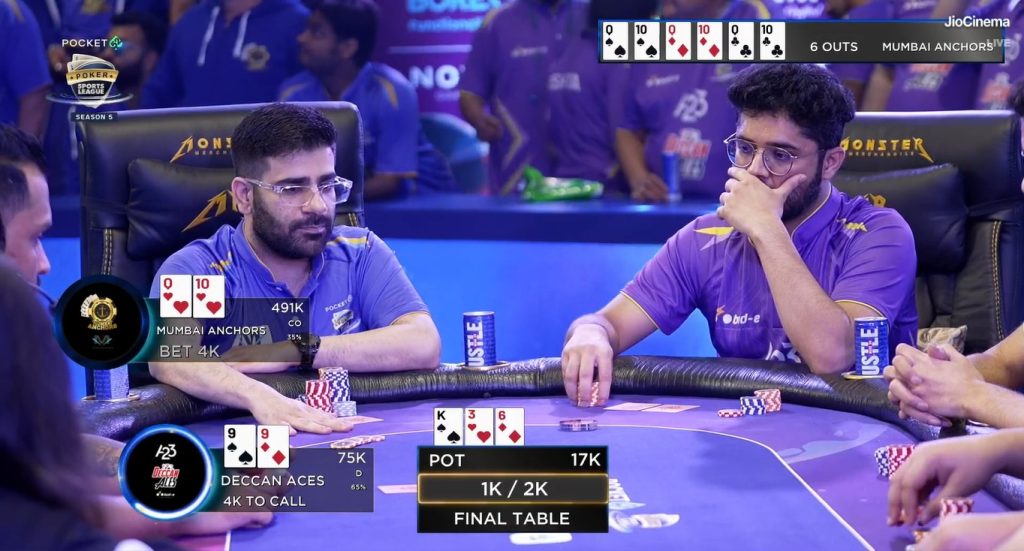 6:15 PM: Teams walk in!
All the teams have taken their seats as we wait for all the action to unfold! 
5:35 PM: Welcome Back
Hello and welcome back to the live streaming details of Pocket52's Poker Sports League. We are just some time minutes away from the live action, so get buckle up, and stay tuned for more. 
---
Team Standings – Grand Finale
Mumbai Anchors – 199 points
Delhi Czars – 192 points
Goan Nuts – 182 points
Lucknow Kings – 175 points
Deccan Aces – 143 points
Gujarat Falcons – 129 points
Main Event Results
Shashank Jain from Goan Nuts emerged victorius at the Main Event and fetched 15 points for his team. Online and live reg Sahil Mahboobani from Delhi Czars took the second spot for 14 points. With 13 points, we have Satyam Verma from Lucknow Kings on the points table. 
Women's Match Results
The female pros locked horns to ensure top points fell in their kitty. This poker battle was won by Simran Malhotra for Mumbai Anchors (five points). Four points were nailed by Radhika Shankar for Delhi Czars. Priya Agarwal from Lucknow Kings took three points for her team.
---
Pro Match Results
Pro match saw top pros like Paawan Bansal (Lucknow Kings) and Sreekanth Narayan (Goan Nuts) score fi9ve points each. Zarvan Tumboli from Gujarat Falcons and Arjanveer Singh Chadha from Deccan Aces scooped four points each for their respective teams.
---
Wildcard Match Results
This thriller was nailed by poker pro Alok Birewar for five points for Mumbai Anchors. Kunal Patni from Deccan Aces claimed the second spot with four points. Three points went to Ankit Jajodia from Delhi Czars. Vishal Bajaj, Ujjwal Narwal, and Kanchan Sharma claimed the last three spots on the points table.
---
Owners Match Results
The owners match saw Jaydeep Dawer from Gujarat Falcons scoring the highest points (5). With four points in his kitty is Puneet Mehra from Mumbai Anchors. Three points went to Shashank Jain from Goan Nuts. Two points were scored by Raj Juneja from Lucknow Kings and one point fell in Delhi Czars' basket. Deccan Aces' Vijay Madduri couldn't score any points for his team. 
---
Captains Match: Category SNG Results
The Category SNG Captains Match was a delight for Vaibhav Sharma of Deccan Aces nailing five points for his team. With four points in his kitty was Gaurav Sood from Lucknow Kings. The third spot was claimed by Laksh Pal Singh for three points for Mumbai Anchors.
The fourth and fifth spot went to Shardul Parthasarathi and Dhaval Mudgal for two and one point respectively. Romit Advani from Gujarat Falcons scored a zero in this match.
---
Category SNG – Captains Match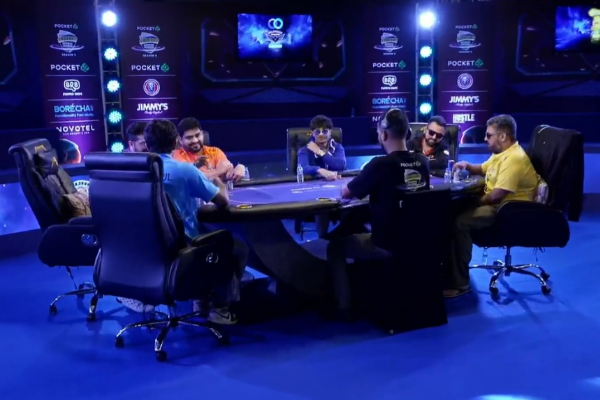 Some intense action has kicked off between the captains of the respective teams of the PSL Season 5. Shardul Parthasarathi, Dhaval Mudgal, Vaibhav Sharma, Laksh Pal Singh, Romit Advani and Gaurav Sood. All the captain will be looking top the table to maximise their points in the grand finale. 
---
Mixed SNGs Results
After some technical issues, the stream was back and the game continued. Players like Raj Juneja, Kanchan Sharma, Radhika Shankar, and Ashish Ahuja were battling hard to win maximum points for their respective teams. Finally, it was the Agra girl, who topped the table and secured five points for Gujarat Falcons. Sharma had been card dead for a considerable period of time during the game, but when she got dealt some premium hands, she turned the game in her favour.
Shankar won four poinst for her team Delhi Czars. This female pro played well and won some crucial hands during the game. Ahuja was placed third with three points, followed by Juneja with two points for Lucknow Kings. Mithun Mahesh added one point in Deccan Aces' kitty with Dhirendra Kumar scoring zero for Mumbai Anchors.
Check out the Mix SNG results
 

 

View this post on Instagram

 
---
Technical Glitches In The Way
The stream was stopped due to some technical glitches. As soon as the stream resumes, we will be back with our updates.
---
Mithun Leaves As Radhika Survives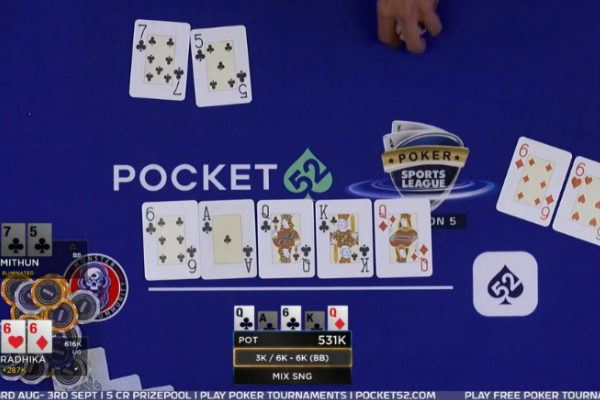 Mithun Mahesh was playing with 75s and Radhika Shankar had pocket sixes. When the flop opened with 6c Ac Qc, it was a small celebration for Mahesh as he flopped a flush. But this joy was really short lived as the river brought a queen which gave the female pro a full house. The poker gods were really looking over Shankar as it looked like she was about to leave and then the river blessed her with a queen to survive ahead. 
---
Kanchan Picks Up Some Chips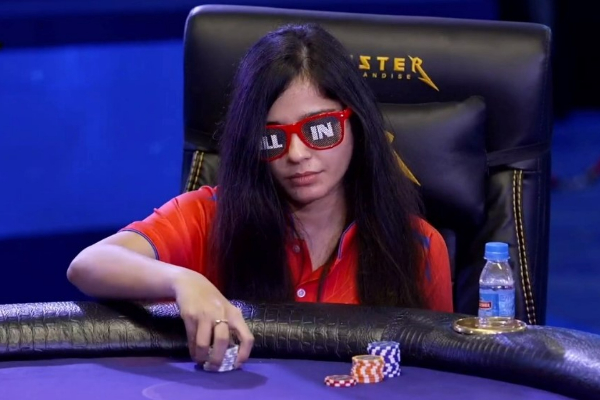 Kanchan Sharma has been quite card dead, but she managed to change that in hand against Ashish Ahuja. The Agra girl had AQs and Ahuja had 76s. After the initial action, Sharma made an impressive bet when the board read 3s 4s As Ad. Ahuja decided against going ahead and made that fold to avoid any further loss of chips.  
---
Dhirendra Out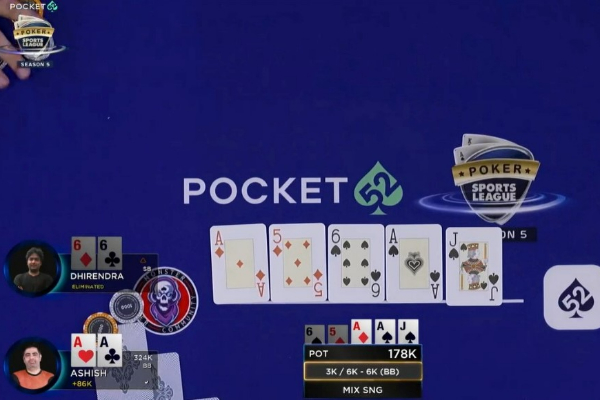 Dhirendra Kumar got dealt pocket sixes which saw him go all in. Ashish Ahuja was in for a delight as he sat with Pocket Rockets. The board revealed A ♦ 5 ♠ A ♠ J ♠. This was sign for Kumar to leave the game and Ahuja was all smiles thanks to that double up.
---
Action Is Back
After three eliminations the action continues on the feature table while 11 other tables run in the Mix SNGs. The feature table also features poker pro and coach Mithun Mahesh, kanchan Sharma, Ashish Ahuja, Dhirendra Kumar and Raj Juneja.
---
Feature Table Action
The feature table saw well-know player Radhika Shankar aka 'Pokemom' steal chips from Dhirendra Kumar when she hit a straight (5-9) on the river with her 56.
---
Mix SNGs
Pocket52 Poker Sports League (PSL) Season 5 will see the grand finale kick off with Mix SNGs. These start at 12 PM and will have respective teams battling it out to earn points. The Category SNGs will follow next at 6 PM. It would be interesting to see if Delhi Czars and Goan Nuts continue their domination in this poker league.  
---
Pocket52 Poker Sports League (PSL) Season 5 which comes with a ₹1.5 Crore GTD prize pool and ₹50 Lakh in prizes kick-started with the online qualifiers on 4th May 2023, and saw a total of 31,000+ entries sign up for this popular poker league. The grand finale will be hosted between 17th to 19th August 2023. 
With some of the top pros participating in this league, it is going to be a fierce battle to grab the coveted title and PSL Season 5 trophy. Currently, Delhi Czars and Goan Nuts are tied at the first spot with 104 points. It would be interesting to see if these two teams continue to dominate the grand finale or if another team takes over.
For more news and updates on Pocket52 Poker Sports League Season 5, keep reading Gutshot Magazine or follow us on our social media handles. We are present on Facebook, Instagram, Twitter, and Telegram.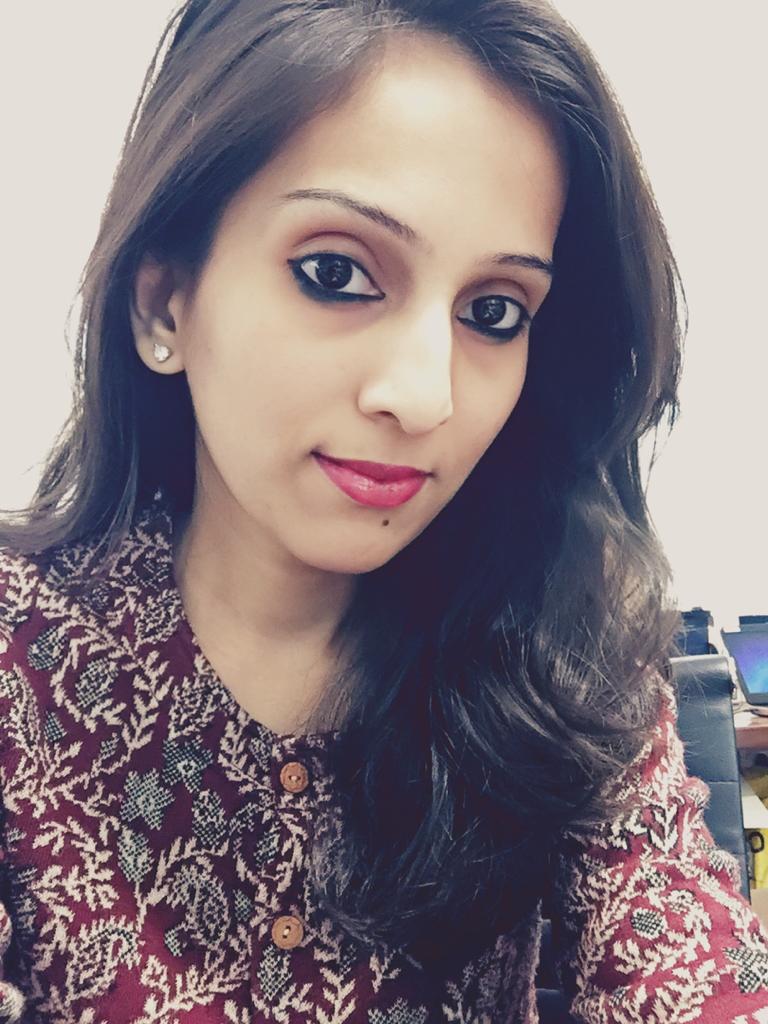 With a Masters Degree in Journalism and Communication, Mrinal Gujare currently is cruising through an exciting genre of writing and editing at Gutshot Magazine. Apart from being an Editor, Mrinal is an avid reader and a former contemporary dancer. She is also perennially hungry for intriguing scoops from across the globe. No holds barred is the rule Mrinal follows in life.
---
---
More News
---
Comments