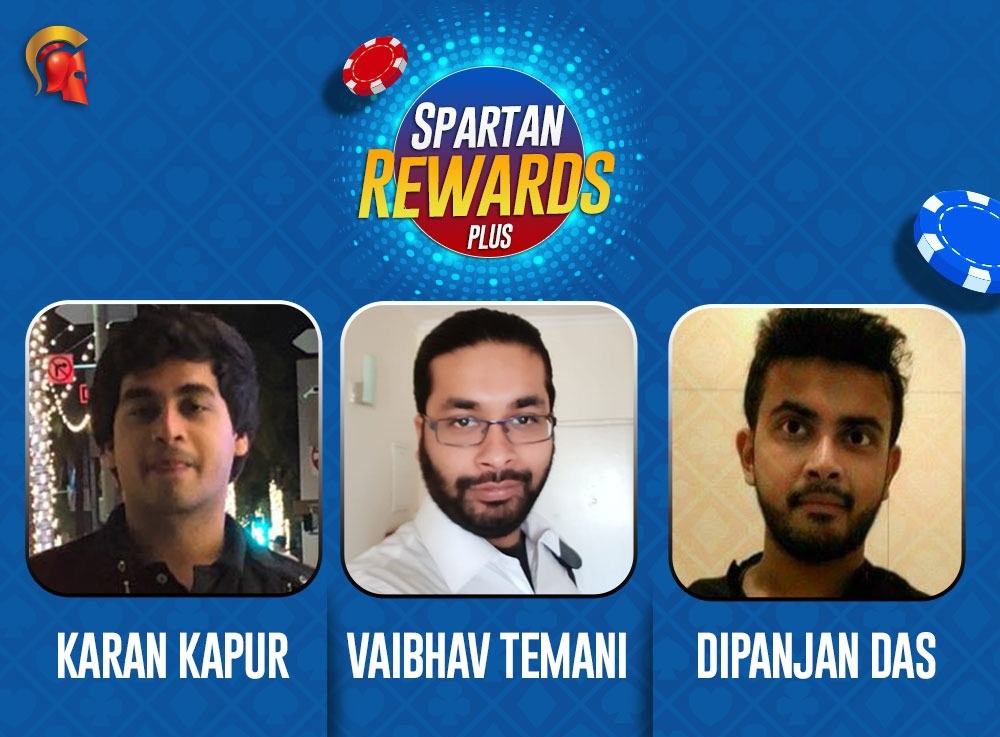 Poker
---
Players react to Spartan's Rewards Plus Program…
It's a new year and millions of people all around the world look for new resolutions and new opportunities. In India, The Spartan Poker gave the poker industry exactly that opportunity with a fantastic month of January 2019 scheduled, packed with plenty of exciting promotions for everyone.
To begin with, they announced a record-breaking India Online Poker Championship (IOPC) series, scheduled between 11-20 January 2019, where INR 8.5+ Crore is set to be given away. Apart from that, they launched a unique cashback program called Spartan Rewards Plus, which seems to be very popular among players at the moment.
The program basically gives up to 40% rake-back to cash games players, which is almost never heard of in the Indian online poker space. In addition to that, players are allowed to track their daily cashback received, with the funds being added to their accounts every morning at 5:30am. All the players have to do is opt in using the code 'REWARDS'.
The promotion lasts between 1 January and 31 March 2019, and players playing all stakes can take advantage of it. Gutshot then decided to speak to a few Spartan regulars and get their feedback on this promotion, so we caught up with Karan Kapur aka 'karankapur', Vaibhav Temani and Dipanjan Das aka 'trippinbowl'.
Vaibhav Temani
This 30-year old poker player is based in Bangalore and is an Analytics Consultant by profession. He started playing poker in 2015 while pursuing his MBA in IIM Lucknow, with friends at low stakes of INR 500-1,000. He got interested and started playing online. Before he began his job, he had a 2-month period free at his hometown and he used this time to play on 888poker freerolls, building a decent amount from 0. He worked on his game for 1.5 years, with a lot of research and studies, but was still a player in negative. Then, he started playing on Indian websites, with PLO being his favourite game.
"The Spartan Poker has been the main space for me in the last 2.5 years. I have to juggle between my job and poker, but I have plans of going professional in the next 2-3 yrs. Spartan's promotions are fabulous. I started with BigWin last year, where the prizes were awesome. I collected enough points for a brand-new Samsung S9. I had never gone beyond 15k for a phone prior to that, so it was a pretty expensive phone I gifted myself."
"My family was hesitant with me playing poker so many hours a day, but after this rewards program, they were more encouraging. In November, I won an iPhone for my wife, so she was also supportive, letting me play for as many hours a day that month. Haha. Rewards Plus is slightly different. Although a mid-stakes player like me would prefer a target based BigWin type of system, Rewards Plus is also a lovely promotion giving away so much of cashback. It leads to good action on the tables. For serious grinders putting in a lot of volume, this is fantastic."
Dipanjan Das – 'trippinbowl'
Like Temani, Dipanjan also began his poker journey in college in 2011 with friends and in clubs in Bangalore. Originally from Kolkata, Das passed out from RV College of Engineering Bangalore and has been working in the IT industry since then. He started playing online on Adda52 followed by playing on Spartan since 2015. Initially, he played only tournaments, but then he got hooked onto the high variance PLO, playing 5/10, 10/20 stakes. Later, he got staking from Pranay Kapoor and began playing 100/200 and higher stakes on Spartan.
"I don't play for the money, but to compete at the highest level, as I love playing 500/100 and 1k/2k. I have enrolled in other cashback programs on other online platforms and I must say that Spartan Rewards Plus is the best rewards program so far. The best part about it is that they allow you to cash out this money, as most other websites give bonus money which you can play with but can't withdraw. That's a huge bonus. I've collected 25-30k in rake-back in just 2-3 days of playing on The Spartan Poker this year, so I look forward to more fun on their platform this year."
Karan Kapur – 'karankapur'
Here's a player who's relatively new to the poker scene but is still doing well. He began with house games with his friends in college early in 2017 and then moved to online poker towards the end of 2017. The Delhi-based player is only 22 and just finished with college, only to begin working with his father, now building the national war memorial in Delhi.
"Working all day, I only get time to play poker during my free time after dinner. Spartan Rewards Plus is actually a very good program for those who play regularly. It's quite good as I generate around 4-5 lakh of rake every month, and it's great to be able to get 25-30% of that back each day. It's quite beneficial to me as a regular grinder, who plays 100/200-200/400 regularly, and sometimes if there's good action, even 1k/2k."
For more updates on the best online poker promotions in the country, keep reading GutshotMagazine.com.
Don't have an account on The Spartan Poker? Check out their review page here, and don't miss out on their bonuses, promotions, and guarantee-smashing tournaments. Sign-up now.
---
---
Comments