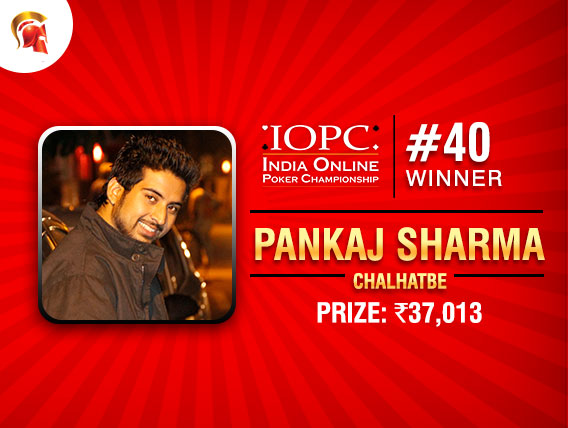 India
---
Pankaj Sharma ships IOPC Event 40
The first of the evening tournaments on Friday's India Online Poker Championship (IOPC) schedule had an INR 2.5 Lakhs guaranteed prizepool for a buy-in of INR 550. Pankaj 'chalhatbe' Sharma was the triumphant player who overcame the field in this Event #40 to claim the title and first place prize.
301 entries took the prizepool up to INR 3,03,000 well past its original guarantee and as a result 39 players would be in the money in this tournament. These 39 money finishers were guarantee a minimum sum of INR 2,090. The start of the evening tourneys brough forth higher participation from the regs and so plenty of familiar faces were seen among the money finishers. Players like Pulkit 'Championplayer' Goyal (9th place) and GTOExploited (5th) once again displaying a lot of consistency in their play and finishes. Closer to the top, was the winner of Event #31 and well known online and live pro Shravan 'DTrump.04' Chhabria who came close to another title but eventually finished in 4th place (INR 23,846). 
Namonamah was the short stack in 3-way action and his run in the tournament came to an end at the hands of 'Bikini Babe'. Our readers will recollect that Bikini Babe won Event #6 in this IOPC series and was looking to score yet another title. While chalhatbe was sitting on a 3.4 million plus stack, Bikini Babe (4c Ah) closed the gap some more when his set of Threes knocked out Namonamah's pocket Tens (Tc Th) on a board of 3h 4h 4s 7d 6s in a pre-flop all-in. chalhatbe maintained his better than 2:1 lead and grew it into almost 4:1 going into the final hand of the tournament.
Following a preflop raise by chalhatbe (8h Jd) which was flatted by Bikini Babe (7d Tc), both players checked the flop of 2s Jh 8d, with the former playing it slow and the latter happy to see if he made his gutshot draw on the remaining streets. chalhatbe's raise on the turn (2d) saw Bikini Babe mvoing all-in to try and claim the pot with a power move. A snap call by chalhatbe with his two pair and with nothing helping Bikini Babe on the river (4s), that was the end of the tournament. chalhatbe took home first place prize of INR 60,751 while his opponent would have to settle for second place and got INR 40,389 for his efforts.
---
---
Comments