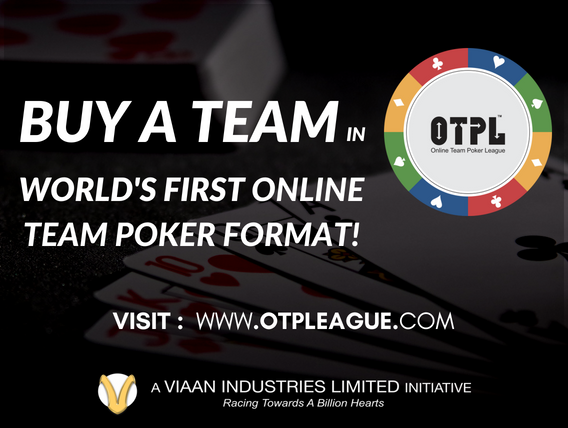 Poker
---
OTPL Season 1 details revealed
Raj Kundra, through an association between his company Viaan Industries and the International Federation of Match Poker (IFMP), created the Match Indian Poker League (Match IPL) and after two successful seasons, he decided to take his poker ambitions to the next level.
The MIPL format is such that is just lasts for a day or two and Kundra believed that poker in India required a platform over a longer duration, which led to the introduction of the Online Team Poker League (OTPL) last month. The OTPL will be spread over several months as compared to the short MIPL, and 30 teams will feature in this league as compared to the Match IPL's 10. 
While the announcement of the OTPL was made last month, the company has now released further details about this online league which is set to provide a year-long platform for Indian poker players to prove themselves. The OTPL will be an NLHE SnG tournament (Sit-n-Go) played in a team format.
The league will see a maximum of 30 Indian teams and 6 players per team. Play will proceed hand-for-hand with the blinds rising at set intervals, and the collective chip counts of team players will be added up to decide monthly team rankings and prizes. 75% of the season's prize pool will go towards these monthly prizes.
OTPL is planned to be spread out over 11 months with the final event scheduled for December each year. There will be one tournament contested per month and a regular season will run from January to November. The Indian league topper will then represent the country in the World OTPL that takes place in December.
OTPL Season 1 is set to kick off on 28th July 2018 and it will run until 17th November 2018. The victorious team will win a chance to represent Team India in the World Online Team Poker League (WOTPL). A customized poker app developed by Viaan Industries Ltd will be used for the tournament; the app will be available for both Android & iOS users.
For those interested in purchasing teams for the inaugural OTPL, contact info@otpleague.com. Teams can be purchased for 5-year rights and will pay INR 3,00,000 per month as license fee. OTPL has already signed over 12 teams and registrations are currently in the final phase.

For all updates and announcements on the Online Team Poker League, keep reading GutshotMagazine.com!
---
---
Comments