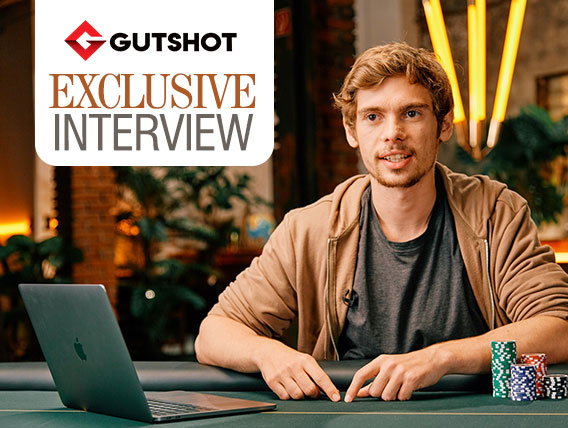 Poker
---
One-on-One with Pokercode founder Fedor Holz
Just 26 years old and already $32.5 million in live poker earnings from across the world. One WSOP bracelet, three WSOP final table finishes and a best Main Event position of 25th in WSOP 2015. Number #8 on the all-time list currently and a highest live cash of $6 million for finishing runner-up in The Big One for One Drop at WSOP 2018. Ranked by PocketFives as the best online MTT player in 2014 and 2015, this man has done it all in the world of poker. If there's ever a recount of poker history in the early 21st Century, there's no way his name won't be mentioned.
How grand an introduction is that!? We're talking about former German pro Fedor Holz, who has accomplished almost everything in poker, which allowed him to even announce his retirement from the sport when he was just 24 years old. Now, he's more focussed on the 'start-up grind', recently launching a mindset coaching app called Primed Mind.
Coaching players since a while now, Holz decided to take it one step further by launching online training platform Pokercode along with Austrian pro Matthias Eibinger, who also has around $10 million in live poker earnings. Gutshot couldn't miss this chance of interviewing these bright minds about their latest venture Pokercode, how it began and what plans they have for the platform. Pokercode is accessible to Indian players and Fedor even extended a 10% discount to Gutshot viewers, which you can access here. Keep reading for our complete interview with the poker celebrity…
Hi Fedor, thanks for taking the time out to talk to us. Can you tell me the idea behind beginning Pokercode?
I wanted to share my knowledge with people and build a community of like-minded players. I used to charge somewhere between $2k and $6k per hour for coaching, so nowhere sustainable for potential users or a mass of players. Also, I couldn't find the time to offer one-on-one coaching for many people the same way I can with the Pokercode.
How did it turn into a reality? What were the steps taken and challenges faced while setting up the platform?
The most important point along the road is my partner Matthias Eibinger. He is an absolute machine at the poker tables but also off them. His work ethic is unique, and I don't know if I have ever met anyone as ambitious and disciplined like him. We sat down countless hours to sketch the Pokercode and then actually putting it into practice. Together with 'IgorKarkarof', Simon Ronnow, our friend and highstakes MTT beast, we thought about what we wanted to provide and also how to do it. Finding the right partners for providing the best platform out there was the next step, alongside writing the Pokercode.
Is Pokercode available to players from across the globe?
We have just tried accessing the Pokercode from China and it works. Also, we do have players from parts of the world such as Malaysia, India, Australia, New Zealand, Latin America, but also obviously the US and Europe. Our Team Pokercode Members come from all over the world but share the same passion and we gather them in our tremendous community. As soon as you have a WiFi connection, the Pokercode is available for you.
What kind of packages are being offered? What can one get by buying a course on Pokercode.com?
Right now, we offer our 'master class' or 'master course' which we simply call the Pokercode. Matthias and I have thought and sketched everything we want to share, reduced it to what is really essential and then put it into practice. The thing with other products on the market is, most people don't even finish watching them. And if, they're learning too passively and therefore don't reach the desired progress. This is where we believe to do a better job than anybody out there.
With several online training platforms now available across the globe, what sets Pokercode apart?
Exactly what I just said. Most of the courses are incredibly boring to watch and no one finishes them. Secondly, the community support and interaction lack. I have been a customer of other platforms as well, most of the time there is little to zero guidance and if, only from other low stakes players or community mods. I felt it my own – these are not the places to learn and progress in. Our platform is state of the art, the videos attractive to watch, we challenge our users in our quizzes and are answering every single question in our community. We strive to provide the optimal poker environment for poker players every day.
What is your take on the Indian poker market? What has been the response from India thus far?
There has been quite some traction on the Indian market, with many guys being on board. We do see some traffic from India and have already sent some Hoodies over there, which luckily all arrived. So, Pokercode is welcoming all Indian players with open arms and also shoutouts to the Indian courier services!
What qualities do you and Matthias Eibinger pass on to players through Pokercode?
The qualities that we combine are at the same time the strong synergy behind the Pokercode. Matthias Eibinger, 'iambest2', is amongst the absolute top MTT players in the world right now. Maybe even the best. He has the strongest game theory foundation of any player I have ever talked or worked with. At the same time, he could learn a lot from my live skills, reading and exploiting players, deviating from Nash. I think this is what makes our project and our lectures so strong. Combining those, together with mindset and off-the-tables-lectures, is a real gold nugget to be digged out.
Any expansion plans?
We are working on expanding our offers every day. Right now, we are working on additional tools, features and modules. Also, we want to shift the perspective of the Pokercode away from being a course – towards being a strong and supportive community. Offering our community strong discount deals on the necessary tools like HRC or Primed Mind alongside offering a daily accompaniment, paired with a patient and persistent mindset, is our key to success we want to enable everyone to grasp easily through the Pokercode on a long-term basis.
Gutshot also caught up with co-founder Matthias Eibinger (pictured below), Austrian pro with a best live cash of a million dollars, a couple of European Poker Tour (EPT) titles and several victories at the Aria in Las Vegas too. We asked him what he loves about the platform and what role he handles at Pokercode.
"The interesting thing about Pokercode for me is, that I used to work on my poker game all on my own for the first couple of years. I had already reached the highest stakes online and live without any help before starting to work on the Pokercode with Fedor. So, unlike him, community hadn't played such a big role before. Now, with Pokercode and me sharing many secrets and systematic strategies, I develop what Fedor means when he is telling me repeatedly what an immense impact community, friends and colleagues always had along his road to becoming the world's best. It is a real pleasure for me to watch our community members get better and sharing success stories all over the place," said Matthias Eibinger.
We also spoke to Pokercode coach 'IgorKarkarof', Simon Ronnow Pedersen (pictured below) who explained his role in the team as well, saying, "Setting goals, doing enough to achieve them and systematically approaching goals and visions is something I am working on a lot right now. 2019 has been a fantastic year and I am truly happy that I could share that with the Pokercode community. Helping write the course and also now even recording my own video modules feels truly rewarding, sharing the world's most exclusive strategies only with our Team Pokercode members on a steady basis."
Fedor and team have been putting in a lot of work to ensure that their thoughts and strategies can be passed on to the thousands of youngsters looking to get more serious about the game of poker. You can get a 10% discount on the course too, which you can check here. It was a pleasure interacting with Fedor and on a parting note, he said, "Thanks to Gutshot for the interview and good luck to everybody. Off to a truly successful 2020. See you in the Pokercode lectures hopefully!"
– With inputs from Dwayne Fernandes, Gutshot Editorial.
Check out our online poker rooms section, where you can read reviews on the biggest and best poker rooms in the country, while also taking advantage of their bonuses and promotions. Check out these top poker rooms HERE.
Image courtesy: Pokercode 

---
---
Comments