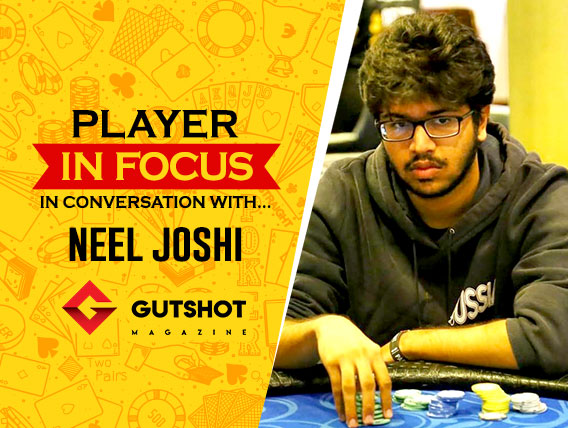 Poker
---
One-on-One with Poker Maverick, Neel Joshi
The game of poker is slowly being treated with a lot more respect in our country and is being looked at as a sport and a game of skill, rather than just another card game or even 'gambling', as it has been termed for years. Now while the game rises in popularity, we're bound to see some new stars pop up as well – our very own Indian Daniel Negreanu's or Phil Ivey's of the future.
We at Gutshot are constantly in touch with some of the best players in the circuit and one of these players that we've been watching since a while now is Neel Joshi, who has grown as a player over the months and has been winning plenty of titles online, across all major platforms like The Spartan Poker, PokerBaazi and Adda52.
Apart from cashes and money finishes in several major tournaments, Joshi has also won a couple of important titles over the last few months. His biggest online score came when he shipped The Vegas Freedom Special Tournament on PokerBaazi, where he plays under 'Worm33'. Then, he followed that 15th August victory with another big title on Adda52, shipping the Godfather tournament last month, where he plays as 'neeljoshi23'.
Gutshot caught up with the player to carry out an exclusive interview with him and it turns out, the player is still only 21 years old. Based in Pune, Joshi is currently in his 4th year at BITS, Pilani, studying chemical engineering. It's very impressive that the player has managed a couple of big wins at such a young age, and the signs point towards a successful poker career in the years to come.
We asked how he began playing the game, to which he said, "I was introduced to poker in my first year through games on my university campus. I started playing real money poker at the beginning of my second year – small stakes live home cash games." So, that's barely two years in the circuit. IMPRESSIVE!
Joshi recently gave his GRE exam and has a few other exams coming up. He currently interns full-time in a research laboratory and thus, doesn't have the time to play poker professionally. However, he told us about his plans of dedicating much more time to the game in 2019.
The player plays as 'Worm33' on Spartan and PokerBaazi, while he plays under 'neeljoshi23' on Adda52, so you might want to be careful if you see him at the virtual felts. We were intrigued by his selection of the 'Worm33' username and asked him the story behind it. Now we know that in the movie Rounders, Edward Norton's nickname is Worm while the number 33 was completely random.
Q. At what point did you believe that you could make poker more than just a hobby?
I had a couple of months of vacations in May-June this year when I first actually got into tournament poker, playing almost every day. I started studying, watching a LOT of videos, discussing hands with Sam Anand (Lokimon), and I improved gradually. My family supports me playing poker but doesn't like it when I prioritize poker over studies.
Q. According to you, what has been your best poker victory thus far?
Winning the Godfather was pretty rewarding as I had to outplay a lot of good regs. Winning the Freedom on PokerBaazi was really sweet too because it was my first big (and biggest) online score. I've Final Tabled many of the weekly tournaments across Spartan and Adda52. Live poker, on the other hand, I've only played once in my life – DPT July. I came 14th in the Main Event, which is my only live score.
Our conversation with Neel Joshi extended to a number of topics, and he also told us who his favourite international poker players were – Brian Rast and Fedor Holz. In the online circuit, he loves 'Bencb789' and 'Jnandez87', while some of the Indian regs he admires for their consistency are Anirban Das, Akshay Nasa and Arjanveer Chadha.
We put Neel Joshi on the spot and asked him what his favourite Indian poker website is, even though we know he plays across all the major Indian websites. He said, "This is a very tough one. I'm currently divided between PokerBaazi and Spartan. Baazi has awesome support, while Spartan has great weekly guarantees and software. Adda52 is really good too, but the TDS factor is a drawback."
Joshi is currently applying to business schools, but he didn't comment much on that for now, as it's all still very much in the nascent stage. However, he did mention that it won't affect his poker playing hours. In fact, he wants to up his game during this time. "I'll definitely be dedicating more time to poker in the future, both live and online."
Q, Do you have any poker strategy or motto in particular?
I value mental game a lot. Variance in poker is more than one comprehends, and it's hard dealing with swings. The important thing is to show up, and not let it affect your game.
Q. Has anyone or anything influenced your game/learning in poker?
Yes. I would really like to give a shout-out to Sandeep Varma aka 'Effuno'. I've had multiple hand history review sessions (reviewing each other's HH), study sessions, and discussing various tricky spots which either one of us encounters, for long hours over phone. I would also like to mention people who have provided encouragement and support – Guruprasad Gupta, Pranav Khandalkar, and Shravan Chhabria. Most of these people, I just messaged out of the blue on Facebook and they responded, and entertained all my questions. I've even messaged Bencb once with a tough spot I encountered and have had the privilege of having a discussion with him. The poker community is very helpful, if you simply reach out to them. 🙂
Whenever we speak to Joshi regarding an online victory, he never fails to praise the Gutshot Team and their contributions to the Indian poker industry. Once again, he concluded this interview by saying, "I really appreciate the work Gutshot does. It's great reporting, and I've read a lot of Gutshot articles, even the ones which were published before I began poker. Cheers guys!"
– With inputs from Dwayne Fernandes, Gutshot Editorial.
Poker in India is only on its way up and GutshotMagazine.com will be conducting plenty more interviews with players and other entities from the industry, so stay tuned.
Check out our online poker rooms section, where you can read reviews on the biggest and best poker rooms in the country, while also taking advantage of their bonuses and promotions. Check out these top poker rooms HERE.
---
---
Comments