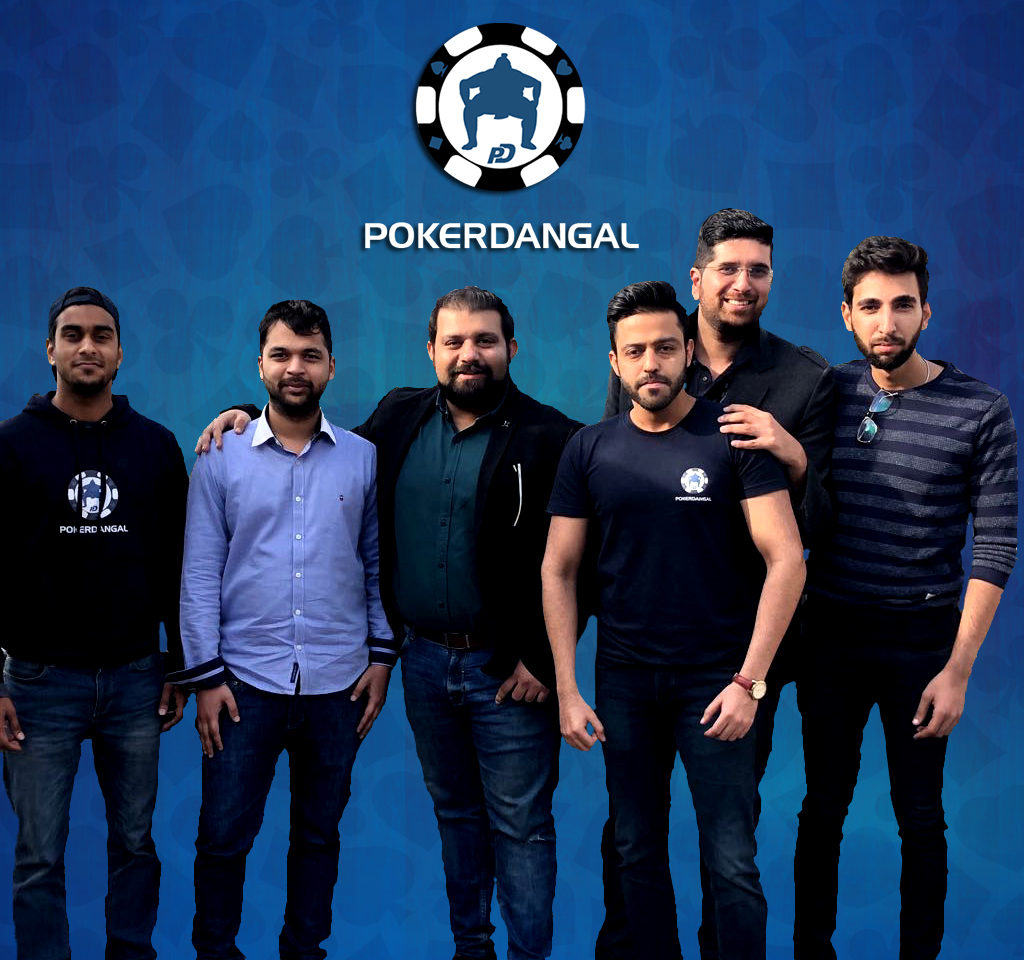 Poker
---
One-on-One with Poker Dangal's Karan Gandhi
India has taken on poker as its latest love affair in the last few years. A dozen or so sites have come in the past 18 months and there seems to be no stopping the momentum of these sites. One of the new entrants into the Indian poker scene is PokerDangal. The brand itself is quite catchy evoking flashes of the Bollywood movie of a similar name. And the folks behind PokerDangal want to provide that larger-than-life experience for their players like the movies do.
Founded last year by engineers Varun Puri and Varun Mahna, who are the majority shareholders, Poker Dangal then added on three more individuals in Shashwat Jain, Sahil Parakh and Karan Gandhi who are also stakeholders in the company.
GutshotMagazine.com had a chance to catch up with Karan Gandhi to have a chat about the genesis of Poker Dangal as well as the road ahead for the brand.
How did PokerDangal come about?
PokerDangal was founded purely because of our love for the sport. Our founding members, Varun Puri and Varun Mahna, were keen poker enthusiasts and after almost a decade of playing poker for leisure, decided to venture into the industry. India offers the optimum ecosystem for the Poker industry as far as sustainability and scalability are concerned; thus, it made good business sense to pursue the venture.
Tell us about the key personnel at PokerDangal.
Varun Puri is an engineer by qualification and an entrepreneur at heart. He started his own business in 2011 and is running a successful venture of exporting agricultural machinery to European countries. Varun Mahna, an MBA from XLRI has solid corporate experience which has helped him understand and shape big businesses and drive results through strategic and operational excellence. I handle PokerDangal's Business Development portfolio and have worked with conglomerates like NDTV and Zomato in strategy and client handling roles. Shashwat Jain, Head of Operations, is a mining engineer and has worked with big-wigs like Mu-Sigma, Amazon and Box8 as Operations and Analytics lead. Sahil Parakh, Head of Customer Support, has extensive experience in corporates as well. We have recently added Manan Sobti and Akshat Bharadwaj to the team. Manan is an MBA from IMT Ghaziabad and heads our Marketing division while Akshat is working closely with me to handle Business Development.
We are now an eight-member team committed to delivering excellence to our players and ensuring we are able to bring the sport mainstream.
The Indian online poker market is dominated by 3 players in Adda52, The Spartan Poker and PokerBaazi. How do you plan to acquire a share of this market?
It is our fundamental belief that as an industry, the Indian online poker scenario is at a very nascent stage. The industry is only 6 years old and still very dynamic. New players are adding to the ecosystem on a daily basis and as the awareness about online poker spreads, the growth will be exponential.
The potential size of the market is so huge that there is enough juice for more than 3 players to co-exist. PokerDangal plans to offer unmatched services to its' customers which will result in unrivaled positioning in the market.
How do you differentiate yourself from other operators?
For us, delivering an impeccable consumer experience is priority and we believe if we take care of our players, they will take care of our business. Plus, our team is a fusion of people who can think both as players and as business owners. This enables us to bring the best of both worlds into our decision making; I believe this will be our biggest market differentiator.
We offer the highest bonuses in the Industry. For new users, we provide unmatched benefits of INR 50050 (4 tournament tickets worth 12.5 K and INR 50 for cash tables) upon registering by using code "WELCOME". For 1st time depositors, we offer 150% Bonus (50% instant real cash and 100% locked bonus) by using code 'DANGAL150'. Over and above, we also give huge bonuses on subsequent deposits which no other player in the industry is doing at the moment. All our promotions and bonuses are customized and designed keeping in mind the needs, average deposits and preferred stakes of our users.
There is still some level of mistrust about poker websites? Any thoughts on how you plan to remedy that?
There is no doubt there have been some dubious websites which have broken the trust of its users. There is still apprehension in the minds of many players to play online. However, we are educating users about the verity and authenticity of online poker and are slowly and steadily gaining their confidence. We are using the best back-end technology to ensure there is absolute transparency.
Word of mouth publicity and player testimonials is paving the way for PokerDangal to gain the trust of new users. As a new entrant in the industry, we are making more than 500 successful cash outs per month. Our turnaround time for each request is between 24 – 48 hours. Once players experience PokerDangal's services we are sure they would feel very comfortable to continue to play on our portal.
Do you feel Indian poker will gain the backing of corporate sponsors?
We have seen a lot of corporate houses backing Poker in India. Poker is a game of skill and strategy which resonates very well with the corporate lobby. We have already seen names like Amit Burman and Raj Kundra entering the domain and this trend will continue in the future as well.
A lot of Poker websites have tried to foray in the Indian Poker market and failed. What do you think led to their failure?
As I stated earlier, we believe online poker business is a part of the service industry and no website can think of sustaining if it doesn't focus on the service aspect of the business. Lots of websites only think as players and not as operators, which leads to a lack of service to the consumers, leading to eventual downfall of the site.
What are your views on the legalization of Poker in India?
Poker is a sport which tests a player's strategy, skill, patience and situational understanding. It is a game of skill and not luck. It is televised in many countries and has a keen following worldwide. It is only a matter of time when the Indian legal system joins the bandwagon and legalizes the sport. I completely trust the new age digital India and believe the future is very bright for poker.
It's been said "action pulls action". How to you plan to increase onsite traffic?
We believe gaining the trust of players is a slow process and it takes 2-3 completed cycles of deposits and withdrawals for a player to trust an online operator. We plan to offer unmatched deals, services and state-of-the-art backend technology support to retain players. We are exploring partnerships with educational institutes and corporates to broaden our player base and tap into a huge unchartered player pool. We are already the online gaming partner for Institutes like XLRI Jamshedpur, MDI Gurgaon and IMT Ghaziabad amongst others.
What do you think is the ideal rake percentage an online operator should take?
There are a lot of expenses a poker site incurs to provide services to its users; be it bonuses, freerolls, tournaments or other events. In order to be sustainable, a site needs to charge a rake, which justifies the giveaways and player benefits. I feel a rake percentage of 4-5% is valid.
What does the Indian poker scenario lack as compared to North America and Europe?
Simply, a lack of awareness and poker heroes. Currently, poker isn't as popular in India as compared to the west. Also, North America and Europe have a poker celebrity culture where top players are like superstars leading celeb lifestyles. This attracts more people to play the sport professionally.
How do you think the Indian poker market will shape up in the next 3 years?
The industry will definitely see more entrants in the coming years. Many will be shutting shop as well. There will be a period of consolidation, where sites will merge. Finally, if the ecosystem supports the Poker industry, we will have our very own billion-dollar poker Indian website very soon.
What does the future hold for PokerDangal?
It is still early days for PokerDangal. We want to build a strong team in the next 2 quarters to service our ever-growing consumer base. The focus is on building a very strong platform, offering unmatched services to players. Our goal is to become a trusted operator in the Industry 

---
---
Comments