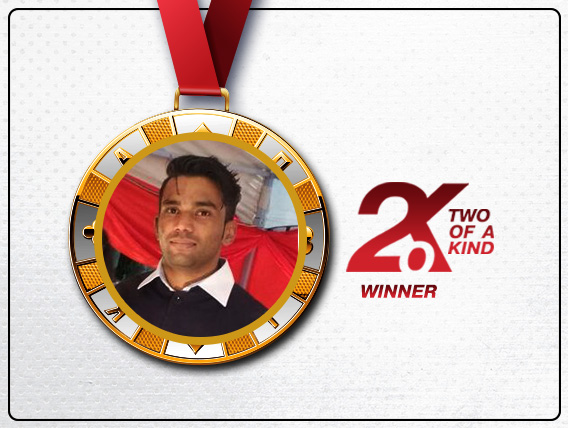 Poker
---
One-on-one with 2.o.K winner Sandeep Varma
The recent marquee tournament conclusion of 'Two of a Kind' saw Apoorv Bajpai and Sandeep Varma winning and claiming the title for INR 15 Lakhs each. Gutshot caught up with Sandeep Varma in an email conversation where he shared his life journey and the overall tournament experience.
33-year old Mechanical Engineer Sandeep Varma completed his Masters from University of Southampton in Race Car Aerodynamics. The Kerala-based Varma's biggest passions in life are fitness and motor racing, besides poker. He shared his experience of earlier days of online games, "The first time I got a computer, I was into a lot on online games, including chess and card games. That's how I found out about poker during my higher secondary schooling. I played few freerolls on 10bet poker site. After my MS, while still in the UK, I started playing poker again. I received a few books from twoplustwo as part of promotions. This helped me learn the game better and pursue it as a profession."
Speaking about the tournament experience, he said, "I was offered a special deposit code by TheSpartanPoker, being a high-volume player. Made the deposit and got a free ticket to Two of a Kind. I started well and was among the top 10 stacks for large parts of the tourney. I was calm and composed even when I lost some pots and stack took a hit. I had around 10BB for large parts of the final table and was among the smaller stacks. I stayed patient and picked the right spots to chip up."
Key hands from FT
While 3 handed, I had 15bb while the other two had 60-70bb. I went all-in quite a few times to stay at 15-20bb, but the other two, especially the player to my right, attacked my blinds every time. Eventually, I picked off his shove with A7o. I held against what I remember was a J3o – it's all bit of a blur now, I must admit. This helped me go on the aggressive and finally knocked out the same person. Both players seemed competitive. So, this hand was key to surviving the onslaught.
Family and friends
My family and friends are happy for me. They have been hearing poker stories from me for the past 7 years – successes and failures, frustrations and elation. They have stuck by my side always and I'm fortunate to have parents, a brother, and friends who understand the value of staying positive and fighting through the rough patches, because tournament poker is full of rough patches – the cliched 'roller coaster ride'.
Future
I intend to continue playing tournament online. This has always been my forte and I believe online poker in India is in safe hands with the likes of The Spartan Poker gaming proving the high-quality marketing and services to attract more players to the game. Having said that, I've heard great stories about live tournaments in Goa. Besides poker, it's a celebration. I would love to try a few live games at some point.
---
---
Comments