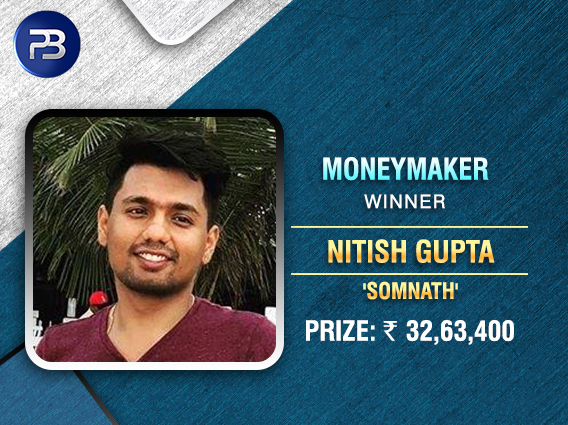 Poker
---
Nitish Gupta is MoneyMaker 8.0 Champion!
Not very often do you get to be a part of an INR 1 Crore GTD prize pool in online poker in India. Such tournaments take place once a month or less often on the biggest Indian poker websites. PokerBaazi is one such industry leader and they host the MoneyMaker INR 1 Crore GTD tournament every once in a way, the last being hosted in October 2018 which was won by Nikhil Sayilen.
The company recently hosted the PokerBaazi Premier League (PPL) Winter Edition which was scheduled between 10-16 December and the series had plenty of high-value tournaments during this week. However, none were bigger than the MoneyMaker, which also served as the Main Event of the PPL Winter series.
This was the eighth edition of the MoneyMaker and every person who registered to this tournament on Sunday would've dreamed of walking away with that majestic top prize. By the end of the registration period of MoneyMaker 8.0, a massive field of 1,332 entries (742 players+590 re-entries) had joined the competition to crush the guarantee and create a new prize pool of INR 1.33 crore!
The field was obviously packed with some of India's top poker pros, given the fact that the entry to the tournament itself was a whopping INR 11,000. What began on Sunday evening went on for over 10 hours before the tedious grind ended, with the champion finally being crowned – Nitish 'Somnath' Gupta.
This would've been one of the best nights of Gupta's life as he powered through the packed field, knocking out plenty of opponents before going on to become the newest MoneyMaker winner on PokerBaazi. The effort not only made him a happy man, but it made him a richer man as he took away a life-changing amount of INR 32,63,400 for shipping the tournament.
Among those who were almost there but busted towards the end were Vineesh Bhatia aka 'VanielNegranu' who finished 13th for INR 1.33 lakh, who has won previously on PokerBaazi; PPL Leaderboard winner Sameer Tavanandi aka 'Killersam' who finished 10th for INR 1.59 lakh; MoneyMaker 4.0 champion Guruprasad Gupta aka 'fish_calling' who almost completed a double, finishing 8th for INR 2.66 lakh; and Gaurav Sood aka 'gaug17' who finished 5th for INR 5.99 lakh.
Eventually, heads-up began between Gupta and well-known player Chiraag Patel aka 'Versutus' who has plenty of wins in the online and live circuit. While he did make an extremely impressive run, this night was not going to be about him, as Gupta managed to get past him for the incredible prize. However, Patel also cashed out a sizeable amount of INR 17,98,200, which turned out to be his career-best as well.
Gutshot struck up a conversation with the winner to ask him what it feels like to be one of the biggest winners in Indian online poker history. He said, "The MoneyMaker was pretty smooth throughout from the time I registered to the tournament. I just had a very good run throughout, winning crucial flips whenever I most needed."
Q. The MoneyMaker always attracts the best players, so who were your toughest competitors in the tournament?
In this tournament, I would say 'Versutus' (Chiraag Patel) was very good. It was fun at heads-up when I initially had a 4:1 chip lead, but from there on my opponent came back to gain a 2:1 chip lead over me. Eventually however, I ran hot and managed to win the battle.
Q. When did you start believing you could win this tournament?
I was always positive, but it was only when I came into the Final Table placed second in the chip lead when I started believing. I thought if I play well and run decent from here on, it's possible to win.
Q. You mistook this tournament for The Game Changer?
PokerBaazi is doing an amazing job. I usually don't play tournaments. I registered initially thinking it's the INR 2 crore guaranteed tournament, but later found out it was INR 1 crore. To create such high value tournaments and give the Indian crowd a chance to compete and get such a high return on investment is amazing. A big thank you to the PokerBaazi team.
Gupta would definitely be over the moon with this win and we're guessing that the celebrations went on through the night. His family and friends were all happy and excited and Gupta also revealed that he will be investing most of his winnings. For more reports on the biggest poker victories from across the country, keep reading GutshotMagazine.com.
Don't have an account on PokerBaazi? If you wish to play and become a big winner of their massive tournaments and promotions, sign-up now by clicking HERE.
---
---
Comments