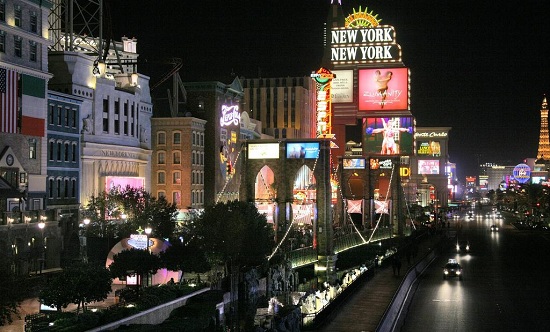 Gambling
---
New York-New York Casino Cashier Robbed
No, don't be mistaken. We're not talking about a casino in New York but we're talking about New York-New York Hotel and Casino in Las Vegas!
The last few months have not been great for the 'Sin City' Las Vegas, with revenues taking a big hit since the mass shooting at a casino on 1st October 2017, which killed 59 people and injured hundreds. Since then, there has been a spree of crimes in this famous gambling destination.
In the wee hours of Wednesday morning (10th January), a man approached a cashier at the New York-New York Casino in Las Vegas and demanded an undisclosed amount of money. The man was armed but the money was handed over without any trouble, as the handgun remained in the suspect's waistband.
The Las Vegas Metropolitan Police Department has distributed a security camera image of the suspect, who is a black male who wore rimmed glasses and a black beanie at the time of the crime. It is said that he escaped through the south entrance of the casino after the robbery and fled in a taxi.
This isn't the first casino cage robbery that has taken place on the Las Vegas strip in recent times. In late November, an armed man had robbed a cage at the Bellagio casino and the suspect is still at large. Towards the end of December, a couple of security guards were also shot dead in Las Vegas.
With the number of crimes increasing, will business be affected at Las Vegas? Will there be a further fall in revenue on the strip? Keep following GutshotMagazine.com for all further updates!
---
---
Comments