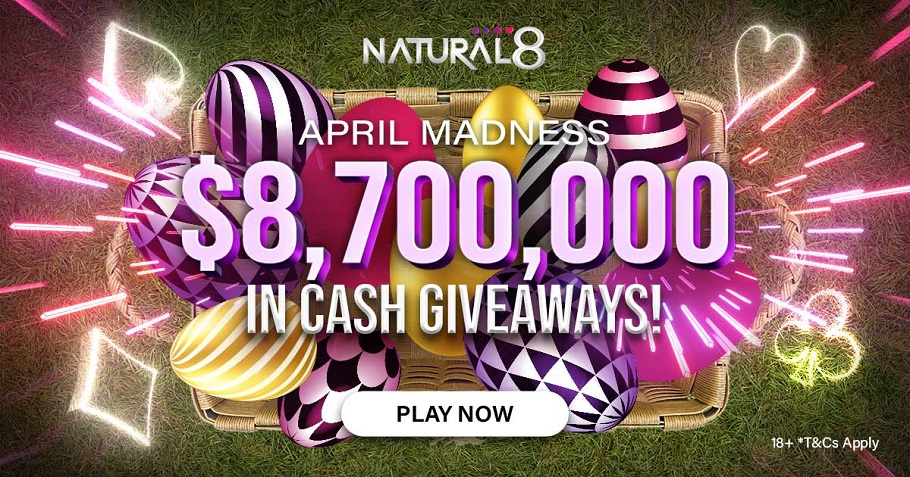 Poker
---
Natural8: Earn Your Share of USD 8.7 Million This April!
Apart from the GG Spring Festival, which will offer the biggest series guarantee in the history of online poker, there are a number of other promotions to look forward to on Natural8. A leading skin on the GGPoker Network (GGPN) and Asia's largest online poker room, Natural8 will be giving away USD 8.7 million in promotions this month. There will be something available for every player – no matter their bankroll.
Natural8-Exclusive Promotions
All existing Natural8-exclusive promotions will continue, with some minor tweaks to celebrate the launch of GG Spring Festival (GGSF) happening from 4-25 April. The first is a USD 8 Instant Deposit Bonus that will be available to all new players. All they have to do is deposit a minimum of USD 10. Players who are making a deposit for the first time will also be eligible for the First Deposit Bonus.
With this First Deposit Bonus, players can choose between the 200% match bonus (up to USD 1,000) or USD 100 in instant rewards (which includes USD 65 in Spin & Gold tickets). For a chance at these, players have to complete the daily AoF Challenge. By completing it six days in a row, USD 20 in cash will be credited to their account along with a USD 15 GGMasters Satellite ticket.
The Natural8-exclusive freerolls will also continue to take place, but will now award GGSF tickets (worth up to USD 80) for most of the month. Available freerolls include the First Deposit Freeroll, VIP Club Freeroll, Hourly Freerolls and GGMasters Freeroll.
And if a Natural8 player wins the GGSF Main Event-H USD 1,500 NLHE event, they can look forward to a huge USD 50,000 LiveX sponsorship. This sponsorship will include a 12-month ambassadorship with Natural8, USD 15,000 Las Vegas package as well as $35,000 in live event sponsorships.
ALSO READ: Natural8 GG Spring Festival Hosts Exclusive Weekly Freerolls
Daily Cash Game Leaderboards
All cash game grinders will be pleased to know that the daily leaderboards will continue, offering the same great value as before. In fact, the Omaha leaderboards have even increased their offerings by USD 5,000 daily. This is a result of the new PLO-5 game type, which has just been released and will also offer its own leaderboard.
Rush & Cash: USD 40,000 Daily Leaderboard
Hold'em: USD 20,000 Daily Leaderboard
Omaha: USD 25,000 Daily Leaderboard
Short Deck: USD 10,000 Daily Leaderboard
The fast-fold variant Rush & Cash continues to dominate with USD 40,000 up for grabs daily throughout the month. There will be both Omaha and Hold'em stakes from USD 0.01/USD 0.02 all the way up to USD 1/USD 2. Players can also look forward to the random cash drops, which can further boost their bankroll.
For regular Hold'em and Omaha players, the daily leaderboards remain at USD 20,000 each in total prizes. 6+ Hold'em (also known as Short Deck) will also pay out USD 10,000 in daily prizes across all available stakes. The regular cash game tables too offer a jackpot promotion in which you can score big paydays.
All points on the Rush & Cash tables continue to be earned via action clicks, while all other games will be based on raked hands. During Happy Hour (06:00 – 07:59 UTC 0), players will also earn between 1.5x to 2x the points.
All-in or Fold Promotions
The All-In or Fold tables combine regular cash game tables with jackpot prizes, and players will have 20 hands to complete any line of four on the AoF Bingo card. Players who complete 100 hands per day at any stake will also receive one full buy-in credited straight to their account. This promotion is available for both No-Limit Hold'em and Pot-Limit Omaha. The decisions for the former take place preflop, while four-card aficionados can decide to push or fold on the flop.
Available Stakes:
AoF Omaha: USD 0.10/0.20, USD 0.20/0.40, USD 0.50/1, USD 2/4, and USD 5/10
AoF Hold'em: USD 0.05/0.10, USD 0.10/0.25, USD 0.20/0.50, USD 0.50/1, USD 1/2, USD 2/4, USD 5/10 and USD 10/20.
Both game types also offer super high stakes action. For Hold'em, these are played at limits of $100/$200 while the highest Omaha stake is at USD 50/100.
ALSO READ: USD 150 Million Guaranteed In GGSF Tournaments This April!
Spin & Gold Awaits With Big Jackpots and Daily Leaderboards
Natural8 will continue to offer time-limited Spin & Gold jackpot SNGs, with a boosted maximum payday of up to USD 2 Million! That's the amount up for grabs in the USD 100 buy-ins, while three further stakes will potentially lead to a seven-figure prize.
Boosted Spin & Gold Jackpots:
USD 1 buy-in (USD 100,000)
USD 10 buy-in (USD 1,000,000)
USD 50 buy-in (USD 1,000,000)
USD 100 buy-in (USD 2,000,000)
USD 200 buy-in (USD 1,000,000)
The new USD 200 high-stakes Spin & Gold will run for the second month, and daily leaderboards continue to offer USD 50,000 in prizes spread across all available limits. There are nine different buy-ins available, starting from as low as USD 0.25. The lowest buy-in tier will award USD 724 daily for up to 250 players, while the high-stakes USD 200 tier will grant USD 15,000 in cash prizes for up to 10 grinders.
Flip & Go Daily Leaderboards
Flip & Go tournaments have become a popular addition to the overall schedule and take place every half hour. There are four stakes available: USD 0.05, USD 0.50, USD 3 and USD 20. Up to eight stacks can be purchased for each event and bonus stacks during the flipout stage will be up for grabs. Among the combinations to increase your chances for success are a three-card straight (2x), three-card flush (2x), three of a kind (3x), or a three-card straight flush (4x).
How does Flip & Go work? All participants get dealt three cards and during the flipout stage, everyone has to discard one card. The cards are shown to all players at the table and it is possible to make an educated guess as to which combination may be the most promising.
Once the two cards are selected, the hand proceeds with everyone all-in. The player who wins all the chips will have secured min-cash within a minute. Once all tables have completed their actions, it is business as usual and a winner will be determined as per regular MTTs.
There are also four daily leaderboards – one for each stake, and a total of $5,000 in cash prizes await the most active participants. Players earn points for how many stacks they buy-in with, and for the first flip bonus multiplier.
For example, if you play Flip & Go with eight buy-ins and receive a Straight Flush Flip Bonus, you will get eight points from buy-ins and an extra 32 points for the flip bonus. These 40 points are the maximum a player can achieve in each Flip & Go.
ALSO READ: Natural8 Ambassador Kitty Kuo Wins APT Taiwan 2021 ME
GGCare and Honeymoon Promotions
Two further popular promotions to continue this month include the GGCare Flipouts and Honeymoon for Newcomers. The daily GGCare Flipout is for all unlucky players, who have suffered bad beats, suckouts, or coolers at the tables. The exact formula for how a player qualifies depends on each game type, and a pop-up window will appear to confirm the amount of chips the unlucky player receives. All qualifying GGCare hands are also shown on the PokerCraft timeline.
Daily GGCare Flipouts take place 45 minutes after the daily reset, and eligible participants don't even need to be there to earn a portion of USD 30,000 in prizes. As it runs as a flipout, play goes on automatically until one player has accumulated all the chips and the top 25% finishers paid.
Last but not least, new players can also opt-in for daily challenges within seven days of signing up. The Honeymoon for Newcomers promotion offers players the opportunity to earn up to USD 300 over 30 days. Don't worry if you cannot complete them all, as several milestones are available. Prizes include Spin & Gold tickets, cash prizes and tournament dollars.
For more updates on the GG Spring Festival, keep reading GutshotMagazine.com. Follow us on Facebook, Instagram, and Telegram.

---
---
More News
---
Comments