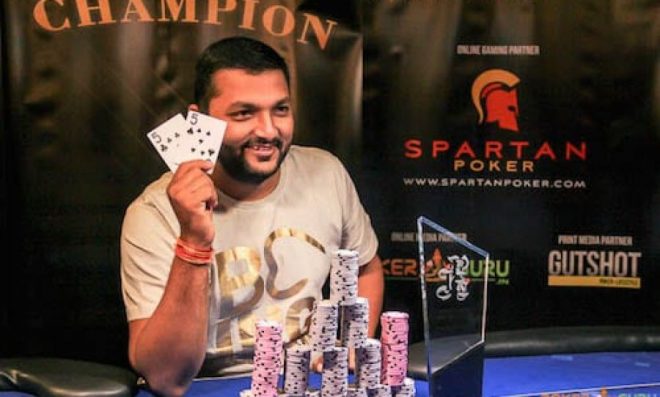 Poker
---
Mukesh Surana wins IPC 30k Big Game; Krishna SM is Turbo winner
The 30k Big Game (Main Event) of the India Poker Championship (IPC) drew to a close late on Sunday night with Chennai's Mukesh Surana emerging as champion. Surana toughed it out through a packed field of 196 players and over 19 hours of gameplay across this two day event. The Chennai resident who started playing poker just 5 years ago, couldn't control his excitement after winning his first major title and repeatedly said, "It feels great, it's just great, just great!" The 34 year old eliminated Aditya 'Bitti' Agarwal and took home INR 11.70 lacs (post a headsup deal), while runner-up Agarwal, bagged the second prize of INR 8 lacs.
The event started with 196 players and a prize pool of over INR 47 lacs was created as a result. Day 1 lasted for 9 hours with 160 players being eliminated. Some of the notable players on the felt on Day 2 were Asad Dabarkar, Danish Shaikh, Pawan Jain and Sailesh Lohia, with Danish Shaikh eventually making it to the final table. Asad D, who was also the 13th place finisher of the IPC 60K highroller, started Day 2 as chipleader with a big stack with 184,500, while Surana was the fourth chipleader with 130500.  The first elimination of Day 2 was Amrit Kalash, knocked out within minutes into the first level of play for the day. His Eights were bested by eventual winner Surana's whose pair of Queens trumped Kalash's holdings. That first KO fired up Surana's momentum and he was leading the charge all throughout Day 2 eliminating player after player. Indeed his second elimination of the day came less than 10 minutes after his first. The player on the receiving end was Neelabh Baranga, who had to make his way to the exit when Surana's Ace pair defeated him. More notables like Vidwath Shetty and Pawan Bansal were knocked out before the money. In all, 13 players were eliminated before the first break of the day and among the 23 that remained were big stack Pavan Jain followed closely by Mukesh Surana. Another notable player who was still in the field trying to get his second main event title was IPC April Big Game winner Karan Kushalani.
The money bubble burst shortly after that first break with Ujjwal Rana being the unfortunate one knocked out by Naveen Valluri's pocket Aces. Rana, who got it in with Q J also hit his top pair but that was all he could manage on the board. Bitti Agarwal was running red hot too making the big moves and knocking out a few players himself such as the double elimination of Jigar Patel and Sailesh Lohia with his pocket Tens. Karan Khushlani's run for a second IPC main event title was marred by Dmitry Marhol, who knocked him out at the 17th position. The final table was set when Naveen Valluri got eliminated by Riyaaz S. The chip counts for the final table were led by Agarwal:
1. Aditya 'bitti' Agarwal – 631000
2. Jaideep Sajwan – 504000
3. Riyaaz S – 328000
4. Mukesh Surana – 326000
5. Vikram Kumar – 284000 
6. Marhol Dzmitry – 272000
7. Pavan Jain – 232000
8. Danish Shaikh – 217000
9. Rajat Sharma – 141000
Final table action
It was a bit of an unusual situation in the tournament area as a serious power outage caused a stoppage in play. Soon though the casino staff got the power going for action to resume at the final table. In the midst of all this, Danish Shaikh was eliminated by Pavan Jain. Eliminations begin to follow with Riyaz S eliminated by Surana. Riyaz's A 8 was unable to get better against Surana's pocket Jacks.  This hand proved significant as it moved Surana up to the second position just behind Jaideep Sajwan. At the end of the first break, Surana was second in chips followed by Aditya 'bitti' Agarwal. 
In three-way action Surana knocked out Jaideep Sajwan in third place who would take home INR 5.4 lacs. The headsup players took a little break to discuss a deal and came to an understanding in all of 5 minutes. The two finalists made a split that gave Mukesh Surana 9 lacs and Aditya Agarwal 8 lacs with the balance INR 2.7 lakhs going to the eventual winner. The final hand of the tournament saw put players getting it in with good holdings; Agwarwal with Ace King against Surana's pocket Fives. A roar went up by Surana's vociferous rail when the dealer fanned out a 5 on the flop giving him a set. Agarwal was unable get lucky and with that a new champion was crowned in Chennai's Mukesh Surana.
An ecstatic champion went on to say that, "Poker is a skill game, don't gamble", in the post-win interview. Surana, who had previously played only with friends is among a new breed of players who are stepping out of their home games to prove their merit over the more experienced and notable players. 
IPC 10K Turbo
The final event of the IPC series was a fast-paced action packed Turbo event with a buy-in of INR 10,000. The tournament followed a format which had a similar blind structure as the opening events. The only switch was that players would receive a slightly higher stack of 8,500 and would play 20 minute levels.
One of the known faces on the circuit, Bangalore's Krishna SM was the last man standing in the final tournament of the series. He made it past a field of 139 players to win INR 280,000 (post deal). Runner-up Tanuj Moorjani won INR 220,000. It was a particularly good series of Sahil Chutani, who won the opening IPC 10k Kickoff and scored a third place finish for a payday of INR 130,000.
At heads-up, a deal was struck between the two final players with Krishna getting INR 2.5 lacs and Moorjani getting INR 2.2 lacs with an additional 30K going to the winner. The final of the series had Moorjani leading A 7 against Krishna's A 2.  Krishna managed to make a two pair on the turn and was declared winner.
Gutshot Magazine congratulates Mukesh and Krishna on their terrific victories and gives its best wishes to all those who made money. That's it for the coverage of this first edition of the IPC in 2016. While the dates of the next edition are yet to released, you can keep updated on any news about the same right here on Gutshot!
---
---
Comments