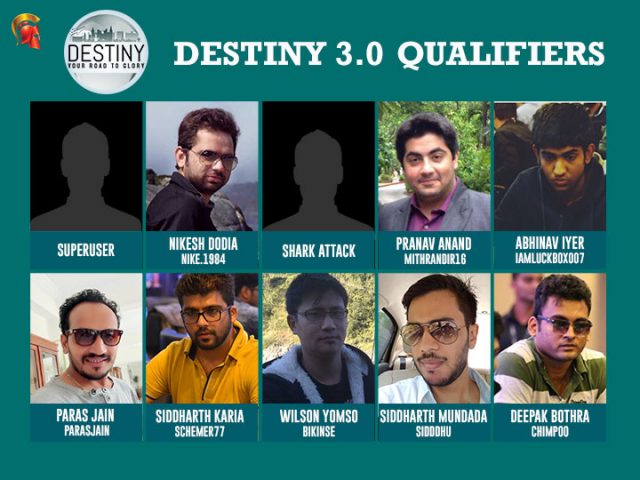 Poker
---
Meet Destiny 3.0 Qualifiers
Vegas Vegas Vegas!
It is every poker player's dream to play poker on the biggest stage in the world of poker which is without a shadow of a doubt, that bright shiny jewel in the middle of the desert known as Las Vegas! The world's poker capital has long been attracting players across ages for decades now. Many enthusiasts, be they professional or leisure players, make the annual pilgrimage to Vegas in order to play in the biggest tournament in the world. A win there not only lands you with millions of dollars in prize money but it is a chance to leave a permanent mark within the pages of poker history. Indeed, winning a title on that stage needs a lot of determination and a little bit of luck. So perhaps this tournament at The Spartan Poker is aptly named seeing that a winner from the Destiny series could go on to become the most famous poker player in India.
This third edition of the Destiny kicked off from 1st November and over the course of 10 weeks, players competed in this weekly re-entry format tournament which featured a buy-in of INR 5,500. Every week's Destiny tournament guaranteed a prize pool of INR 25 Lakhs and the winner of every week's Destiny tournament gets a cash prize (usually a minimum of INR 4 lakhs) and in addition a ticket worth INR 1 Lakh into an INR 10 Lakh SnG. At the end of 10 weeks, all Destiny winners would get together to compete in the Finale SnG from where one winner alone would head to Vegas winning the monster package of INR 10 Lakhs which includes flight tickets, hotel stay and tournament entry fee worth $10,000! This Finale SnG tournament will happen on 7 January at 6:30 pm only on TheSpartanPoker.com.
We have limited information about the first (SuperuSer) and third (shart attack) weekly Destiny winner but let's take a quick look at the rest of the SnG participants, starting from the most recent winner:
10. Deepak Bothra – chimpoo
33-year old Deepak Bothra who plays under the moniker 'chimpoo' has booked his seat to Destiny Sng Finale on the last week of the series. By profession, he is a chartered accountant (CA) and completed his education in MBA – IIM Indore. He was introduced to poker during his MBA days back in 2009-2011 where he started with INR 50 buy-in or Freerolls in PokerStars. Bothra outlasted 489 entries to claim the Destiny SnG Finale seat, where he defeated '9high' in the heads-up battle. Bothra is no newcomer to Destiny as he was the sixth Destiny winner in the Destiny 2.0 series. Apart from the Destiny title, he has also won a team tag event at the Deltin Poker Tournament where he was partnered with Spartan's first Millionaire Manoj Pentakota. Along with Destiny title and seat to Destiny SnG Finale, Bothra took home the first-place prize of INR 6,62,500 whereas the runner-up '9high' collected INR 412,500 for the second place finish.
09. Siddharth Mundada – Sidddhu
The ninth Destiny winner of Destiny 3.0 series is Siddharth 'Sidddhu' Mundada, who has been prolific in his poker achievements having a number of deep finishes such as a win at the Spartan Super Series (SSS) Super HighRoller for INR 14,21,000, a second place in the India Online Poker Championship (IOPC) July 2017 in its first side event for INR 22,646 and more. The 25-year old resides in the wine capital of India, Nasik, where apart from playing poker he is pursuing his Chartered Accountancy (CA) course. He claims being a Marwari is a big reason why playing cards has naturally come to him. After claiming the Destiny title 'Sidddhu' said, "It was smooth sailing as I rarely got into tough spots. I was catching cards as well every now and then, which made my run easy. During the middle stage of the event, I had drawn a table with very passive players which made my life easier. There was this hand on the final table where I made trips over trips and got a double up from the chip leader which put me in the driving seat."
08.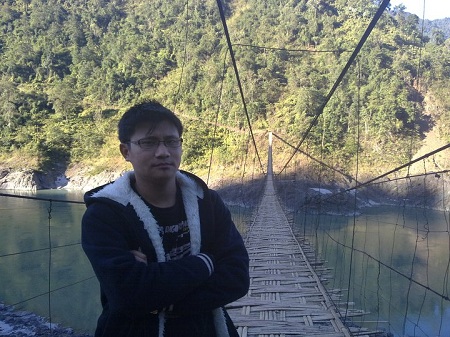 Recreational poker player Wilson Yomso a.k.a 'Bikinse' is the eighth Destiny winner from Arunachal Pradesh currently working in State Bank of India. The 35-year old got hooked onto poker after the transition from other card games like Teen Patti, Rummy etc. Just like 99% poker players, his friend introduced him to poker and then his journey began and eventually he claimed the Destiny, one his biggest earning tournaments in his poker career. He has played only one live tournament where he made his mark too in the Deltin Poker Tournament 2016's 10K Kickoff event making a deep finish at 10th place.
07. Siddharth Karia – schemer77
Siddharth Karia, a well-known quantity from the domestic poker circuit was the seventh Destiny winner on Spartan. An entrepreneur by day, Karia has plenty of experience on the international circuit as well. Aside from this Destiny title, Karia's online exploits at Spartan include a title win at India Online Poker Championship (IOPC) back in July. He even received his trophy at the IPC Awards held in Bangalore this past September. The 25-year old Ahmedabad resident scored a payday of INR 6,62,200 for his win at the Destiny tournament and also a ticket to the Destiny SnG Finale worth INR 1 lakh. He outlasted 594 entries in the tournament all contributing to a prize pool of INR 29,70,000.
06. Paras Jain – 'PARASJAIN'
31-year old Paras Jain who is a professional wedding and fashion photographer is the sixth Destiny title winner on Spartan. Jain who plays under the moniker 'PARASJAIN' shipped the title for INR 5,62,500 and a ticket worth INR 1 Lakh to Destiny SnG Finale. Jain began his poker journey on Zynga poker through Facebook. He travels a lot for his shoots and business meetings which is normally to Goa, so there he hooked up with cash games in casinos. It has been 6-7 years playing poker. Jain began playing poker for real money online on TheSpartanPoker almost two years back.
05. Abhinav Iyer – iamluckbox007
Bombay based poker player Abhinav Iyer was the fifth Destiny winner on TheSpartanPoker. 24-year old Iyer who plays under the moniker 'iamluckbox007' claimed the Destiny title for INR 5,65,150 and a ticket to Destiny SnG Finale worth INR 1,00,000. Iyer outlasted 502 entries who made a prize pool of INR 25,10,000 which was collected by top 40 places with a min-cash of INR 15,060. Iyer's introduction to poker tournaments was majorly on PokerStars. Gradually, he started playing a few live tournaments and final tabled the DPT last year. Later in the year, he travelled to Manila and for the DPT, WPT later in the year.
04. Pranav Anand – mithrandir16
29-year old Pranav Anand is the fourth Destiny winner on Spartan. He is working in a Tech startup from the past two years. Anand picked up poker in the early days of college along with his friends. After he claimed Destiny title, he said, "My journey through the Destiny tournament was unlike any Hero's tale, where the Hero has to go through a lot of hardships to come out victorious in the end. I kept on getting good hands at regular intervals, some intervals were of course longer than the others but I ran well throughout. I made a bunch of hero calls which turned out to be good, helping me to always keep a top 10 stack. The biggest hand for me by far was when I picked up Kings and ran into Aces, only to manage to hit a two outer on the river."
03. Unknown – shart attack
02. Nikesh Dodia – nike.1984
Mumbai based poker player Dodia shipped this particular Destiny tournament for a top cash prize of INR 4 Lakh cash plus a ticket worth INR 1 lakh for the Destiny SnG Finale. Dodia defeated his opponent 'SlamDunk' in the heads-up battle. 'SlamDunk' took home INR 2,39,688 for the second place finish. The winner was determined in Level #43 with blinds running 18,000-36,000-4,500, 'nike.1984' had 8s 3d and 'SlamDunk' holding 8h Jh went all-in on the turn with the board of 3c 8c 6h 2s 4c. A fortuitous board for 'nike.1984' who took down the title with two pairs, Eights and Threes and eliminated 'SlamDunk' in second place.
33-year old Mumbai based Dodia is a construction businessman who is looking forward to making poker his profession in due course. Expressing his thoughts, the winner said, "I started playing poker on Zynga via Facebook during my college days and winning Destiny is one of my biggest achievements in poker. Plus, I won the Destiny ticket through satellite and the winning hand 8s 3d was also surprising to me."
01. Unknown – SuperuSer
The Destiny 3.0 SnG Finale will take place on 7th January and one of these qualifiers will go on to win the INR 10 lakhs package trip to Las Vegas. Stay tuned to GutshotMagazine.com for an update of who wins this finale! 
---
---
Comments