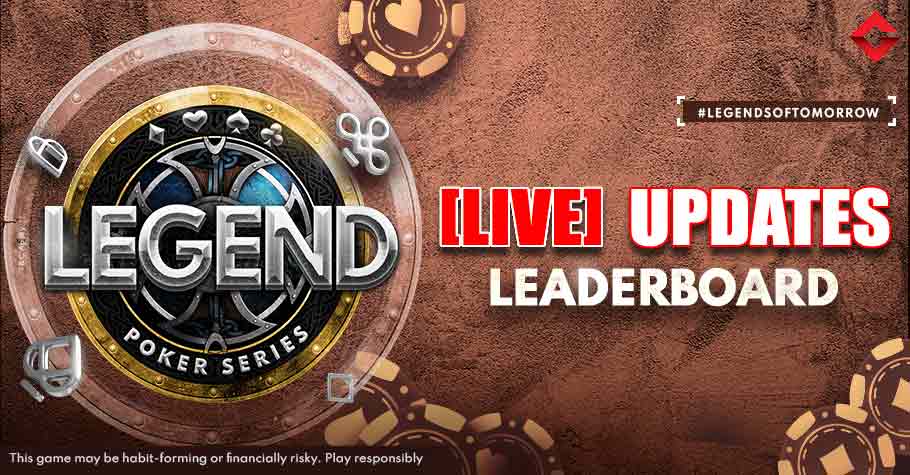 Poker
---
Legend – Leaderboards Updates
Day 18
| | | | |
| --- | --- | --- | --- |
| Leaderboards | Place | Player | Points |
| ₹20 Lakh HighRoller | 1 | Mahesh S | 1,959 |
| ₹15 Lakh Deepstack Leaderboard | 1 | Ankit Wadhawan | 2,661 |
| ₹10 Lakh Turbo Leaderboard | 1 | Mandar Madaye | 2,743 |
| ₹10 Lakh PLO | 1 | Induprakash Mishra | 2,221 |
| ₹10 Lakh Mix Hold'em Leaderboard | 1 | Samay Singh Modi | 7,212 |
| ₹10 Lakh Multi Flight | 1 | Gursimran Brar | 1,508 |
Day 17
| | | | |
| --- | --- | --- | --- |
| Leaderboards | Place | Player | Points |
| ₹20 Lakh HighRoller | 1 | Mahesh S | 1,795 |
| ₹15 Lakh Deepstack Leaderboard | 1 | Ankit Wadhawan | 2,661 |
| ₹10 Lakh Turbo Leaderboard | 1 | Mandar Madaye | 2,743 |
| ₹10 Lakh PLO | 1 | Induprakash Mishra | 1,925 |
| ₹10 Lakh Mix Hold'em Leaderboard | 1 | Samay Singh Modi | 6,725 |
| ₹10 Lakh Multi Flight | 1 | Gursimran Brar | 1,144 |
Day 16
| | | | |
| --- | --- | --- | --- |
| Leaderboards | Place | Player | Points |
| ₹20 Lakh HighRoller | 1 | Mahesh S | 1,795 |
| ₹15 Lakh Deepstack Leaderboard | 1 | Vikaash Shah | 2,345 |
| ₹10 Lakh Turbo Leaderboard | 1 | Mandar Madaye | 2,521 |
| ₹10 Lakh PLO | 1 | Induprakash Mishra | 1,925 |
| ₹10 Lakh Mix Hold'em Leaderboard | 1 | Samay Singh Modi | 6,725 |
| ₹10 Lakh Multi Flight | 1 | Gursimran Brar | 1,144 |
Day 15
| | | | |
| --- | --- | --- | --- |
| Leaderboards | Place | Player | Points |
| ₹20 Lakh HighRoller | 1 | Vivek Singh | 1,661 |
| ₹15 Lakh Deepstack Leaderboard | 1 | Abhinav Iyer | 2,255 |
| ₹10 Lakh Turbo Leaderboard | 1 | Mandar Madaye | 2,359 |
| ₹10 Lakh PLO | 1 | Induprakash Mishra | 1,814 |
| ₹10 Lakh Mix Hold'em Leaderboard | 1 | Samay Singh Modi | 6,405 |
| ₹10 Lakh Multi Flight | 1 | Gursimran Brar | 1,144 |
Day 14
| | | | |
| --- | --- | --- | --- |
| Leaderboards | Place | Player | Points |
| ₹20 Lakh HighRoller | 1 | Vivek Singh | 1,661 |
| ₹15 Lakh Deepstack Leaderboard | 1 | Abhinav Iyer | 2,078 |
| ₹10 Lakh Turbo Leaderboard | 1 | Mandar Madaye | 2,359 |
| ₹10 Lakh PLO | 1 | Induprakash Mishra | 1,814 |
| ₹10 Lakh Mix Hold'em Leaderboard | 1 | Samay Singh Modi | 6,405 |
| ₹10 Lakh Multi Flight | 1 | Gursimran Brar | 1,144 |
Day 13
| | | | |
| --- | --- | --- | --- |
| Leaderboards | Place | Player | Points |
| ₹20 Lakh HighRoller | 1 | Vivek Singh | 1,430 |
| ₹15 Lakh Deepstack Leaderboard | 1 | Ankit Wadhawan | 1,943 |
| ₹10 Lakh Turbo Leaderboard | 1 | Mandar Madaye | 2,240 |
| ₹10 Lakh PLO | 1 | Induprakash Mishra | 1,814 |
| ₹10 Lakh Mix Hold'em Leaderboard | 1 | Samay Singh Modi | 6,405 |
| ₹10 Lakh Multi Flight | 1 | Gursimran Brar | 1,144 |
Day 12
| | | | |
| --- | --- | --- | --- |
| Leaderboards | Place | Player | Points |
| ₹20 Lakh HighRoller | 1 | Vivek Singh | 1,430 |
| ₹15 Lakh Deepstack Leaderboard | 1 | Abhinav Iyer | 1,903 |
| ₹10 Lakh Turbo Leaderboard | 1 | Mandar Madaye | 2,240 |
| ₹10 Lakh PLO | 1 | Induprakash Mishra | 1,705 |
| ₹10 Lakh Mix Hold'em Leaderboard | 1 | Samay Singh Modi | 6,286 |
| ₹10 Lakh Multi Flight | 1 | Gursimran Brar | 1,144 |
Day 11
| | | | |
| --- | --- | --- | --- |
| Leaderboards | Place | Player | Points |
| ₹20 Lakh HighRoller | 1 | Vivek Singh | 1,430 |
| ₹15 Lakh Deepstack Leaderboard | 1 | Abhinav Iyer | 1,903 |
| ₹10 Lakh Turbo Leaderboard | 1 | Mandar Madaye | 2,125 |
| ₹10 Lakh PLO | 1 | Induprakash Mishra | 1,705 |
| ₹10 Lakh Mix Hold'em Leaderboard | 1 | Samay Singh Modi | 5,201 |
| ₹10 Lakh Multi Flight | 1 | Gursimran Brar | 1,144 |
Day 10
| | | | |
| --- | --- | --- | --- |
| Leaderboards | Place | Player | Points |
| ₹20 Lakh HighRoller | 1 | Anuj Yadav | 1,218 |
| ₹15 Lakh Deepstack Leaderboard | 1 | Abhinav Iyer | 1,903 |
| ₹10 Lakh Turbo Leaderboard | 1 | Mandar Madaye | 2,125 |
| ₹10 Lakh PLO | 1 | Sony Puthussery | 1,292 |
| ₹10 Lakh Mix Hold'em Leaderboard | 1 | Hemant Meena | 4,247 |
| ₹10 Lakh Multi Flight | 1 | Gursimran Brar | 904 |
Day 9
| | | | |
| --- | --- | --- | --- |
| Leaderboards | Place | Player | Points |
| ₹20 Lakh HighRoller | 1 | Anuj Yadav | 1,218 |
| ₹15 Lakh Deepstack Leaderboard | 1 | Abhinav Iyer | 1,903 |
| ₹10 Lakh Turbo Leaderboard | 1 | Mandar Madaye | 1,989 |
| ₹10 Lakh PLO | 1 | Sony Puthussery | 1,292 |
| ₹10 Lakh Mix Hold'em Leaderboard | 1 | Hemant Meena | 3,934 |
| ₹10 Lakh Multi Flight | 1 | Gursimran Brar | 904 |
Day 8
| | | | |
| --- | --- | --- | --- |
| Leaderboards | Place | Player | Points |
| ₹20 Lakh HighRoller | 1 | Mahesh S | 1,086 |
| ₹15 Lakh Deepstack Leaderboard | 1 | Abhinav Iyer | 1,185 |
| ₹10 Lakh Turbo Leaderboard | 1 | Siddhanth Kripalani | 1,903 |
| ₹10 Lakh PLO | 1 | Mandar Madaye | 1,849 |
| ₹10 Lakh Mix Hold'em Leaderboard | 1 | Hemant Meena | 3,391 |
| ₹10 Lakh Multi Flight | 1 | Gursimran Brar | 904 |
Day 7
| | | | |
| --- | --- | --- | --- |
| Leaderboards | Place | Player | Points |
| ₹20 Lakh HighRoller | 1 | Siddhanth Kripalani | 793 |
| ₹15 Lakh Deepstack Leaderboard | 1 | Abhinav Iyer | 1,903 |
| ₹10 Lakh Turbo Leaderboard | 1 | Mandar Madaye | 1,849 |
| ₹10 Lakh PLO | 1 | Sony Puthussery | 985 |
| ₹10 Lakh Mix Hold'em Leaderboard | 1 | Hemant Meena | 3,218 |
Day 5
| | | | |
| --- | --- | --- | --- |
| Leaderboards | Place | Player | Points |
| ₹20 Lakh HighRoller | 1 | Siddhanth Kripalani | 793 |
| ₹15 Lakh Deepstack Leaderboard | 1 | Vikaash Shah | 1,185 |
| ₹10 Lakh Turbo Leaderboard | 1 | Siddhanth Kripalani | 1,434 |
| ₹10 Lakh PLO | 1 | Induprakash Mishra | 937 |
| ₹10 Lakh Mix Hold'em Leaderboard | 1 | Hemant Meena | 3,218 |
Day 4
| | | | |
| --- | --- | --- | --- |
| Leaderboards | Place | Player | Points |
| ₹20 Lakh HighRoller | 1 | Ujjwal Narwal | 619 |
| ₹15 Lakh Deepstack Leaderboard | 1 | Vikaash Shah | 1,185 |
| ₹10 Lakh Turbo Leaderboard | 1 | Siddhanth Kripalani | 1,434 |
| ₹10 Lakh PLO | 1 | Induprakash Mishra | 937 |
| ₹10 Lakh Mix Hold'em Leaderboard | 1 | 'HEMAKUNA' | 3,066 |
Day 3
| | | | |
| --- | --- | --- | --- |
| Leaderboards | Place | Player | Points |
| ₹20 Lakh HighRoller | 1 | Ujjwal Narwal | 619 |
| ₹15 Lakh Deepstack Leaderboard | 1 | Ankit Wadhawan | 1,095 |
| ₹10 Lakh Turbo Leaderboard | 1 | Siddhanth Kripalani | 811 |
| ₹10 Lakh PLO | 1 | 'A passage to India' | 937 |
| ₹10 Lakh Mix Hold'em Leaderboard | 1 | Ganesh Kamat | 2,290 |
Day 2
| | | | |
| --- | --- | --- | --- |
| Leaderboards | Place | Player | Points |
| ₹20 Lakh HighRoller | 1 | Himanshu Arora | 566 |
| ₹15 Lakh Deepstack Leaderboard | 1 | Sanat Mehrotra | 400 |
| ₹10 Lakh Turbo Leaderboard | 1 | Suraj Yadav | 326 |
| ₹10 Lakh PLO | 1 | Ujjwal Narwal | 283 |
| ₹10 Lakh Mix Hold'em Leaderboard | 1 | Snehil Aggarwal | 253 |
Day 1
| | | | |
| --- | --- | --- | --- |
| Leaderboards | Place | Player | Points |
| ₹20 Lakh HighRoller | 1 | Himanshu Arora | 566 |
| ₹15 Lakh Deepstack Leaderboard | 1 | Abhinav Iyer | 857 |
| ₹10 Lakh Turbo Leaderboard | 1 | Siddhanth Kripalani | 811 |
| ₹10 Lakh PLO | 1 | Parag Shah | 651 |
| ₹10 Lakh Mix Hold'em Leaderboard | 1 | Yash Chitre | 1,601 |
Spartan Poker is back with another thrilling poker series, and mind you this one's not for the faint hearted! Spartan Poker's Legend is here to reward the legends of the game who've got what it takes to face the challenge and emerge victorious. Apart from the ₹25 Crore GTD in prize winnings, this series also features six different leaderboards worth ₹75 Lakh. Take a look at the six leaderboards.
₹20 Lakh HighRoller
₹15 Lakh Deepstack Leaderboard
₹10 Lakh Multi Flight
₹10 Lakh Turbo Leaderboard
₹10 Lakh PLO
₹10 Lakh Mix Hold'em Leaderboard
The top 10 places on each of the six leaderboards get to take home a share of the respective leaderboard. That means, the leaderboards at Legend will have 60 winners. Stay tuned to Gutshot Magazine for daily leaderboard updates and standings.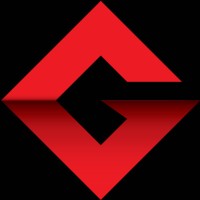 Gutshot Magazine is India's leading real money gaming magazine that covers news, updates, previews, highlights, features and much more across verticals like poker, rummy, and fantasy sports. Our rich history that has spanned over a decade now, Gutshot Magazine has always tied up with events and tournaments that have helped push the awareness of skill gaming in the country. If you are looking for the latest updates across real money gaming, then you have arrived at the perfect destination.
---
---
More News
---
Comments