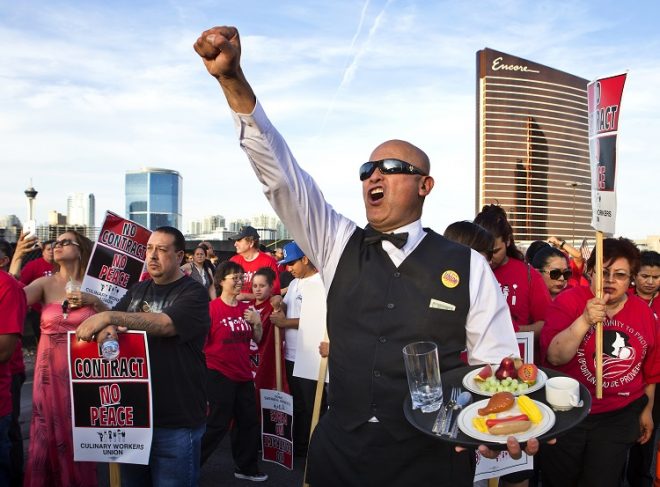 Gambling
---
Las Vegas casino workers vote to authorize strike
Las Vegas is a world-famous tourist destination, famous for its casinos, gambling, bookmaking, clubs, easy marriages and much more. 'Sin City' as it is called has tens of thousands of workers employed in casinos throughout the city and these workers may soon be heading out on a strike.
Thousands of workers will have contracts expiring soon and if employers don't renew these contracts soon, we could be in for a huge strike for the first time in over three decades. The last workers strike seen in Las Vegas was way back in 1984 which lasted 67 days and cost the city millions of dollars.
Close to 50,000 workers could walk out on a strike once again, any time after 1st June, if the employers don't reach new contracts before their expiry at the end of May. These workers have crucial roles that make these casino hotels run, including bartenders, housekeepers, waiters, bellmen, porters, cooks and other kitchen helpers.
About 25,000 members of the Culinary Union working at around 3 dozen different casino-resorts across Las Vegas cast their ballot votes in two sessions on Tuesday, and 99% of these members favoured a strike. The Union last voted for a strike in 2002, but the casinos reach a solution before employees walked out on a strike. Will this happen again?
Casinos will want to avoid a chaotic strike taking place in Vegas, so close to the popular World Series of Poker, where thousands of players will be flying down to play in this prestigious poker series. Contracts expire at midnight on 31st May and casino employers will have to set out new contracts with the required terms to avoid this mass strike.
"A strike is a last resort. We want to come to an agreement, but the union and workers are preparing for a citywide strike if contracts are not settled by June 1," said Geoconda Argüello-Kline, secretary-treasurer for the Culinary Union. For all major updates on the situation in Las Vegas, keep reading GutshotMagazine.com!
---
---
Comments