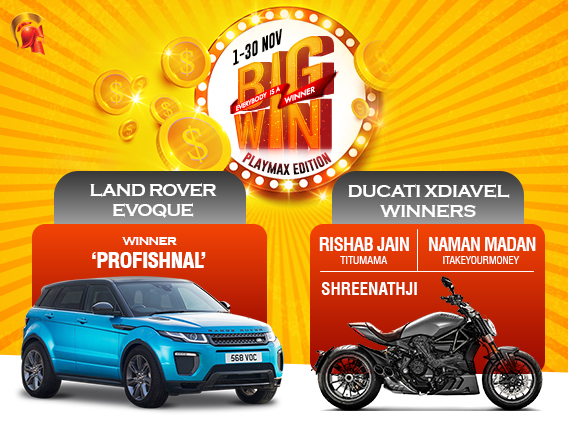 Poker
---
Land Rover and Ducatis given away in Spartan's BigWin 2
For the month of September, The Spartan Poker launched a number of poker promotions which had every online poker player in the country thrilled. One of these promotions was the BigWin, which was a rewards system that was making its debut on Spartan, with plenty of prizes available for every player, regardless of their respective bankrolls.
By the end of the month of September, there were two players who bagged the top prizes of the Mercedes-Benz CLA, including Rishab Jain and Dhruvin Kothari. They achieved the highest level of VIP points needed to win this promotion, so this smashing success saw Spartan going on to introduce BigWin 2, running through the month of October and offering even bigger prizes, including the stunning Ford Mustang!
It was going to be a considerable effort and probably 18+ hours of daily grinding for a player to reach the Mustang, which eventually no one did. However, there was one player who claimed the Land Rover Evoque, which was two levels behind the Mustang, and that player was 'Profishnal', who wished to stay anonymous.
The promotion ran between 1-31st October and it was a superb month for Profishnal, who was the only player to reach the milestone of 5,00,000 VIP Points for the month, which was enough for him to claim the Level 17 prize of the Land Rover. So, guess who will be driving around in style this winter, in a car costing close to INR 60 lakh?
The next VIP Points slab was Level #16 and here, the Ducati XDiavel was up for grabs. Eventually, three players reached the milestone of 3,00,000 Points required to redeem this prize including Rishab Jain aka 'Titumama', Naman Madan aka 'Itakeyourmoney' and 'Shreenathji'. All these players will have an upgraded ride pretty soon, costing around INR 16 lakh each!
Interestingly, Rishab Jain also won the Mercedes last month, so he now has two new additions to his garage. Spartan saw the success of the BigWin promotion and players loving the rewards up for grabs, so they decided to launch its third edition, with the BigWin – PlayMax Edition running between 1-30th November 2018.
For more updates on the biggest winners in Indian online poker promotions, keep reading GutshotMagazine.com.
Don't have an account on The Spartan Poker? Don't miss out on their bonuses, promotions, and guarantee-smashing tournaments. Sign-up now by clicking HERE.
---
---
Comments