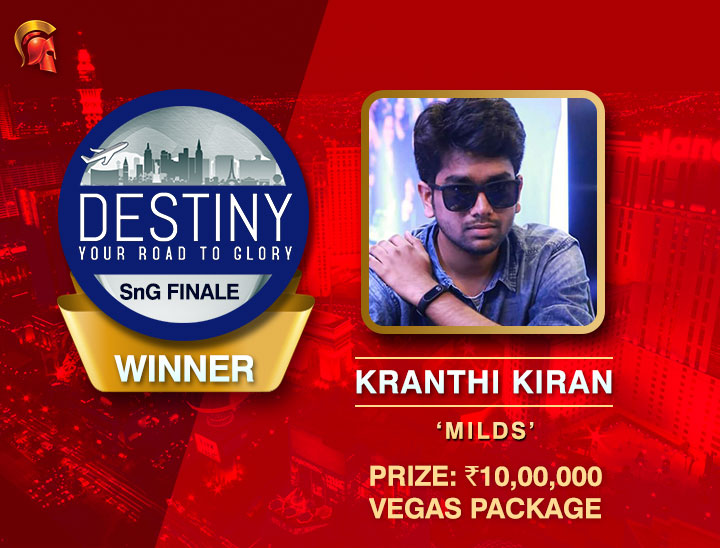 Poker
---
Kranthi Kiran wins Destiny SnG Finale on Spartan
The fourth edition of Destiny series concluded last night with Kranthi 'Milds' Kiran emerging as the champion and taking down the INR 10 Lakhs Vegas poker package this summer. The package includes the flight, stay and entry to the biggest live tournament in the world (2018 edition). The 10-week series where every week the Destiny tournament winner would move winning qualifier for the SnG Finale. This edition had 'Milds' 'randomuncle' 'dvaio' mrgr33n' 'Bikini Babe' 'nik55' 'fishrag' 'pokernoob' 'Alfie Solomons' and 'stoner666'. These ten qualifiers competed against each other on 18 March where Kranthi 'Milds' Kiran emerged victorious to claim the Vegas poker package from TheSpartanPoker.com.
Gutshot was able to speak to Kranthi Kiran and here are the excerpts;
Congratulations on winning the Destiny SnG Finale last night. How did it feel winning that final hand?
Thank you, it felt awesome! I jumped out of the chair and did not bother looking at the runout after I hit my set on the flop. The turn and river were kind, thankfully.
Please share some key hands from the FT.
I ran well in the end. Got lucky with my A8 against 'randomuncle's Ace-Ten. Then, in heads-up, I was limping most of my hands as my opponent (randomuncle) was playing very aggressively. I limp-called his shove with A6s > Q10off. Then in the final hand, again limp-called his shove with QQ > A2o, flopped a set.
Who did you consider tough competition at the FT?
The SitnGo had very tough players obviously. I adjusted well throughout the tourney. With some run good, I was able to ship it.
As now you have won the INR 10 Lakhs worth Las Vegas package, how will you prepare to participate in the world's most famous Main Event?
I have been there 2 years ago, that experience will be of big help during the preparation. I will dedicate most of my time getting better at MTTs, will also work on my fitness. You need to be fit and healthy to survive that long a grind.
Away from the tables what are your plans for Vegas?
It is going on a long trip. I'm planning to visit lots of places in USA and Canada too.
Is your focus going to be only tournaments or will you play cash games too?
I'm actually more of a cash game player than an MTT grinder. But, I will be studying and playing MTTs for the majority time in the next few months.
There are many other big series in other casinos happening in Vegas during the World Series. Which ones are you planning to play in?
I have not planned my schedule yet. I will try and accommodate as many tourneys as possible into my schedule.
Is there anything which you heard about Vegas and want to experience when you go there next year?
Las Vegas is an awesome place to go on a trip. I am going to visit the places that I missed during my last trip.
Congratulations to Kranthi Kiran and other qualifiers joining him include Sriharsha Doddapaneni, Anirban Das, and Rohan Bhasin all of whom will be traveling to Las Vegas this summer.
---
---
Comments