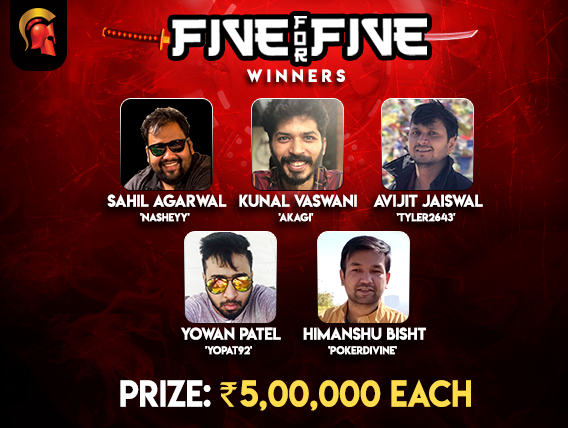 Poker
---
June 5For5 winners: Agarwal, Vaswani, Jaiswal, Patel, Bisht
Being one of the top online poker websites in India, Spartan Poker is a leader in innovation, always bringing in some unique tournament and cash game offerings for their players. One such offering is their signature tournament called 5For5 INR 5 Lakh for top 5 which is played once a month, usually the third Sunday of each month.
As the name suggests, the top 5 players are all paid out INR 5,00,000 and yesterday, another edition of this flagship tournament was played, with 5 more winners being announced. These winners include the very talented Sahil Agarwal aka 'Nasheyy', Kunal Vaswani aka 'Akagi', Avijit Jaiswal aka 'tyler2643', Yowan Patel aka 'Yopat92', and Himanshu Bisht aka 'pokerdivine'.
The tournament kicked off at its usual time of 6pm and went on till the early hours of Monday morning before we had our five winners. The buy-in to the tournament is of INR 5,500 and a total of 657 entries contributed to the prize pool last night, which was then distributed among the top 50 players.
Before we arrived at the winners for the night, a number of known players busted in the money, collecting a minimum of INR 9,526 each from the prize pool. These included recent SSS Main Event winner Vivek Bajaj (38th), Sumit Sapra (36th), Zarvan Tumboli (34th), Faiz Alam (29th), Phanindra Akkina (23rd), Aniket Waghmare (12th), Sajal Gupta (8th), and others.
The last elimination of the day was that of 'ChipTricks' who was knocked out in 6th place. No doubt, he received a decent pay-out of INR 2,13,525 but he would've been disappointed as he missed out on the massive pay jump. All of the remaining 5 players were paid out INR 5 Lakh each!
Gutshot caught up with some of the winners to ask them about the tournament experience. Kunal Vaswani 'Akagi' said, "I'd like to thank Spartan Poker for always innovating with their ideas and bringing tournaments like 2oK and 5for5 with heavy uptop pay-outs. It's truly an amazing feeling outlasting a large field for a hefty payday."
Yowan Patel recounted his journey, saying, "The tournament was going very smooth for me. Most of the time, I had more than 70BB and also was winning most of the flips and when I came to the Final Table, I was the chip leader. Until the last 6, I was chip leading before I lost two consecutive hands with AA and JJ where the opponent got very lucky in the river both times. After that, I was playing stable and was very patient as I had only 30BB but fortunately Nasheyy knocked off ChipTricks with a very sick beat of JJ vs A2 of spades where both went all-in pre-flop. Nasheyy hit his flush on the flop eliminating ChipTricks and concluding the tournament with 5 winners."
Himanshu Bisht was also very excited with this victory, especially since he won an equal prize even though he was the shortest stacked among the 5. He said, "It's my biggest win till date. It feels like I've won a marathon. This is one of the best tourneys on Spartan Poker and I'm very happy to have closed it out."
For more updates on similar online poker tournaments in India, stay tuned to GutshotMagazine.com.
Don't have an account on Spartan Poker? Check out their review page here, and don't miss out on their bonuses, promotions, and guarantee-smashing tournaments. Sign-up now.
---
---
Comments