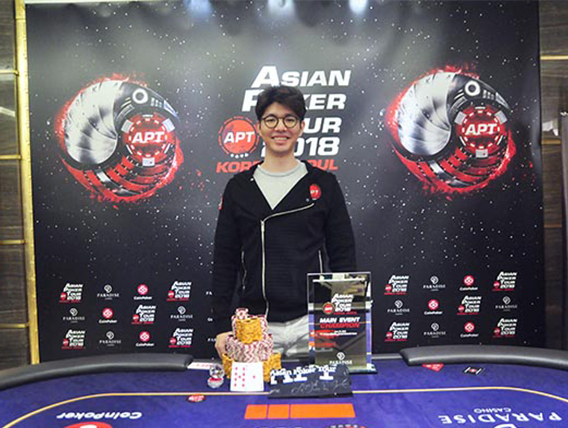 Poker
---
Jinwoo Kim wins APT Korea Main Event
After five days of Asian Poker Tour Main Event action running from 19-23 June at Paradise Casino at Grand Walkerhill, Jinwoo Kim from the USA emerged as champion capturing the title, trophy, APT Championship Ring and a cool KRW 26,225,000 (~INR 16 Lakhs). Last year, Kim narrowly missed the APT championship title in Incheon by one place but this time he went all the way. 
When heads-up began, Kim led a 2:1 lead over his opponent Paul Hong from New Zealand who entered the final table as the chip leader. A few hands played out where the lead switched with both players. Both then took a few mins to discuss an ICM deal which was agreed upon and then closed, leaving a sum of KRW 2 million (~INR 1.22 Lakhs) aside for the title winner.
"Money didn't matter to me at all. The title was everything. I've always wanted the title since Incheon a year ago when I lost at heads up. I made huge mistakes and I've regretted it ever since. I've been dreaming of that scene, lost sleep over it. So yesterday I didn't think about winning the championship, I just planned to do my best and it happened. It's like a dream," said a very delighted Kim.
Reviewing his Main Event run, Kim entered Day 2 running 84th out of the 85 players that advanced from the starting flights. He had 15 bbs which dropped to an even lower 5 bbs with the money still a long way off. After numerous double ups, he was back in the game and impressively bagged up the largest stack. Kim continued his domination into Day 3 and secured a Final 8 seat ranked third in chips.
To achieve his goal, Kim said, "I studied a lot yesterday. I studied on the final table. I watched lots of videos, heads ups. I spent around 5 to 6 hours and it helped a lot. It felt like my tournament strategy had plenty of leaks, bad points, but studying helped and I feel I improved. Especially when it was short-handed."
After Kim eliminated Hyun Kyu Bae in 4th place, both he and Paul Hong entered the three-handed round with huge stacks while Roman Shcherbakov was the ailing short stack. Talking strategy, Kim said, "At three-handed, I knew I had a slight lead against Paul and I knew he didn't want to leave the tournament in 3rd place with a big stack. I figured he wasn't going to want to fight me. So when he'd open, I'd re-raise him with any two cards. He is a heads up specialist so I knew he had a lot of edge that I couldn't easily beat. I tried to make the game high variance so that he won't win with post flop skills and fancy moves.I actually had a feeling I was going to go heads up with him."
When asked what this title meant to him, Kim was at a loss for words, "I can't describe it so I may have to go to my bed first and think about it (laughs). It will definitely boost my confidence overall in the live field because I'm more of an online player. I don't have that much experience live."
Final 8 payouts:-
1st Jinwoo Kim – USA – KRW 26,225,000*
2nd Paul Hong – New Zealand – KRW 34,337,000*
3rd Roman Shcherbakov – Russia – KRW 16,744,000
4th Hyun Kyu Bae – Canada – KRW 11,999,000
5th Masaki Fujitani – Japan – KRW 8,915,000
6th Jason Sun – China – KRW 6,808,000
7th Okabe Shoei – Japan – KRW 5,485,000
8th Teruhisa Aoyama – Japan – KRW 4,542,000
*denotes heads-up deal
---
---
Comments