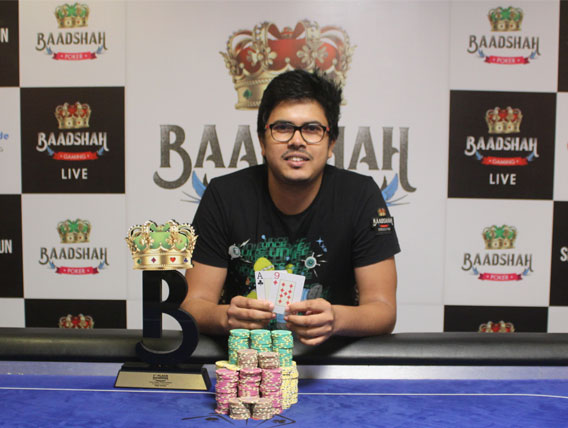 Poker
---
Jayjit Ray is the BLT3 Highroller champion!
The biggest buy-in tournament of this Baadshah Live series took place earlier tonight and after a long grind of close to 15 hours we have a champion in Jayjit Ray who outlasted a field of 25 players to take down this title here at the Pride poker room in Casino Pride, Goa.
It was a slow start to the proceedings when this Highroller became a few moments past 4:00 pm on Friday evening. Players who wanted to compete in this tournament had to pony up INR 75,000 to get into the action. With 40 minute levels, players could well afford to take their time in building their stack to ride it all the way to the finish line. Some players like Bibek Karki, Vikram Kumar and Jayjit Ray fired out multiple bullets in their attempt to reach the finish line. Ray, in fact, busted extremely early (before the end of the second level) and fancied his chances in this field enough to buy back in again. And it worked in his favour as he made it to the final four of the tournament and then some!
Rajeev Kanjani had quite the swingy day in this competition having lost a bunch of chips in the beginning only to run his stack back up to capture the chipleader position by the the second break happened. Some good fortune to help him along the way as he made an error in betting which eventually worked out in his favour as he doubled up through Chennai's Aditya Sushant. India's first WSOP bracelet winner found his end in this tournament at the hands of Maddy Gupta who was responsible for a number of big knockouts across the evening. Another high profile player who was part of the Highroller proceedings was Aditya 'Intervention' Agarwal who was unable to gain much traction during his time at the tables. He was initially eliminated by Gupta and re-entered only to find himself facing the same fate this time getting busted by Rajeev Kanjani's pocket Jacks. Kanjani was also responsible for Gupta's elimination a short while earlier and with these two knockouts we had the final table of the Highroller:-
Tournament Director Georgie Thomas made the prize announcements in the meantime declaring a sum of INR 9 Lakhs going to the winner with INR 6 Lakhs and INR 3.75 Lakhs going the way of the runner-up positions. Two of the final tablists who made their presence felt on consecutive days were Jaydeep Dawar and Ashish Munot. Both players were on the final table of the opening 15k Bounty event where they cashed deep and Ashish Munot actually went on to win that event making it his first ever live poker tournament trophy. However despite their back-to-back final tables, this time both players fell short of the money being the first and third eliminations at the 7-handed final table, Sahil Mahboobani being the 6th place finisher. 
Next to go was Arjanveer Chadha, his run ending when Rajeev Kanjani's pocket Tens spiked a Ten on the flop and another T on fourth street. That elimination via Quads meant Chadha was the bubble boy in this Highroller and the remaining 3 players; Kanjani, Jayjit Ray and Kartik Ved would definitely go home with some extra for their efforts. The grind was well and truly on as pots big and small kept moving between all three players. At one point, Ved became the short stack but he managed to claw his way back into the mix on the back of a couple of solidly played hands. But the fight didn't last too long as Ved's preflop shove with pocket Fives against the Ac Qc of Jayjit Ray fell short. Even though he rivered a set on a board of 6c 7s 4c Jh 5c, the river gave Ray his Ace high flush and then it was time for headsup.
It was then time for headsup battle between Kanjani and Ray. It didn't take too long for us to get to a winner as both players got their stacks into the middle with their respective Aces but Ray's better kicker gave him that pot and the title in this 75k Highroller tournament. 
Congratulations all around to the money finishers and especially to Jayjit Ray for lifting the Highroller title at this edition of the Baadshah Live Tournament series. We will return tomorrow at 3:00 pm to bring you updates from the final starting flight 1C of the BLT3 Main Event and that will be followed by a limited coverage from the PLO side event which will take place later in the evening at 7:00 pm.
Until it's goodbye from all of us here at GutshotMagazine.com!
---
---
Comments