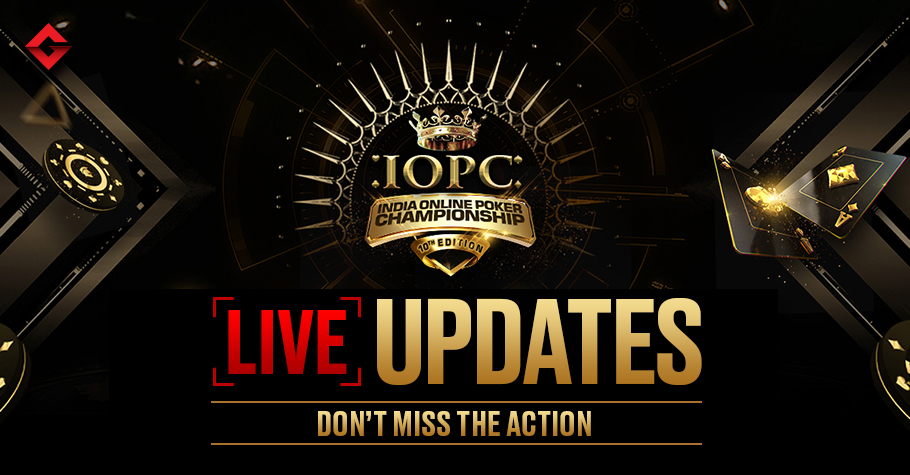 Poker
---
IOPC Jan 2021 – Live Updates
Twice every year, Spartan Poker hosts the India Online Poker Championship (IOPC) and every time, they just keep growing by leaps and bounds. They went on to outdo themselves again, announcing a massive INR 28 Crore GTD series that is scheduled between 14-31 January 2021. A huge range of buy-ins and the biggest guarantees are on once again, and the action is heating up as we speak!
Gutshot is covering the entire series and apart from daily updates, we also will be covering hourly updates of the list of daily tournaments. How many entries? Which top players reached the final table? How many players were paid? What were the biggest prizes given away on the night? All this and more, right here. Keep reading…
IOPC Day 5
IOPC #26 – With a buy-in of INR 440, the original prize pool of INR 2.50 Lakhs was crushed and further scaled up to INR 2,84,800 because of 712 entries that took part in the first tournament of IOPC Day 5. The tournament finally came to an end because of a heads-up deal with 'Noobdaddy7' emerging as winner and taking home INR 54k as prize money.
IOPC #27 – We all know this man! India's first WSOP bracelet winner Aditya Sushant aka 'SuperuSer' won the event and bagged INR 1,38,345 in prize money. He beat a field of 460 entries and took home the title, adding yet another feature to his cap of achievements. 
IOPC #28 – We had an INR 5.25 Lakh GTD and it was passed because the field of 780 entries. The top 63 entries were paid out in the tournament and eventually, it was 'Tatvmasi' who cashed INR 1,05,651 in prize money for winning the title. 
IOPC #29 –   
IOPC Day 4
Millionaire United Day 1C – Third flight of this INR 1.5 Crore GTD tournament and the action kicked off at noon, with a buy-in of INR 7,700. In all, 288 entries registered and by the end of the specified time period, there were only 37 players left who progress to Day 2, the field bring led by 'DumbNBroke' who has a stack of 264k chips.
IOPC #20 – 2pm IST kick off time, INR 2,200 buy-in and an INR 6.75 Lakh GTD prize pool. We've witnessed 382 entries which broke the guarantee and took the prize pool up to INR 7.64 Lakh. 31 players were paid and Abhishek Jaiswal aka 'allout1' ended up victorious for a prize of INR 1,61,586.
IOPC #21 – 3:30pm IST kick off and by the end of the registration period, 844 entries joined with the buy-in of INR 770. It took the INR 4.75 Lakh prize pool all the way up to INR 5.9 Lakh which will pay the top 71 places only. Tathagata Sengupta aka 'RadioActivity' took down the title with winnings of INR 1,01,279 to his name.
Millionaire United Day 1D and 1E – There's a hurry to finish this off quick as both turbo flights were held on the same day. Apratim Sharma aka 'checm@te' was chip leader with 208k chips while Guruprasad Gupta aka 'DONKAKING' ended Day 1E with 184k in chips!
IOPC #22 Sunday SuperStack – Part of the usual weekly schedule on Spartan Poker, Sunday SuperStack had an INR 50L guarantee with a buy-in of INR 5,500. Being a Sunday feature, there has to be India's best in the field and topping all of them was none other than Gaurav Sood aka 'mozzie17' who walked away with INR 7,78,873 as the top prize!
IOPC #23 – This tournament had 619 entries and with a buy-in of INR 3,300. The INR 15L guarantee was easily surpassed and the players witnessed INR 18.5+ Lakh in prize money, shared among the top 55 places. At the end of the long grind, it was Rahul Kumar aka 'sttoned' who won this IOPC title, adding INR 3,60,258 to his poker bankroll.
Millionaire United Day 2 – After 5 starting flights, 298 stacks took their seats in Day 2 of this INR 1.59 Crore prize pool event. With 295 places paid, the money was hit immediately and at the end of this massive flagship tournament, it was Day 1A chip leader Siddhanth Kripalani aka 'PluRibu$' who became the latest Spartan Millionaire, claiming INR 26,70,955 in prize money.
IOPC #25 – The last tournament to kick off on this night with a buy-in of just INR 990 and here too, the tournament guarantee was passed because of participation from 798 entries. Siddharth Ojha aka 'SidSparta21' ended up beating Ankush Aryan in heads-up for the winner's title. 
IOPC Day 3
IOPC #14 – The weekend began on a high with this INR 3.5 Lakh GTD tournament. With the small buy-in, there was a field of 1,052 entries logged in and from them, it was Prafull Hasbe aka '2Lucifer2' who took the top prize of INR 79,699, beginning his Saturday on a good note. 
IOPC #15 – The buy-in rose up slightly to INR 1,100 and here, the advertised guarantee of INR 6.50 Lakh was passed yet again on Spartan Poker. Quite a few known names were spotted at the virtual felts but it was one of India's top players in Kunal Patni aka 'NutsTodayBluffTomo' who went on to bag top honours and the top prize of just above a lakh rupees! 
IOPC #16 – Third tournament of the day and once again, the original guarantee of INR 6.5 Lakh was passed thanks to the field of 915 entries paying INR 880 each. You know poker is a game of skill when you see the same names again and again. Here, it was Sanket Arora aka 'BANK$Y' who went on to ship the tournament, one where 79 players were paid out. 
Millionaire United Day 1B – With a buy-in of INR 7,700, this tournament promises one player to become the next massive millionaire on Spartan. However, there are multiple flights involved and on Day 1B, 408 entries joined the action. Karan Kapur aka 'Junior-KK' ended up as the chip leader with a stack of 218k chips going into Day 2 of the event.
IOPC #17 Titan Stack – This was the featured tournament of the night and with a buy-in of INR 4,400, we saw 630 entries join to break the guarantee of INR 17 Lakh by a long, long way. There was INR 25+ Lakh in prize pool created because of this participation and the player to ship it was 'Ullumanati' who beat some very known players to win INR 4.87 Lakh as the top prize. 
IOPC #18 House Party – This INR 13 Lakh GTD tournament saw 700+ entries and once again, the tournament guarantee was broken with INR 14.8+ Lakh in prize money being generated. 'deranzzdd' took home INR 2,34,927 in prize money, after securing his second title of the IOPC Jan 2021 series.
IOPC #19 – The final tournament of the night had a buy-in of INR 1,650 and here, 645 entries took part. It meant that every tournament of the night passed the advertised guarantees with INR 9,67,500 going into the tournament prize pool. The top 55 players were paid and from them, it was past IOPC Leaderboard winner Amit Sur aka 'Immortal Killer' who took down the title for INR 1,64,101 in prize money.   
IOPC Day 2
IOPC #8 – The day started on a small note with a lower buy-in event. The INR 4L prize pool was easily passed with 1,065 entries taking part and as the tournament progressed, prizes were given away to the top 55 spots. From them, it was 'Combat' who clinched the top spot and bagged INR 82,644 in prize money. 
IOPC #9 – The event saw a total of 713 entries among which top 63 players were paid with a min-cash of INR 3,262. At the end of the event, 'Noobdaddy7' proved that he's actually no noob at all, winning the tournament and bagging the top prize of INR 1,45,125. It was a particularly good effort by him on Spartan Poker, because he beat a top pro in heads-up in Kunal Patni!
IOPC #10 Monster Stack – This turned out to be a very particular tournament as 941 entries took the INR 6.7 Lakh prize pool all the way up to INR 8.46 Lakh. It was a packed field and eventually, former Millionaire winner Anujkumar Kodam aka 'aatmaan108' went on to claim the title.
Millionaire United Day 1A – Here, a massive INR 1.5 Crore guarantee is up for grabs but because of size of the tournament, there were multiple flights needed. In Day 1A, a total of 470 entries were recorded and from them, Siddhanth Kripalani aka 'PluRibu$' ended as the chip leader, with a good advantage moving into Day 2. He holds a stack of 278k chips.  
IOPC #11 – Thank God It's Friday! The 18L GTD was crushed with 1,369 entries registering to take the prize pool past INR 20.5 Lakh! At the end of the long grind, it was Sreekanth Narayan aka 'TheGTObot' who bagged INR 3,86,879 as the top prize while a total of 119 places were paid in all. 
IOPC #12 The Elite – Another weekly feature on Spartan Poker, The Elite has a higher buy-in which means you may only find the top pros playing this game. 463 players took part in the tournament and when it all ended, it was anonymous player 'bob_marley' that bagged the epic prize money of INR 9,21,194 for shipping the tournament. 
IOPC #13 Monster Stack – The advertised guarantee of INR 9.5 Lakh was smashed thanks to 606 entries that took the prize pool up to INR 12+ Lakh. Someone who has plenty of titles on Spartan is Pranjal Gandhi aka 'lilmessipranjal' and he added another one to his kitty here for INR 2.35L as top prize.  
IOPC Day 1
IOPC #1 – Booming start to the IOPC Jan 2021 series! A total of 2,453 entries were recorded to take the promised prize pool of INR 10L to INR 12,26,500. 223 places were paid but Shrvan Amlekar aka 'SSAScorpion' took the winner's title for a whopping INR 1,78,372.
IOPC #2 – 8 Lakh was the guarantee on offer but once again, the guarantee was passed with 744 entries joining the tournament that took the prize pool to INR 11.16+ Lakh. At the end of the grind, it was Rudramani Pokhrel aka 'rud1478' who walked away as winner for a prize of INR 2,15,946.
IOPC #3 – With a promised guarantee of INR 6.5 Lakh, this tournament was also a popular one. 1,196 entries inflated the prize pool to INR 9.56 Lakh and from this field, the top 95 players ended up take home a pay cheque. A regular on Spartan Poker, Amarjeet Singh Gandhi aka 'superchor89' ended as the victor, taking home INR 9,56,800 as the top prize. 
IOPC #4 – Another tournament and another guarantee crushed as the INR 4.25 Lakh GTD prize pool went all the way up to INR 5,67,000 because of 567 total entries in the field. As the tournament played on, 95 players took home a piece of the pie and 'Tarush123' took home the massive top prize of INR 1,10,508.
IOPC #5 Ultron – While the games prior to this were like warm ups, Ultron INR 35 Lakhs GTD was the biggest one of the night with a buy-in of INR 4,400 attached to it. It attracted 845 entries in all and while there were a number of pros in the field, Parikshit Dhall aka 'zapdos1311' took home top honours, someone who has won plenty of titles on Spartan Poker in the past. He claimed INR 5,76,984 as the top prize here. 
IOPC #6 – 638 entries were a part of this tournament and by the end of the night, it was 'deranzzdd' claiming the top spot of the INR 19+ Lakh prize pool for a pay cheque of INR 3,70,359. While pros were in the field, it was a relatively newbie final table and overall, the tournament saw 63 places being paid a minimum of INR 8,325 each.
IOPC #7 DeepStack – With a buy-in of INR 1,650, IOPC #7 witnessed a participation of 754 entries and that took the INR 8.75 Lakh guarantee all the way up to INR 11,31,000. From them, the top 63 players were paid and it was former Gutshot Magazine employee Anish Arora aka 'downswing4ever' who went on to bag his first IOPC title, earning INR 2.18 Lakh in prize money!   
For more news on all IOPC related information, keep reading GutshotMagazine.com. You can also follow us on our Facebook, Instagram, and Telegram for live updates.
Spartan Poker
---
---
More News
---
Comments