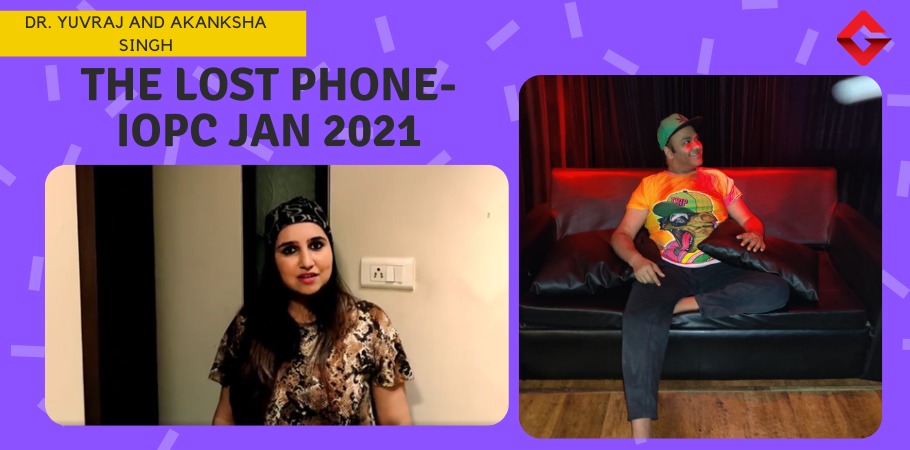 Poker
---
Yuvraj & Akanksha Singh aka Dr. couple bring out their funny side in the Lost Phone IOPC JAN 2021 video
Poker players Yuvraj and Akanksha Singh are one of the best content creators in the poker industry currently. This time, for the IOPC special 10th edition 28 Crore GTD tournament series, they've come up with yet another funny video to lighten up everyone's mood. Yuvraj and Akanksha have shot this video using a very smart technique to make it look like all the players in their video are together in one place. We had a conversation with the Dr. couple to find out more on how they worked on this video.
Did venturing into poker, inspire you to create viral content for social media?
Yuvraj: Poker is such a lovely and beautiful game, it provides inspiration every day. We love making content for poker and otherwise also.
Akanksha: We thought why not turn the inspiration that poker gives into a reality for others to view and enjoy.
Does social media have a bigger influence than live events or pros to get poker enthusiasts to play professionally?
Yuvraj: Social media nowadays is a very big platform; to reach out to many new poker players and to inspire them to play professionally.
Akanksha: Everybody is hooked on social media these days, so it not only helps us present the playing aspect of the game but also the fun side of it, making the game look more exciting and welcoming.
IOPC lost phone video:
Checkout the BTS of the IOPC Jan 2021: 
What is your process when it comes to creating videos like 'The Lost Phone – IOPC JAN 2021' ?
Yuvraj: Poker players are very passionate about the game, so whenever a big series like IOPC is announced everyone prepares to play well and are very excited about it. We wanted to show what happens when a player loses his phone and does not have any other means to play and what goes on in his mind.
Akanksha: Poker is a competitive sport, we wanted to show how players react differently in such a situation while incorporating an element of humour.
Any specific elements you like to incorporate in your videos?
Yuvraj: We always try to make our videos very funny and entertaining so that it brings a smile on faces.
Akanksha: We try to promote poker in an entertaining way, trying to get into the minds of our viewers. 
Also watch: 
For 'The Lost Phone – IOPC JAN 2021' how did you decide on your theme (of the lost phone)?
Yuvraj: During the COVID-19 times, people are cautious about stepping out, so we thought that we will create a plot showing many players living in the same place, villa, etc, and their different reactions to a funny incident like losing a phone.
Akanksha: We wrote the script in a manner that looks interactive and also shows different types of characters staying in the same place amicably.
Do you feel viral video content can push the poker enthusiasts into signing up for tournament series like the IOPC?
Yuvraj: Social media has a lot of influence, so we use it to spread awareness and highlight the big tournaments coming up, including a massive series like IOPC.
Akanksha: Social media also attracts new poker players and pushes them to try their skills and win a life-changing amount.
Your video shows how winning Mega Satty could take you one step closer to winning the crown?
Yuvraj: There are many events that might not suit everyone's pocket, especially new budding poker players. So, winning a mega satellite opens up a channel for them to play and take a shot at these big high roller tournaments with just modest investments. Shipping a big tournament is always a moment of pride and achievement.
Akanksha: The investment to play tournaments reduces and it's a great chance to maximize profits and even the crown, which is a cherry on the cake. Not only does it make someone rich, but also very famous.
How do you choose which players to include in your videos?
Yuvraj: There are many poker players who have several hidden talents. We choose players according to the need of the character and the role they have to play.
Akanksha: Whoever shows their enthusiasm we try to give them an opportunity and we feel very honoured to have such amazing talents in our videos.
Who has a more creative mind when it comes to ideating on these videos? Yuvraj or Akanksha?
Yuvraj: Making videos is teamwork. A lot of thoughts and hard work goes into ideating a concept. So, we brainstorm and work together.
Akanksha: All the videos are close to our heart and we try to put in a lot of hard work and effort to make them fun to watch for the audience.
Did lockdown help spur on your plans to create such lovely video ideas?
Yuvraj: Yes, lockdown gave us a lot of time to explore our creative side and turn our thoughts into reality.
Akanksha: Encouragement and love from our audience always keep us going. We both would like to thank our audience from the bottom of our hearts who always motivate us to make better content every time.
This is just one among the several other videos that this star couple creates. We surely are impressed by the talent presented by the suited connectors!
The buzz for IOPC is getting louder as the tournament series begins tomorrow. Check out the schedule and all the other information related to IOPC January 2021 here. Keep reading Gutshotmagazine.com for more such articles. Follow us on Facebook, Instagram, and Telegram.

In house graphic
---
---
More News
---
Comments