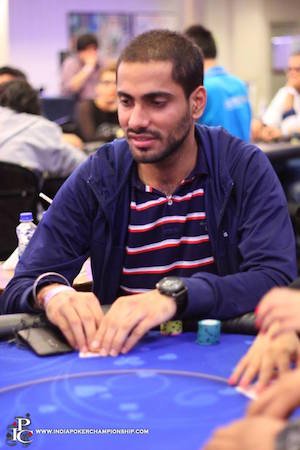 Poker
---
IOPC Day 3: 'GoMuckYourself' and Vinod 'TheMuffinMan' Megalmani win 2.o.K on Spartan
After a terrific start to the series on Friday, there was plenty more action at the India Online Poker Championship (IOPC) at yesterday's Day 3. Another 6 events were in the bag at The Spartan Poker where it all went down. The big tournaments of the day were Spartan's Two of a Kind (2.o.K) which guaranteed an INR 70 Lakhs prizepool of which INR 15 Lakhs each would go the way of the 1st and 2nd place finishers. The very next tournament after the 2.o.K was the weekly feature 'SuperStack' which also had a huge guarantee of INR 30 Lakhs including INR 10 Lakhs for 1st place.
After Day 3, Aditya 'SuperuSer' Sushant who was leading till Day 2 has dropped down to 3rd place with 4,990 points. At present, it's 2.o.K winners 'GoMuckYourself' and 'TheMuffinMan' who are sitting pretty on top of the leaderboard with 10,679 and 5,339 points respectively. Don't forget the IOPC leaderboard is worth a total of INR 27 Lakhs which includes the top winning prize of a brand new Jeep Compass car!
Let's look at that Two of a Kind, SuperStack and the other side events preceding it yesterday:-
IOPC #11 INR 550 (225K GTD) (RE)
The day began with 417 entries which saw 'Etherboi' defeating online reg Irshad 'bluffer' Chaudhary in the heads-up battle. 'Etherboi' collected INR 59,625. While the runner-up finisher Chaudhary took home INR 37,125.
24-year old Arnav Sharma who has BA (Hons) in Journalism and working as a creative writer, said, "The experience one has while playing heads-up when viewing for the no.1 spot is just enthralling. So was in this tourney when after all the ups and downs, it ended in my favour. Thank you, Spartan and IOPC."
The tournament saw top 30 places taking a share of the prize pool with a min-cash of INR 1,575.
IOPC #12 INR 550 (300K GTD) (R+A)
The second event of the day was a re-buy + add-on tournament where the event drew 826 participation of players contributing to crush the prize pool into INR 412,800. The prize pool was distributed to top 40 places with a min-cash of INR 2,477.
Badri 'Badriponting12' Narayanan N was the eventual winner who collected INR 109,392 for the first place finish while the second place finisher 'taalam' took home INR 68,112 for the finish.
29-year old Badri Narayanan N who started his poker journey on TheSpartanPoker.com only and really loves the super value tournaments. Narayanan N has done Masters in Computer Applications and he works as a software engineer. After shipping the tournament, he said, "I started playing poker only on Spartan. I really love the super value tourneys. I grind 3/4 micro tourneys daily and always look forward to SSS, IOPC & LBS which offer so much value I haven't seen on any other site. IOPC #12 I started with a fresh mind. IOPC, most of the pros are playing. I got to know bet sizing and spots. I knew the regs are fighting for the leaderboard. Got into the zone and played accordingly and Got the prize. The final table was an amazing experience. Special thanks to Ramesh Rao Thotapalli who introduced poker to me. Looking forward to crushing more MTT's!"
IOPC #13 INR 1,100 (250K GTD) (FO)
326 players came together for this freezeout tournament to generate a prize pool of INR 326,000 which was distributed to top 40 places with a min-cash of INR 1,956. 'bbbvicky' took down the title defeating pro-Sahil Variance' Agarwal in the final face-off. 'bbbvicky' collected INR 86,390 for the first-place finish while Agarwal took home INR 53,790 for the second-place finish.
The winner Harsh Sharma said, "It was a great experience as I was playing my first IOPC. Started playing 6 months back when I saw my elder brother playing poker. So now I am working on my game and doing pretty good in MTT's. As per about game once I was left with 1bb when around 21 odd were remaining. After that I won some contionous flips. Heads-Up was against well know pro Sahil Agarwal. He had 3x chip lead. But beating him from there was like a dream. Lastly wanna give shout-out my brother Pankaj Sharma supported and railed me. #JMD_Grinders"
IOPC #14 INR 5,500 Two of a Kind (70 Lakhs GTD) (RE)
The biggest and high-value tournament of TheSpartanPoker where till the last month the site guaranteed INR 10 Lakhs for the 1st and 2nd place finish and this time the tournament was added as one of the tournaments of IOPC with INR 15 Lakhs guaranteed for 1st and the 2nd place finish. The icing on the cake was the tournament was guaranteed INR 70 Lakhs in the overall prizepool. With the overwhelming response by the players across country the first and second place finish prize went high to INR 17,11,125.
'GoMuckYourself' and Vinod 'TheMuffinMan' Megalmani are the two players who shipped the tournament for INR 17,11,125 each. The tournament drew massive entries of 1521 total number of entries crushing the prizepool and making it into INR 76,05,000. This huge prize pool was distributed to top 145 places with a min-cash of INR 9,126.
Speaking of the winners, Vinod Megalmani is not new to the poker world. 26-year old Megalmani is been playing poker professionally for several years now. He has completed his education in computer applications but while studying he was always interested in playing poker. Speaking about how poker came into his life he said, "While growing up, me and my school friends played every weekend so that's where my journey started. My friends and family, early on were very skeptical but once I learned how to play the game I was able to explain it to them that this was what I wanted to do and they were very supportive. To be honest I've played poker for so long that I know you just need to get lucky/run well and obviously play well to win a tournament."
He never shares his poker wins with non-poker people as he says, "Non-poker people won't understand the feeling of poker wins. It's always funny to me when people from the real world ask me so what do you do now or study? and I think to myself where do I start." Bangalore based Megalmani spoke about his future, "I am planning to travel the world, play poker and accumulate more bitcoin."
The other winner 'GoMuckYourself' who chose to remain incognito stated, "I started off the tournament with a pretty standard tight strategy. I did make a few marginal calls when late reg was going on to stack up a bit. once late reg was over I could play my natural aggressive game and build my stack. I lost half my stack in a 3-way all in some time after clearing the money bubble where I had As Qs vs 88 vs 99. I managed to get some good cards after this and was one of the top 5 stacks going into the final 2 tables. There was a very critical hand at this moment where I 3 bet Tx Tx from sb and the initial raiser called. On a 4x 6x 7x flush draw board I jammed half my stack in with stack to pot ratio 1 and got called with AA. I sucked out and caught a 10 on the turn and became the chip leader. Losing this hand would have left me with 20 big's. After this I was able to leverage my big stack and maintain the chip lead. another critical hand was when I was 1/5 and 3 bet on button with 107 suites. Flop was 1087 and I got in CS jacks and held. After this hand I had more than half the chips in play and I was just making small steals and let the others fight out since Top 2 places were paid equal."
IOPC #15 INR 5,500 SuperStack (30 Lakhs GTD) (RE)
The second last event of the day SuperStack which guaranteed a whopping INR 30 Lakhs and INR 10 Lakhs for first place was shipped by Sahil '$lim$hady19' Chuttani outlasting 658 entries. These huge entries made a prize pool of INR 32,90,000 which was distributed to top 60 places with a min-cash of INR 13,160.
'$lim$hady19' was rewarded INR 10 Lakhs for the first-place finish while the runner-up 'NoSetNoBet' collected INR 5,26,400 for the impressive finish.
Chuttani said, "I pretty much ran good throughout, I also had a chip lead going into a soft final table and I put in a lot of pressure from the get go and took it down. Heads-Up was swingy but I was confident of grinding it out."
IOPC #16 INR 1,100 (250K GTD) (RE) PLO
The last tournament of the day was the Pot-Limit Omaha event attracting a total of 491 entries to make a prize pool creating a prize pool of INR 491,000. The eventual winner of the tournament was Varun 'iwillbluff' Gupta who outlasted these entries for INR 130,115. 'iwillbluff' defeated 'bhagatji' in the heads-up battle who collected INR 81,015 for the second-place finish.
33-year old Bangalore based Gupta, said, "Playing on TheSpartanPoker is always fun and series something every poker player want to play and win Big. This was the first tournament that I shipped in this series. But there are so many more tournaments to come and me looking forward to play most all. Main Event is my real target and I wish to reach a good position in leaderboard as well."
Here is the updated leaderboard:
---
---
Comments