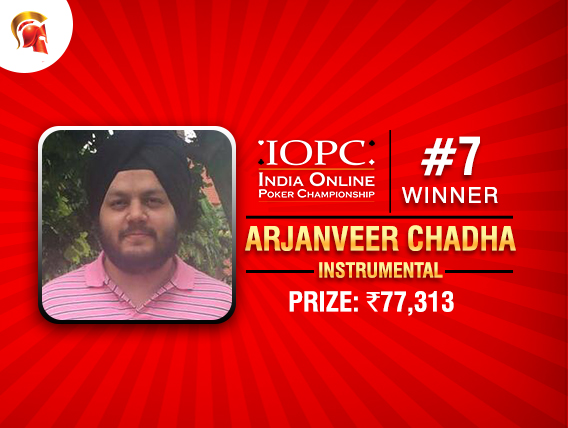 Poker
---
IOPC: Arjanveer Chadha takes down Event #7
The IOPC train kept rolling along on Saturday afternoon as Event 7 of the India Online Poker Championship was yet another guarantee surpassing event. Arjanveer 'Instrumenal' Chadha was the last man standing at the end of the tournament taking down the second tournament of the day and seventh event on schedule.
A total of 274 entries were part of this Rebuy+Add on format tournament which had a buy-in of INR 440. The original guarantee was INR 3.5 Lakhs and that was comfortably passed to end up with a prizepool of INR 3,85,600 for the money finishers to split up. 39 of those finishers would take home a share of the prizepool with min-cash being INR 2,660.  
It took just under 6 hours to get to the final table which featured some familiar names in 'GTOExploited' (7th place), Pradeep 'lionroar29' Nudurumati (6th place) and trying to make it back-to-back titles but ultimately falling in 5th place was the day's previous winner in 'Bikini Babe' who took down Event 6 earlier. Yet another deep finish gave Bikini Babe INR 23,791 to add to his IOPC prize kitty. Three-way action had 'HaiTohHai' (3.3 million chips) vs. instrumental (923k) and 'chilling' (932k chips). A massive hand between the latter two saw a major chip shift. chilling raised preflop with 6c Tc and for a call from instrumental who held Qh Jc. Top pair for instrumental on a flop of 8h 9s Qc. But it was chilling who led the action with a bet of 70k which got reraised by instrumental to 157k. A raising war between these two led to all their chips going into the middle with chilling hoping to hit his gutshot draw on the remaining two street. That was not to be as the board paired up on the turn (4h) and river (4c). Crippled to his last 8,000 chips, chilling was on his way out in the very next hand, the job completed by instrumental. chilling made INR 37,596 for his finish.
And then it was time to battle for the title in this event between instrumental and 'HaiTohHai'. The latter was holding the lead of 3.2 million versus instrumental's 1.9 million stack when a big pot worth 1.3 million was won by instrument who held pocket Tens. That hand brought both stack to virtually even and it took less than 5 hands to reach the finale with instrument holding a a slight lead with his 2.7 million stack against the 2.5 million of HaiTohHai. Holding 8d Td, instrumental made it 80,000 to go with the blinds at 20,000-40,000 ante 4,000. Great timing for HaiTohHai and he chose to coyly flat with a monster hand of pocket Aces (Ac Ah). While HaiTohHai was ahead, the flop of 5d 8h Jd opened up a whole range of possibilities for instrumental's holdings aside from his mid-pair. On the turn (7s), HaiTohHai's check had instrumental betting 184k which was then repopped to 460k and a flat call from instrumental. The river (Kd) was exactly the card he wanted to see and there was no hesitation in calling HaiTohHai's all-in with his King high flush.
And that was all she wrote for this tournament as instrumental won a sum of INR 77,312 for the victory and INR 51,400 went the way of HaiTohHai for the runner-up finish.
The 28 year old Arjanveer Singh Chadha picked up the game of poker from his brother, " My elder brother went to college in Canada and when he came back for the holidays he introduced me to game of Poker. He used to play playmoney tournaments on pokerstars and I started watching him as I was very intrigued by the game. I started watching videos on youtube and playing with play money myself. Next, when I went to college in Pune I saw some students playing poker with real money for micro stakes. That was the first time I played with real money and discovered that I was very good among my peers with very little knowledge."
He made the decision to play professionally after trying his hand at various ventures, "After coming back from college I tried a bunch of things. I worked  with my mom in her business, tried my own construction business, tried working with dad but nothing gave me much satisfaction. I was playing poker on the side and was doing quite well and decided to try to become a full professional. My main reason to switch was that I was doing pretty good and I had a backup plan ready if I could not sustain through poker."
On his poker plans for the future, "My future plans include traveling for poker tournaments. I will be going for my first international poker trip to APPT Manilla in August. hopefully I can continue this rungood in live poker too," said Chadha as he signed off.

---
---
Comments