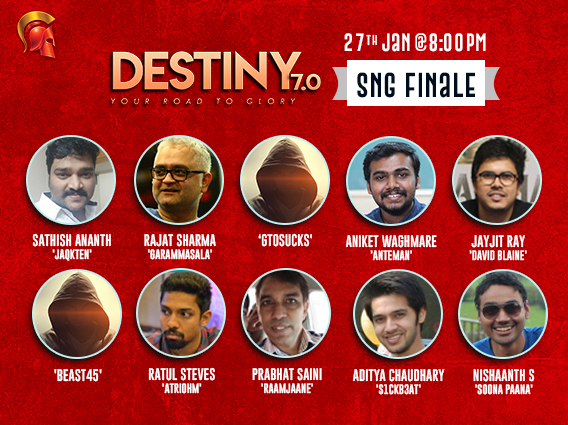 Poker
---
Introducing the 10 Destiny 7.0 Finalists
The Spartan Poker launched the Destiny tournament series quite a long time ago. The promotion has been majorly successful throughout its run last year. The seventh edition of Destiny recently declared its final winner a couple days ago. Nishaanth Shanmughasundaram was the 10th entrant and will now be looking to play in the Finale SnG on 27th January, tomorrow. All the 10 winners of this edition will be eyeing for the exciting INR 10 Lakhs package to Europe with buy-ins, return tickets, hotel stay, all paid for by Spartan. Not forgetting the chance to play poker at a prestigious location in Europe!
Here are the 10 finalists of Destiny 7.0:
1) Sathish Ananth
The first of the Destiny 7.0 tournaments was played on 31st October 2018. Sathish Ananth aka 'Jaqkten' shipped the tournament for INR 5,31,325 after overcoming a field of 400 entries. Ananth is relatively a newcomer to the scene and is looking forward to bringing home some great experiences from the SnG and from Europe too, if he prevails. In a short interview post his Destiny victory, he was determined to bag the Europe package and had stated, "Never give up is my motto," a wise adage to live by.
2) Rajat Sharma
On the auspicious occasion of Diwali last year, the second Destiny tournament was hosted. Acclaimed online grinder Rajat Sharma aka 'Garammasala' won the tournament for INR 5.3 Lakhs beating the 196 entry-field. Sharma has been making waves in the poker community recently by shipping various high stakes tournaments across leading platforms like Spartan. Recently, he also won Adda52 Mega Suits for a whopping INR 7.05 Lakhs. Last year's Diwali gifted the player with a chance to go to Europe. Now, Sharma will be hoping to triumph in the SnG and see his Diwali wish fulfilled.
3) 'GTOsucks'
The third Destiny tournament in the 7th edition happened on 14th November 2018. The tournament attracted a huge field and a 10-hour long action-packed gameplay ensured. Regular online player who goes by the name of 'GTOsucks' won the tournament for INR 5,43,250. The person behind this mysterious moniker has promised to reveal himself/herself after winning the Finale SnG. GTOsucks has been playing phenomenally and the person behind the name will be looking to emerge victorious in the SnG too. The revelation will be an interesting unfolding of events in the poker community.
4) Aniket Waghmare
The fourth player to enter the Destiny Finale SnG on 28th November was Aniket Waghmare aka 'Anteman' who bagged INR 6,49,250 slashing through the 490-entry field. Waghmare is such a good online player that he won two titles in October's SSS on Spartan last year, including a Destiny 6.0 win, but he missed out on the Destiny 6.0 Finale package, which went to 'Tiger10'. After winning this latest Destiny, he said, "I am looking forward to playing the Destiny Finale SnG once again and hope to do better this time around." With his skill-set, he will surely prove to be one of the toughest competitors in the SnG looking back.
5) Jayjit Ray
After Waghmare's entry into the Destiny 7.0 Finale SnG, the fifth player to join him in the 10-Max SnG was well-known grinder Jayjit Ray aka 'David Blaine'. Ray took home an awesome INR 7,38,400 as 1st place cash prize, which also turned out to be the second biggest 1st place prize awarded in this edition, after the latest IOPC Destiny shipped by Nishaanth S. Ray beat a field of 568 entries to secure his SnG seat. He needs no introduction, also being a member of the coveted PokerGuru Staking (formerly known as AceJack Stable). He loves playing live too and shipped the BLT3 HR Event in October last year. He will be ardently looking forward to playing live in Europe if he beats the other 9 finalists.
6) 'Beast45'
The next Destiny tournament happened on 19th December 2018 and 'Beast45' shipped it after denying his heads-up opponent and well-known player Arjanveer Chadha aka 'instrumental' a seat in the SnG. Beast45 earned a cool INR 6,91,775 for his victory, beating 507 entries along his way. The player wished to stay anonymous at the time of winning the Destiny but there is a fair chance he might reveal his identity if he wins the INR 10 Lakhs Europe package. Any money on this guy for the Destiny Finale?
7) Ratul Steves
The seventh Destiny in this edition was conducted on 17th December. Popular circuit player Ratul Steves aka 'Atriohm' bagged a Destiny title for the second time, this time for INR 5.3 Lakhs, after having won a seat in Destiny 5.0 Finale SnG back in August 2018. Destiny 5.0 SnG was ultimately won by Nitin Arora but this time Steves will be playing in top form for his second shot at winning the package. He has surely prepped himself like a samurai whetting his sword, since there are quite a few tough competitors.
8) Prabhat Saini
The 8th entrant in Destiny 7.0 Finale SnG was Prabhat Saini aka 'RaamJaane'. He took home INR 5,67,100 as 1st place cash prize after beating 261 entries. The tournament was hosted on 2nd January, the first Destiny of 2019. Saini has played live too, and his biggest cash came from 2010 India Poker Series (IPS) Chapter 2, Goa for ~INR 6.15 Lakhs. The idea of playing live in Europe would've made him even more hyped up, him being a live player and all. Saini will be looking to give some tough competition to his 9 other opponents on the table.
9) Aditya Chaudhary
The penultimate seat on the SnG Finale Table saw another regular Aditya Chaudhary aka 'S1ckB3at' fill in. Chaudhary beat Ankush Aryan aka 'invinciblewolf' in heads-up to secure his seat in the SnG and the 1st place cash prize of INR 6,92,975. Chaudhary is one of the three finalists in this edition who've already won a Destiny SnG seat before, the others being Ratul Steves and Aniket Waghmare. Chaudhary won the first in July 2018 in Destiny 5.0, where Steves was also among the finalists. This time's SnG will see them both competing again, and déjà vu moments are sure to be witnessed in the competition.
10) Nishaanth Shanmughasundaram
The final Destiny tournament happened on 16th January and was part of the highly successful India Online Poker Championship (IOPC). Being part of IOPC, the tournament saw a huge boost in its guarantee. Besting a total of 881 entries, Nishaanth Shanmughasundaram aka 'Soona Paana' took home the final Destiny title for INR 11,01,250. This was the biggest 1st place prize awarded in Destiny 7.0 series. After his win, Shanmughasundaram told us that Destiny is one of his favourite tournament series because of its huge returns. After winning this, he proceeded to bag another chance at playing overseas by shipping Adda52 Godfather last week. Shanmughasundaram is the only player among the Destiny 7.0 finalists who has another shot at a foreign package if he fails in this. Nevertheless, given his awesome achievements in recent times, the player will obviously be one of the toughest contenders on the SnG table.
The Destiny 7.0 Finale SnG is just a day away and will start at 8 pm on Spartan. All 10 players will be given a starting stack of 25k. The game can take hours to finish or be over in a jiffy, depending on each player's form and skill, but the game will unfailingly see some epic poker action so stay tuned to GutshotMagazine.com for the SnG results and everything in between.
Don't have an account on The Spartan Poker? Check out their review page here, and don't miss out on their bonuses, promotions, and guarantee-smashing tournaments. Sign-up now.
---
---
Comments