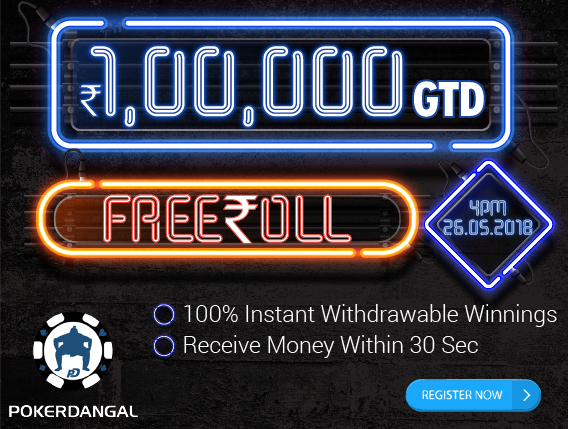 Poker
---
Instantly withdrawable 1 lakh Freeroll on PokerDangal
About
PokerDangal, the disruptor in the online Poker scene in India has launched Instant cash out feature on 26th April. Staying committed to the endeavor of providing the best experience to Indian Poker Players, PokerDangal has implemented instant cashout feature where the cashout is received in the bank account of the player within 30 seconds 24/7 and 365 days a year.
As an eight month old site, PokerDangal boasts of very hot cash tables with PLO being a favorite amongst its user. The crazy action and trust worthy software coupled with unparallel customer support has made PokerDangal a player favorite. Instant cash out lets the users enjoy the game and giving immediate remittance for their efforts and skills.
Why this change
When we reached out to Karan Gandhi, Co- Founder, PokerDangal, about the need to make this change, he stated that Indian poker players still reel with the feeling of mistrust and skepticism over transacting with poker sites. Having player's money withdrawn immediately to the bank account, is a great way of building trust with first time poker players. This will help the poker industry to reach out to new players and expand at a much faster rate. Also, Karan mentioned that the users can enjoy the fruits of their labor in a way which was previously unheard of. Imagine playing poker on your way to a shopping mall/party and being able to shop with your winnings coz the money came to your bank account in less than 30 seconds. The initial reaction of our users has been fantastic and their appreciation gives us the confidence to keep building onto this wonderful feature.
Features
PokerDangal is offering the players to withdraw upto INR 9,999 instantly in a day, in a maximum of 3 transactions. KYC needs to be approved before the player can make first withdrawal. PokerDangal is offering 150% Bonus to all players for their first Deposit when they use the code, "Welcome150" and 20% bonus to all repeat deposits using the code "Refill20". Tournament winnings can also be withdrawn instantly and there are weekly hand races which make playing on PokerDangal a must. Prizes upto INR 300000 are up for grabs in the hand race which is again instantly withdrawable.
What's upcoming
To celebrate the spirit of instant withdrawal, PokerDangal has scheduled a Freeroll tournament with GTD INR 1,00,000/- on 26th May 2018 at 1600 hrs. All the winnings are 100% instant Cashout. Karan Gandhi shared that, "this tournament is free for all players as we want maximum players to experience the awesomeness of Instant Cash out. For users, who have not yet registered with us, do so before 26th May to be able to take part."


He added that, "after the 1 lakh Freeroll tournament, all tournament winnings will be enabled for instant cash out. PokerDangal is committed to provide best services and offers to its players. In days to come, we will be offering best in industry offers, competitions and tournaments for our players".
---
---
Comments