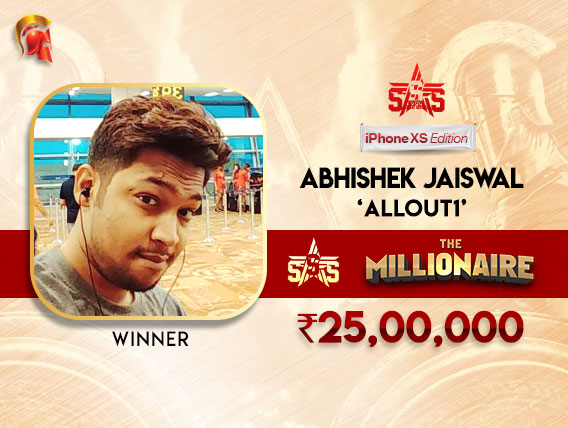 Poker
---
In conversation with Oct Millionaire winner Abhishek Jaiswal
Every month, The Spartan Poker hosts three of their signature tournaments including The Millionaire, the Two of a Kind and the Five for Five tournaments. The Millionaire is India's biggest online poker tournament that offers a whopping guaranteed prize pool of INR 1 crore, along with INR 25 lakh guaranteed to the top finisher.
This month, Spartan clubbed the tournament into the Spartan Super Series (SSS), serving as the Main Event of the series. Everyone was excited about this one and while many players walked away with decent profits from the tournament, the player to top the entire field and take home the INR 25 lakh prize was Abhishek Jaiswal aka 'allout1'.
Gutshot decided to have a word with Jaiswal after he won this life-changing amount on Spartan. The 25-year old is a full-time poker player residing in Bangalore. Talking about how he started playing this game, Jaiswal said, "I was introduced to Poker by a friend during my college days. He taught me, I started loving the game and eventually, it became my passion."
He mentioned that he began playing real-money poker in college itself and told us about his first big live experience, saying, "I once shipped the DPT Mega Satty and went to India's biggest live poker tournament in Goa. I could see the reality of the game and was also inspired by many pros."
Jaiswal plays both cash games and tournaments online and he would've been delighted with his decision of taking part in the October edition of The Millionaire. Every Indian poker player aims to ship this one and the youngster has accomplished it. He said, "It has always been a dream to ship The Millionaire and finally, the dream has come true."
He also spoke about the tournament itself, saying, "I simply focussed on my game play with patience. A key hand in the tournament was 7T vs 79. The flop was 7 9 T, I hit my 7T two pair and my opponent hit his two pair with 79. The river came out to be 7 where I hit the bigger full house."
There was another key hand which Jaiswal believed was the game-changer for him. "TT vs QQ – I hit a set with T on the flop and quads on the turn. When I won that hand, that was the biggest turning point throughout the tournament and that's where I felt I can win the tournament."
Q. What was the reaction of your friends and family?
"My family has always been supportive throughout my journey in Poker and it means a lot to me. Both my family and friends are really happy, and they've been my strength always."
Q. What are your future plans in the live and online space?
"I've been focussing on grinding live for the past few days but will also continue grinding online. I plan on playing my best game and learn through each experience from here on."
Q. Now that you are a Millionaire, what do you plan to do with this money?
"It feels really great! I have already dedicated my winnings to my parents as they're everything to me and without them, winning this major tournament and becoming a Millionaire wouldn't have been quite possible."
On a parting note, Jaiswal spoke about Spartan and their promotions, saying, "The Spartan Poker is a great platform and is doing wonders in its own way." He also added what he believes in, saying, "Nothing happens overnight. Patience and discipline together matter a lot."
Keep reading GutshotMagazine.com for more updates on India's biggest online poker tournaments as well as interviews with the winners of these major tournaments.
Don't have an account on The Spartan Poker? Don't miss out on their bonuses, promotions, and guarantee-smashing tournaments. Sign-up now by clicking HERE.
---
---
Comments