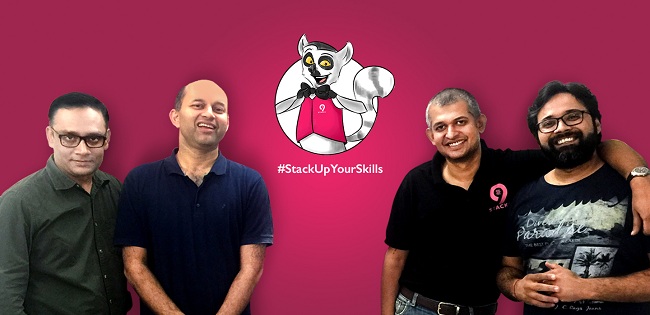 Poker
---
In Conversation With 9Stacks CEO Sudhir Kamath
The game of poker is growing at a rapid pace in India at the moment. In keeping with the increasing demands of players, more sites are launching and many new tournaments and poker leagues are being introduced. In this piece we take a look at one of the latest entrants in the Indian online poker space – 9Stacks. 
9Stacks is an online gaming website that specializes in poker and was launched in 2017. The company was founded by Sudhir Kamath, Pratik Kumar, Abhinav Nigam & Rishab Mathur. All founders come from highly professional backgrounds and they have each built deep expertise in their respective fields over the last 12-15 years. Kamath, being an angel investor, got into talks of creating a poker company with Pratik Kumar and that's how the idea of 9Stacks floated up. Of course, they decided to include poker references in their brand name, with stacks referring to stacks of poker chips and 9 referring to the number of players on a poker table.
The four of them have plans of taking 9Stacks up from its newbie status to one of the best gaming websites in the country and we at Gutshot wanted to know how they plan on doing so. We connected with MD/CEO of 9Stacks, Sudhir Kamath, and asked him a few questions regarding 9Stacks. Before we take a look at the interview, let's look at the backgrounds and previous places of work of the four co-founders:
Sudhir Kamath, age 39, formerly CEO of Suntera Energy (oil exploration). Worked with consulting firm McKinsey & Co before that. Also an angel investor in companies like INI Farms, Vienova Technologies, Shiksha Finance and Swas Healthcare. Computer Science, Delhi Institute of Technology. MBA, IIM Ahmedabad.
Pratik Kumar, age 35, formerly CMO of Nykaa.com and founding team member of Zivame.com. Responsible for marketing/product at 9Stacks. Advised startups such as TVF, Roposo, Biba, and VelvetCase on startup marketing and scale-up. Computer Science, IIT Kharagpur.
Rishab Mathur, age 35, headed mobile technology for Nearbuy (Groupon India). Co-founder and CTO at 9monks and Blot Canvas. Electrical Engineering, IIT Kharagpur.
Abhinav Nigam, age 36, operations and strategy consulting experience with Boston Consulting Group and Accenture Strategy. Mechanical Engineering, IIT Kharagpur.
You can get more information on the founders of 9Stacks here.
Now, let's take a look at what Sudhir Kamath had to say:
Q1. Can you tell us about the software and security systems 9Stacks has in place?
We at 9Stacks are taking a number of steps to keep the 'cyber bullies' away. We have deep layered micro-services architecture to ensure that the user is restricted to communication at the outermost layer, whereas the rest of the machinery is enclosed within a private subnet. On top of this, all user level communications are enclosed within a secured SSL layer. The entry to the system for all users is based on encrypted access tokens using the latest protocols. Also, we have an IDS (Intrusion Detection System) in place to ensure that any malicious activity is blocked at the very first instant. Apart from this, we believe in continuous monitoring of our databases & services so that corrective action can be taken whenever required.
Apart from security, our #1 priority has been user experience and we're trying really hard to improve the experience for all kinds of players. For our multi-tablers we have Mac and Windows desktop clients; for bringing in new users or encouraging casual gamers to try poker, we've got a very 'mobile-first' set of Android/iOS/HTML5 versions. We've tried to reimagine the online poker lobby as well as the table, and hope to do more in the coming months.
Q2. What is the minimum and maximum deposit limits? What is the turnaround time on cash outs?
Our minimum deposit is INR 100. First cash out to a new bank account takes 24 working hours as our bank takes time for beneficiary validation. Subsequent cash outs are currently processed within 4 business hours. We are continuously improving the process with our bankers and soon we will bring this lead time further down to 2 hours.
Q3. Do you have a customer support team in place? What are the contact details and timings? What are the different customer support services provided by 9Stacks?
Our customer support team is reachable at care@9stacks.com. During business hours, we usually respond to queries within two hours. We will also be launching live chat/phone options in the coming months.
Q4. Recently a few states have issued rulings against poker like Telangana and Gujarat. How are you combating these issues?
We do have our views (strong ones) on the level of skill needed to play poker and how it's impossible for anyone to make money unless they really #StackUp their skills! However, for now, as a new entrant, we don't have the bandwidth or the scale to combat these issues; all we can do presently is scrupulously adhere to the letter of the law, and that's exactly what we do. We do not allow users from Assam, Orissa, Nagaland, Sikkim, Telangana and now Gujarat, and constantly monitor usage to ensure there are no violations happening on our system.
Q5: Who is your target audience?
Anyone who loves poker, or will grow to love poker in the future!
We do not believe in the artificial distinction between pros, regulars and fish – on the poker table, all of them can play each other and enjoy the experience, which is what we try to work towards. In the long run, people who spend more time improving their skills will inevitably make more money, but that's not the only pay-off. New players may make less money but should enjoy the overall experience and have a fair chance of winning hands and developing themselves. What we do work hard to ensure is that new players are also treated with respect on our tables. We are very strict on abusive language/chat and do not hesitate to ban chat privileges if users misuse our chat. We think this ensures new players find us a welcoming place to play.
Q6. Could you explain 9Stacks' bonus offers, VIP programs and rewards system? Are there any special ongoing offers for new joinees?
We want to build our business around retention rather than acquisition. Hence, our loyalty program is at the core of our offering. We have different 'Stacks' (bronze, silver, gold, etc. going upto kryptonite) and each of these stacks have levels. You move up the levels and stacks by accumulating stack up points (loyalty points).  We also have benefits associated with different stacks and levels e.g. bonus chips, points redemption, free tournament tickets and merchandise.
Our bonuses also follow a typical user journey. When you join 9stacks and complete your KYC, we give you 100 chips, followed by deposit codes for each of your first four deposits. Details of these can be found here.
We also design our promos to be very transparent – once you've won anything on our system (whether cash or tournament), we do not lock your winnings. You are always free to take your money out at any time – it is your money, not ours!
Q7. What's different about 9Stacks that'll make it stand out among the rest? With many poker sites just coming and going, how does 9Stacks plan on being a market leader?
Like I said, user experience, transparent promotions, efforts to bring in new players, etc. are the things we're trying to do differently. A couple of other things I'd like to highlight:
One, we have a 'dual chip system' that we introduced after a lot of research and drawing from our prior experience in other industries. Let me explain – let's say a user plays on one of our competitors, wins Rs. 5,000 in one session, and loses Rs. 5,000 in the next. The user assumes he has won zero overall and doesn't need to pay taxes. Unfortunately, the taxman may take a different view, and ask for tax on the 5,000 winnings without allowing set off of the 5,000 loss. Our 'Dual chip system' helps avoid this problem for our users (Remember, just because the tax authorities haven't gone after poker players' winnings yet doesn't mean they won't – and when they do, we hope that players who played on our system will be able to sleep easy!).
Two, we are well aware of many sites that opened and shut down, often losing players money in the process. We have been very clear that user money and 'our' money are separate and need to be kept in separate accounts. We raised a little over $1.5 million (~INR 10 crores) from investors and use that for all our overheads as well as marketing expenses – user money stays segregated, and that is one reason why we are comfortable working towards fast cash-outs. In the long run, we believe our users will appreciate the comfort of knowing their money is safe with us and they can take it out any time they want.
The entire 9Stacks website is structured as 'You Play Safe With Us' – these five words are the sections you navigate through!
For similar reviews of new poker websites and other news from the gaming industry, keep coming back to GutshotMagazine.com!
---
---
Comments