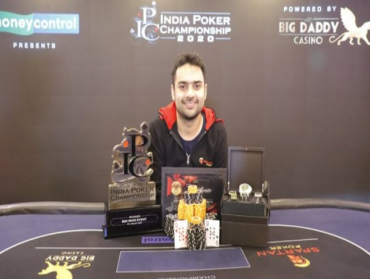 Poker
---
In conversation with 2020 India Poker Champion, Rubin Labroo
31 years old and he's the 2020 India Poker Champion! Ladies and gentleman, give it up for Rubin Labroo, poker professional from Delhi who went on to scale great heights a few nights back, shipping the India Poker Championship (IPC) 50k Main Event after getting past an enormous field of 693 entries that registered over two starting flights in Goa's Big Daddy Casino.
This edition of the IPC Main Event was special because there wasn't just massive prize money up for grabs but also the prestige of becoming the India Poker Champion, which came with a trophy, a Panerai MS Dhoni Limited Edition watch worth INR 6.67 Lakh and a sponsorship package from Spartan Poker worth INR 20 Lakh!
Labroo was chip leader when the final table began and he went on to ride that chip lead to win the tournament, beating Siddharth Mundada in heads-up and winning a humongous INR 45+Lakh top prize after a 4-way deal! "It took a while. It took a whole day before it sunk in. The final day went on for 16+ hours and I was so exhausted. By the end of it, it all felt so hazy and I couldn't believe it happened. I woke up the next day and realized that I actually won this. Amazing feeling, honestly. We went out to a couple of places to party after the win. I didn't have enough of sleep and I came back early that night too, while the rest continued to party." he told us about that memorable winning moment on board Goa's Big Daddy Casino.
When he began playing poker in college a decade ago, little did he know that he'd one day win one of India's most prestigious titles in poker. In fact, he wouldn't have even imagined it when he made the move to pro 3 years ago. Prior to this, his best live score came in Vietnam, where he finished second in the WPT Vietnam Kickoff Event for VND 662 million ($37,302) in September 2019. This recent win in Goa led to Labroo more than doubling this previous best live score in Vietnam.
Having lived in Delhi for most of his life and even schooled in Saudi Arabia for 5 years, Labroo began his Computer Engineering degree in Manipal where he initially dropped out only to return and complete the degree later. He went to give a back exam and the person he stayed with introduced him to poker. Some friends played together and apparently, Labroo picked up the game really fast, beating them all, much to the surprise of these friends! Clearly, he's been crushing since early days, since around 11-12 years ago!
"Whatever job I did, I wasn't really interested in much. I knew I couldn't really do a desk job for sure. My options after dropping out were to start a business or get into psychology or movie production. I worked for 2 years for 4-5 different companies including a call center, a friend's showroom in Chennai, a sales job at an exhibition company and even a women's fashion company, trying out different lines for the experience. I started watching videos during this time and saw that players are getting better and that the same players keep winning again and again, so I asked myself, why not poker? I always knew there was skill in poker but wasn't sure if it could be made a profession or not. I was planning to move out of home and my parents weren't very supportive of it. I was broke and had to make money. I used to put in a lot of volume and grind it out hard on Spartan Poker, playing their monthly leaderboards. I made around a Lakh or two online before deciding to take a shot at the Deltin Poker Tournament, where I shipped the Kickoff there for 6.8 Lakh in April 2017, which was my first live tournament after going pro. That was the beginning of the poker journey!" said Labroo. We then dived deeper into this journey and his victory in Goa, which you can read all about below…
Rubin, when you landed in Goa, did you believe you'd be crowned the India Poker Champion?
Honestly, no. I was planning to go back home and had already booked my return tickets. I was frustrated because I bricked the Baazi Poker Tour (BPT) before IPC and was having a downswing online as well. I played the IPC Kickoff and nothing went well, so I didn't see the point of staying and playing. The next day, I woke up and my friends were like 'How can you go back? It's IPC and there's so much of value involved.' In my head, I was honestly thinking that I'm not going to win it. Probably a cash or a final table finish at the most. It was such a long shot, but I glad I listened to them and stayed back.
Any key hands you remember in the tournament?
I entered Day 2 of the Main Event with a short stack of like 11-12 Big Blinds. I shoved KQ on a 10-high board and my opponent tank-called me with a 10-pair only for me to hit a straight. It wasn't really a great hand, but I remember it because it was an important double up, after which I started playing spots. I also had a hand later against Lakshpal Singh who had a flush draw which bricked. Lakshpal opened to 33k, I misclicked to 65k when I actually wanted to bet 85k. Check-check on the Q45 flop with 2 hearts and a spade. On the As turn, I bet 57k and he bet 155k with K9 spades. I called and he shoved on me on the Td river card, where I called again with AT-off. There were quite a few other hands that won me big pots later.
What is your opinion of the IPC? What do you think about the India Poker Champion initiative?
I really think that IPC is amazing because the value and the returns that they offer is great, along with the tax refunds that Spartan Poker is offering players, even for those who play cash games at the venue. There's so much of value and such a high guarantee in the Main Event as well, and that's why my friends made me stay. Over and above this were the 20L sponsorship package and the Panerai watch. The value was insane, and I couldn't have missed it!
How did your family react when you told them about the win?
My friends and even my mom back home were watching the stream till 5am and she kept texting me, which I checked during breaks when I could use my phone. She didn't realize that the stream was 10-minute delayed and when I called her after winning, she thought I busted or something. I told her about the delay and that I won and stuff, and she began crying out of happiness. She woke up my dad and sister and they were all very excited at like 5:30am!
At which stage did you feel you could go on to win it?
I was chip leading when there were around 40 people left and I don't think I lost that chip lead until the final table where I fell to second place during 3 or 4-handed for a while. Actually, there were more than 10 people who came up to me or messaged me than they think I was going to win it, which hasn't happened before for any other tournament. I didn't go into the tournament with much expectations. We see so much of variance online and we know that even though you're chip leading, you don't always go on to win the tournament. I had low expectations and I wouldn't be disappointed if I busted 10th or 11th. There were 4 good regs on the FT including Siddharth Mundada, Alok Birewar, Pradeep Sharma and Jagdeep Singh, and I was hoping these guys would've been out earlier. Pradeep was going crazy on the FT and was opening wild hands. He's probably been on the most Highroller FTs and has plenty of live tournament deep runs among us. Overall, I was managing my expectations, but I had a good feeling about this one.
It obviously isn't easy to beat around 700 entries to win a tournament. What do you think gives you an edge over the rest?
I usually play the Main Event of any series very seriously. I don't play High Rollers and don't take wild shots either. I used to play plenty of live cash games back in the day and I've put in so much of volume online as well. I feel that playing so much of poker and x amount of hands for x hours gives you an edge, as you know exactly what's going on.
What does your poker routine look like?
As a poker player, you don't have much of structure in life as you would in a usual 9-5 job where you know exactly what you're doing. For us, it's so erratic where you make a schedule and you fly somewhere immediately. However, you must force yourself to maintain a structure, and I feel this is where I'm struggling. I've started playing fewer tables and physically, I've started playing badminton too, like I used to earlier. Studies, I haven't been doing as much as I want to. I've seen people work hard and study so much, which I really appreciate. I don't do theoretical reading, but watch a lot of videos and hand history, which gives you new perspective on your game. This year however, I plan to do more studying, and I've been meditating to avoid tilt. 
Lots of money. How have you invested it so far? Or plan to?
I am my best investment, so I think I'll put it all back into poker mostly.
What's next on the poker calendar in terms of travelling?
Right now, I'm looking forward to playing the India Online Poker Championship (IOPC) on Spartan Poker and after that, I might do Da Nang in February, but not sure yet. One place I'm sure of going is Vietnam in March. Let's see what my results are in online and live poker in the next few months. If I hit another big score, I'll go for the 2020 World Series of Poker (WSOP) as well. Bankroll management is very important to play the World Series and I've seen people get carried away and go broke so easily in Las Vegas. I have plans of meeting friends in USA later this year, so I might play a couple of events, but not grind out a whole series.
With our Indian tournaments generating such big prize pools, how do you think we stand on a global stage?
I think Indian fields are really tough. When Indian regs go around Asia to places like Vietnam and Manila, we're all killing it. Just around 20 of us go and there's almost always a trophy coming back. The level of poker in India is very high and that's unquestionable right now. Talking about the industry, I think it's growing a little too fast. I believe the number of new players coming in is much slower than the rate at which the guarantees are growing. If we don't get in new players, these guarantees will be difficult to sustain and that's something the operators should keep an eye out for. Otherwise, the industry is on a steep upward growth path!
On a parting note, Labroo mentioned, "This definitely has to be the biggest achievement of my poker career so far. I've had a few scores, a title at DPT and a runner-up finishing in Vietnam, but just having a trophy is an amazing feeling and a rush. Winning the IPC Main Event was a feeling like never before!"
– With inputs from Dwayne Fernandes, Gutshot Editorial.
For all updates on the top online and live poker tournaments in India and around the world, and also similar interviews with the biggest winners, stay tuned to GutshotMagazine.com.
Check out our online poker rooms section, where you can read reviews on the biggest and best poker rooms in the country, while also taking advantage of their bonuses and promotions. Check out these top poker rooms HERE.
---
---
Comments