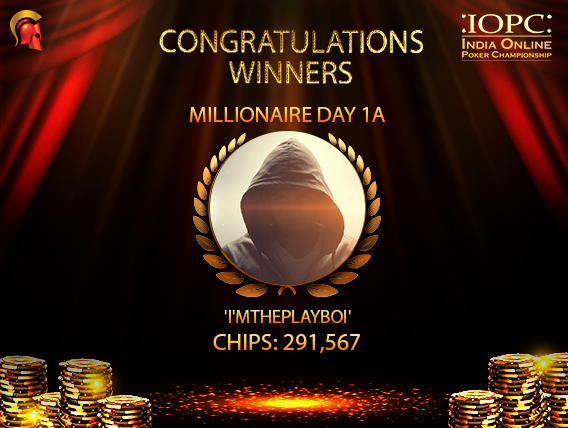 Poker
---
'I'mThePlayboi' leads IOPC Millionaire Day 1A
Mondays can be a particularly annoying day to the start of the week for some but for poker players, it's just another day to make millions. Speaking of millions, last night at the ongoing India Online Poker Championship (IOPC) saw the start of the Millionaire tournament's first flight take place which went off to a good start. Besides this there were four other IOPC side event winners who were crowned.
The two big winners of the night on Spartan Poker were 'raging bourne' who took down the Mega Freeze which went well past its 10 Lakhs GTD. The Daily Hi-Fi also returning back to the weekly IOPC schedule and that title was claimed by 'cyberpower99'. We're going look at all these and more in today's round-up of IOPC Day 9…
IOPC Event #44 INR 3 Lakh GTD
A guaranteed prize pool of 3 Lakhs was up for grabs in the very first tournament on Monday afternoon. 333 entries took that prize pool past its guarantee to settle at 3.36 Lakhs which would be paid out to the top 47 finishers in this tournament. After shortstacked 'bazzingaa' was eliminated by 'brahmos999', it was time for heads-up between this player and 'Many Faced God'. brahmos999 held about 2.6 million chips as compared to the 1.44 million of his opponent. It was a relatively short heads-up match and when his chip lead was extended to 3:1 brahmos999's pockets Jacks were best against Many Faced God's Td Qs giving him the title and first place prize of INR 65,583.
IOPC Event #45 INR 2.5 Lakh GTD
There were 226 entries in this event which built a prize pool of 3.13 Lakhs to be distributed among the top 31 finishers. Eventually, the title fight for this IOPC #45 tournament came down to 'Rb21' and his opponent Siddharth Karia aka 'schemer77'. The latter was in an almost 2:1 lead when heads-up began however Rb21 kept chipping away taking down small pots to close the gap a little. He then evened the stacks when he won a half million chip pot. A few short hands later Rb21 took down this event with a set of Sixes getting lucky against his opponent's pair of Nines when he spiked a third Six on the river. Rb21 took home INR 66,326 for his winning effort and denied Karia another IOPC title.
IOPC Event #46 Mega Freeze INR 10 Lakhs GTD
254 entries took the prize pool to 12.7 Lakhs in this weekly Freezeout special that takes place on Spartan Poker. For those who don't know, a Freezeout tournament allows you only a single entry and if you bust, that's end of the road for you. Taking home prizes for the night were 31 finishers and the biggest slice of it all went the way of 'raging bourne'. He held a reasonable lead over '$oul$utra' going into heads-up and managed to finish with all the chips in the end when his Ks Ac flopped top pair on a board of Kd 7d 4h 3c 7c against $oul$utra's Th As. INR 2.68 Lakhs went the way of raging bourne for this win.
IOPC Event #47 Hi-Fi INR 10 Lakh GTD
The follow-up tournament to the previous one was another popular event with players as this too had a sweet 10 Lakhs as its guaranteed prize pool which closed at a very nice 13.58 Lakhs given that 404 entries were part of the tournament. It took a little more than 7 hours for us to reach a winner in this event. 'cyberpower999' crossed the 4 million chip mark when he eliminated 'RJ994' in second runner-up. That knockout brought him into the final battle with 'Saboteur_all' who has a little over 2.6 million chips. That changed completely just hands later when the lead changed hands as Saboteur_all's Ace pair overtook the pocket Sixes of cyberpower99. After several pots going back and forth, both players were at near equal stacks. cyberpoer999 once again took control with a pair of Jacks winning over the Threes of Saboteur_all. The lead didn't change after that and it was all over a couple of hands later when cyberpower99 made Queen pair on the turn to end the headsup in his favour taking home top prize of INR 2,63,452.
IOPC Millionaire INR 2 Crores GTD Day 1A
One of the most anticipated events in this second edition of this year's IOPC is the Millionaire tournament which is making a comeback after a few months. Promising a mammoth guarantee of INR 2 Crores, this is one tournament every poker player in the country wants to take part and win! Yesterday, 504 entries ponied up the INR 11,000 buy-in to participate in the first flight of this mega tournament. There are a total of 7 starting flights with the finale or Day 2 being played out on the last day of the series. Giving himself a terrific shot to get to be the newest Millionaire was 'I'mThePlayboi'. He was top of the heap with a stack of 291,567 chips as he leads 89 survivors from this Day 1A of the Millionaire. 'Sangahi' and 'LoveForPoker' rounded off the Top 3 with stacks of 247,051 and 214,302 respectively.
An exciting day of poker to kick off this final week of the IOPC series and you can keep your browser pointed right here at GutshotMagazine.com as we bring you coverage from India's biggest series!
---
---
Comments