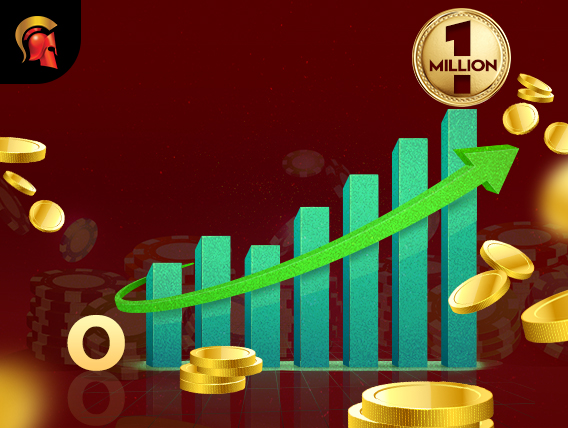 Poker
---
How to make your first million in online poker?
If you're reading this article, there's a good chance you're aware of how poker has boomed over the last 2-3 years in India. We're pretty sure you've heard of some 'rags-to-riches' stories in poker or you probably know of some friends who are earning quite a few extra bucks playing this skill-game on a regular basis.
Now for those who don't know, the poker community has been on a monumental rise in recent years, with hundreds of people looking at this sport as a source of livelihood. Thousands more make this a semi-professional occupation while some a recreational activity. In short, what we're trying to say is that poker is now a way of earning your bread and butter in India and today, we're going to tell you how…
Do you need to make big investments?
True, there are many players who sit down at the tables with big bankrolls, but a majority of India's poker population has begun with almost nothing. Online poker is legal throughout India (except in a few states like Gujarat, Telangana, etc) and there are many websites like Spartan Poker which offer freerolls throughout the day, where you can begin building your bankrolling with a ZERO investment. Here are some 'ZERO to HERO' stories to inspire you:
Chris Ferguson: Before the American pro got into the news for the poker 'Black Friday' incident in 2011, he was widely known for winning the WSOP Main Event in 2000 and also later co-founding Full Tilt Poker in 2004. Now in 2006, he set out to complete a challenge wherein he would build a massive bankroll with no starting investment. Between March 2006 and September 2007, Ferguson completed this $0 to $10,000 Challenge, inspiring hundreds of poker players around the world, which shows that you can be a great too, doing nothing but following strict bankroll management practices. It was tough early on, as it took 2 weeks for Ferguson to earn his first $2 through freerolls. He said, "One of the funny things about the challenge is that people would see me playing a freeroll and think I was fooling around. Are you kidding me? I was taking those freerolls dead seriously, because getting money out of them was an essential part of the challenge. I was sweating on the other side praying, 'Please fold, please fold!'" He picked a 5c/10c cash game next, lost his earnings, went back to $0 but built it all again. His overall stats in the challenge:
Initial investment: $0
Playing time: 10 h/week
Time to $100: 9 months
Time to $10,000: 18 months
Similarly, an Indian player managed to do the same on Spartan Poker, where he began his online poker journey through freerolls and rode his way through to a much bigger bankroll, without a single rupee being invested. No doubt, there were ups and downs, but his story is an example to those who want to get into the game without a major bankroll. The player who requested anonymity, had this to say – "I got introduced to the game when I was in college and had nothing to do in the evenings. I played only freerolls on Spartan for the better part of a year, and the more I played and studied the game, the more I won. Soon, I had a balance of over INR 20,000, after which I moved up the stakes playing sub-500 rupee tournaments and small stakes cash games from time to time.." This player claims to currently have a low 6-figure balance.
You can do it too!!
No doubt, freerolls aren't the best display of the 'skill' aspect of the game, as you may often find players shoving stacks early on with the motive of doubling or tripling up in the starting stages of freerolls. It's also a struggle at the start because you're playing 2-3 hours to just win a prize between INR 200-300. However, this is how you can start out without having to make a deposit initially. Play a few freerolls and build enough of a bankroll so that you can start playing in higher value tournaments, or even in high-stakes cash games. On Spartan Poker, there are a number of freerolls being hosted daily, including:
2am: INR 500 GTD Freeroll Bonanza (FO)
6am: INR 500 GTD Freeroll Bonanza (FO)
8am: INR 1,000 GTD Freeroll Bonanza (FO)
10am: INR 2,000 GTD Freeroll Bonanza (FO)
12pm: INR 2,000 GTD Freeroll Bonanza (FO)
6pm: INR 2,000 GTD Freeroll Bonanza (FO)
8pm: INR 2,000 GTD Freeroll Bonanza (FO)
10pm: INR 2,000 GTD Freeroll Bonanza (FO)
Midnight: INR 1,500 GTD Freeroll Bonanza (FO)
These give you plenty of chances each day to slowly build you bankroll, while there are a few more freerolls scheduled on Spartan Poker on Sundays. Once you manage to generate enough funds and once you believe you are ready to move up in stakes, there are several cash table options, while you can also start buying into to low and/or mid-stakes tournaments, where the prizes are higher than those offered in freerolls.
Now Spartan is also known for hosting some of the biggest and highest value online poker tournaments such as the monthly 2.o.K tournament which awards the top two players with equal prizes of INR 15 Lakh each while 5 For 5 awards the top five players with INR 5 Lakh each, both with respective buy-ins of just INR 5,500.
The Millionaire is another, where a massive INR 1 Crore GTD prize pool is on offer, along with INR 25 Lakh to the winner, with a buy-in of just INR 5,500. Imagine winning this mega tournament with the bankroll you've built from scratch and being able to flaunt the fact that you've earned a life-changing amount with no investment at all?
So, what are you waiting for? Do you think you have it in you to be the next big poker player? Do you think you can start complimenting your main income with poker? Or do you believe you're good enough to earn your entire living with this game? If your answer is yes to any of these questions, let's not waste any time at all. Sign-up to Spartan Poker and start your journey today!
There are also plenty of poker books and other equipment/materials that can help you along your way to achieving greatness in this game, and you can check them out here. For similar articles on poker and other real money games in India, keep following GutshotMagazine.com.
Don't have an account on Spartan Poker? Check out their review page here, and don't miss out on their bonuses, promotions, and guarantee-smashing tournaments. Sign-up now.
---
---
Comments