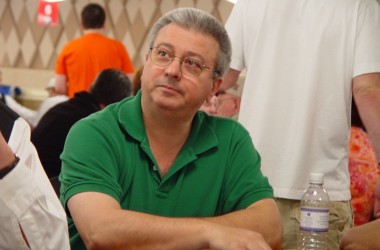 Gambling
---
How A Man Turned $50 To $40 Million
You've probably even heard about this through random chatter online or in the ghosted alleys of the poker underworld. Even if you have heard about this modern day King Midas, we are going to make you read it anyway because his story is worth repeating.
In the world of professional gambling, there is a well-documented hot streak of near-mythical status referred to by many as "The Run". During this streak, a man known as Archie Karas turned $50 into $40 million by primarily shooting pool and playing poker in Vegas. What makes this run so infamous is that, after winning more money than most people could spend in a lifetime, Karas lost it all in the span of a few weeks.
Karas' previous experience playing high-stakes poker helped him turn his $50 into $10,000 almost immediately when he bumped into a high-roller at The Mirage he'd previously played with and convinced him to give him $10,000. The high-roller, knowing Karas' skill, happily lent him the money and watched as he turned it into $30,000 in a matter of hours at the poker tables. In repayment of the loan, Karas gave the man $20,000 and headed for the pool halls with the remaining $10,000.
In the end, Karas was able to convince the casino to allow him to bet $100,000 per dice roll, 20 times more than any other casino in the area offered and 5 times what other customers at that casino could bet. Briefly, Karas even topped that after convincing the owner to allow him to bet $200,000 on a single roll- a concession that was quickly withdrew when Karas won nearly a million dollars in two consecutive rolls.
On another occasion, Karas won almost every $5000 chip (the largest at that establishment at the time) the casino had and ultimately walked out carrying $3 million in cash that day which he nonchalantly dumped onto his car's passenger seat before driving to the bank.
At the end of this final streak, Karas had managed to acquire another $13 million, bringing his total winnings over this two and a half year period to over $40 million (about $65 million today). It's at this point that his unprecedented run stopped cold.
Showing that lack of fear, after losing that $40 million, Karas continued gambling, managing to win and lose millions of dollars a few times over in the two decades since.  Notable in these mini-runs was the time in 1996 when he turned $40,000 into about $5 million, then promptly lost it all the day after winning approximately 80% of that sum.
All of the events unfolded in a span of a few years. He made more money in a year than most players make in their entire careers. Just imagine if he were to compete in any of the World Series today. If he is not playing poker, god knows what he is up to these days?
---
---
Comments