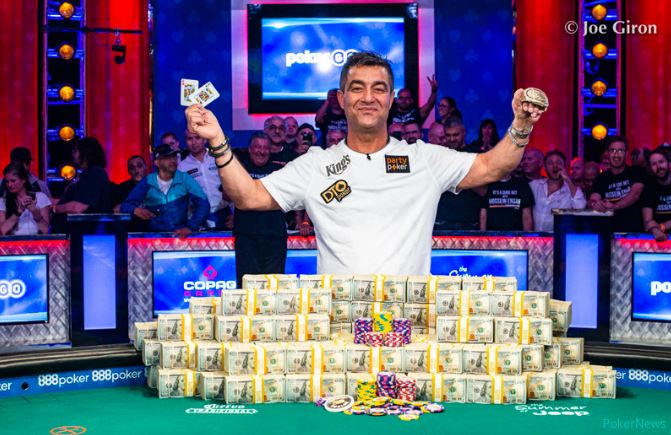 Poker
---
Hossein Ensan is WSOP 2019 Main Event winner; bags $10M!
It's Day 10 of the World Series of Poker (WSOP) Main Event and the level of pressure felt by players is probably going through the roof at the Rio All Suites Hotel and Casino. 3 players begin the day and a few hours later, it's just Italy's Dario Sammartino and Germany's Hossein Ensan in action. Prestige, glory, bragging rights, money, and lots more to play for, including going down in history books as the winner of the Main Event at the 50th anniversary edition of the WSOP!
The action goes back and forth as 100 hands are played between the Italian and German in heads-up, both knowing they cannot make a single wrong move, with poker enthusiasts all over the world watching them. Finally, after hours and days of grinding and possibly years of practicing this game, we have a winner. Congratulations to Hossain Ensan who is the new poker champion of the world!
When Alex Livingston was eliminated in 3rd place earlier today, it was a tough contest as Ensan had 279 million chips and was slightly ahead of Sammartino's stack of 235 million. On hand #301 of the final table, Ensan went down into the history books. Raising 11 million on the button, he got a call from Sammartino on the BB and the flop opened Ts 6s 2d.
Sammartino then check-called a bet of 15 million. 9c on the turn and another check from Sammartino, Ensan pushes 33 million in the pot and after thinking for a bit, Sammartino shoves all-in only to get a snap-call from Ensan. Both rails fell silent as Ensan revealed pocket Kings and Sammartino revealed 8s 4s with a flush draw. However, it all ended for the latter with the Qc on the river!
After holding the chip lead all through Day 7, Day 8, Day 9 and through most of Day 10 today, Ensan was deservingly awarded the WSOP Main Event bracelet and of course, the whopping $10 million (~INR 68.8 Crore) cash prize. He took his total career winnings to $12.5+ million and broke into the top 10 all-time list of German poker players.
Let's not forget what an amazing effort it was by Sammartino as well, who was the shortest stacked on Day 8 as well as Day 9, but kept grinding his way to the top, to even having the chip lead at some point today. He missed his maiden bracelet but won $6 million as the runner-up prize and took his career earnings past $14 million, overtaking Mustapha Kanit to become the #1 Italian poker player in terms of live cashes earned!
Final Table Results:
Hossein Ensan – $10,000,000
Dario Sammartino – $6,000,000
Alex Livingston – $4,000,000
Garry Gates – $3,000,000
Kevin Maahs – $2,200,000
Zhen Cai – $1,850,000
Nick Marchington – $1,525,000
Timothy Su – $1,250,000
Milos Skrbic – $1,000,000
For more updates on the biggest poker and gaming stories from around the world, stay tuned to GutshotMagazine.com.
---
---
Comments