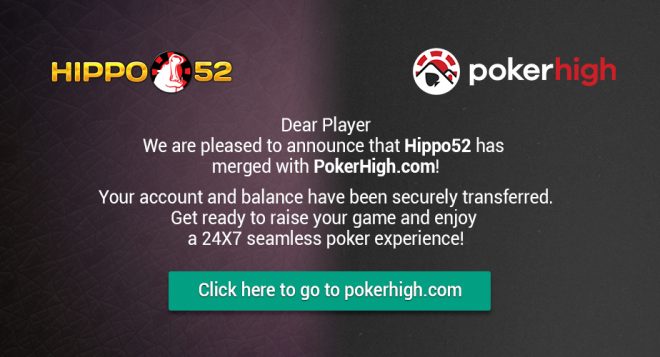 Poker
---
Hippo52 and PokerHigh join forces
The Indian online poker industry is a well-established one, having a few movers and shakers acting as the driving force in the scene. Someone looking to start a new venture in the industry has to face enormous competition. One of the logical paths a nascent company can take is to merge with another similar company.
This is what the Delhi-based Ultimate Gaming Technologies, who own the Hippo52.com website has done recently, when it took the decision of merging with another budding online poker website called PokerHigh, which is in turn operated by the company Quantumskill Gaming and Tech. The 1,400 players who are on Hippo52 will be shifted to the PokerHigh platform, without losing any of their balance.
This decision was made in an attempt to grab a larger pie of the online poker industry in India and to tackle other well-known names in the game as well. Mithun Rebello, founder and Managing Director of PokerHigh said, "Having been in the game from the early days, we've always believed that consolidation would be a natural next step for the industry in the years to come, and we saw this as a great opportunity to further cement our position in the market. Having collaborated with Hippo52 during multiple events in the past, we are now excited to work together as one unit with their combined expertise in offline poker and community engagement."
Sumit Khurana is the main man behind Hippo52 and will be working under the PokerHigh brand in his new position as the head of PokerHigh's offline marketing strategy. Khurana has accumulated years of experience, having previously worked in multinational banks like Standard Chartered, HDFC and ABN Amro. His corporate world network will surely make a significant difference for PokerHigh in coming years.
Khurana commented on the development by saying, "We have been watching the growth of online poker in India for some years now, and with this move we wish to offer even better experiences to our combined patrons and to set the ball rolling in our endeavour of making poker reach its true potential in India. PokerHigh has been known as one of the most fun brands out there for over 3 years now, and we are truly excited to be working together with them. The idea will be to focus on bringing recreational poker players into the main fold, through specially curated poker experiences at exotic destinations across the globe. These expeditions will be multi-dimensional and will blend poker with other unique experiences."
Hippo52 and PokerHigh have also collaborated in the past. One such collaboration was organizing a games festival in the national capital of New Delhi called the Brain Duel, twice, one in February and other in April of this year. The latest one also saw a few celebrities like PokerHigh's brand ambassador Arjun Rampal and Indian chess GM Tania Sachdev make an appearance.
This is not the first time in this year that two poker companies have combined their forces. Sometime in May this year, The Spartan Poker acquired FTRPoker.com. This was followed by the acquisition of PokerMet by PokerDangal in September.
Hippo52 and PokerHigh have plenty of potential, especially after the merger, and we at Gutshot wish them all the best for the future. Keep reading GutshotMagazine.com for more industry news, tournament updates, and much more.
Don't have an account on PokerHigh? Don't miss out on their exciting tournaments and other promotions. Sign-up now by clicking HERE.
---
---
Comments