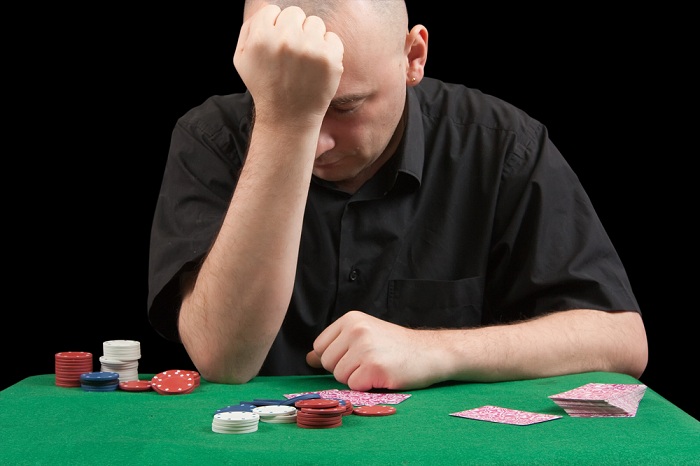 Poker
---
Here's How You Can Deal with Loss in Poker
To become a famous poker player is not an easy task. It sure seems like a cakewalk when you see James Bond play poker but real poker is not all fancy suits and women. It requires a lot of hard work and long hours of practice to develop into a genuinely good poker player. Another thing that is constant in poker is losing. No matter how good you are at poker, you are most likely to face the bitter truth of loss at some point.
Hence, it is crucial to know how to deal with loss in order to become a shark in poker. Here are a few tips that might help:
1) Don't get mad – Getting vexed or frustrated at a bad beat is natural. All of us go through the phase of losing to a royal flush when you have a three of kind. The important thing to do is to not let emotions be a barrier. Learn to accept the reality and move on. There is no point in venting out frustration on your family or social media. It won't get you your money back or improve your game.
2) Understand bankroll management – Poker is a game where all your decisions are crucial. One incorrect decision and suddenly you don't even have enough money to tip the dealer. To avoid this, you need to study bankroll management. There is a specific bankroll, recommended for each variation of the game. Study and understand them. Proper bankroll management ensures that you have some money left in reserve even after losing. This will surely make you feel a little better about your loss.
3) Know when to stop – If you are losing too many rounds, maybe it's best to just leave and go home. This will help you avoid falling down the slippery slope of a tilt. Another way to go about this is playing freerolls. A lot of online poker rooms let you play freerolls. Here you have nothing to lose so this will help you get your confidence back. But to play here, you need to know when to stop and change gears.
4) Think long-term – Never judge your poker skills based on one game or even one night of gaming. Don't let a few bad games affect your overall attitude in the game. Keep reminding yourself that you can and will do better than what you are currently having. Always make sure you think about the future, manage your bankrolls and keep a positive attitude. Think about the long run and not just the small losses.
5) Know your meltdown point – Every person has his own capacity. In poker, as in every other field, there is only so much a person can take. To exceed limitations, you must first know where they lie. If you feel the stress and anxiety that poker brings with itself is too much, take a break and do something else. When you come back, you will be more focused and relaxed that will help you play better.
These were our tips to deal with loss in Poker. Do you have any other tips that you can tell us? Leave a comment and let us know.
Also, for latest updates on Poker right in your inbox and similar 'Poker Gyaan', subscribe to GutshotMagazine.com now!
---
---
Comments