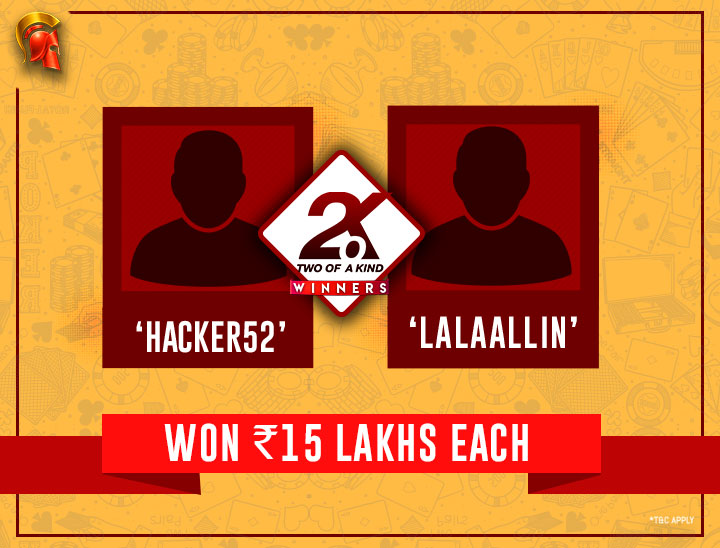 Poker
---
'Hacker52' and 'Lalaallin' ship 2.o.K for ?15 Lakhs each
A hallmark of The Spartan Poker is that they keep increasing guarantees on a regular basis especially in their marquee tournaments and this time it's none other than every poker player's favourite Two of a Kind (2.o.K). From the original guaranteed payout of Rs 10 lakhs to the top 2 finishers, the guarantee is now increased to ?15,00,000 for the 1st and 2nd place while the buy-in is ?5,500. The tournament is held on the first Sunday of every month and last night was saw two players getting this mammoth prize which boosted their bankroll and bank account!
The 2.o.K tournament drew 1,164 entries which made up a prizepool of ?58,20,000. Top 85 places took a share of the prizepool with a min-cash ?8,730. Beating these many entries, the two players who came on top to collect ?15,00,000 each were 'Hacker52' and 'Lalaallin'.
Gutshot was able to speak to 'Hacker52' who said, "Tournament experience was amazing, the field was pretty solid and tough competition was 'Lalaallin' who eventually came into headsup. A key hand I remember was when we opened from the button and it was a 3 way pot. SB called, BB called to see a flop of Ax Ax 6x. BB checks, we bet 1/2 pot and BB jams. We call to see a Queen on the turn and a 3 on the river. BB had Queens full, we had trip Aces holding Ace-King. That was a big pot we lost but thereafter gained the momentum again."
Other notable players in the field were India Online Poker Championship (IOPC) leaderboard winner Sajal 'GoMuckYourself' Gupta who made it to the final table but finished at 7th place for ?1,10,580 and Siddarth 'PeterPunter' Singhvi at 9th place for ?69,840 along with many other players.
Speaking about some other high-value tournaments and upcoming series, next Sunday (11 Feb) the site is hosting The Millionaire with a guarantee of ?1,00,00,000 where the player can enter with a buy-in of ?5,500. TheSpartanPoker is a hub of series and this time they are celebrating their popular tournaments called the 'Quickies', as 'Quickie Anniversary Series' that will run from 13-16 February 2018. The tournament series will feature 36 turbos (quickie) events over the course of 4 days, with over Rs.1.8+ crore in prizes to be won.
This doesn't end here the 'Quickie Anniversary Series' also has a leaderboard of ?7,00,000 which also includes Suzuki Intruder to the first-place finisher on the leaderboard. For the full schedule, click here.
---
---
Comments