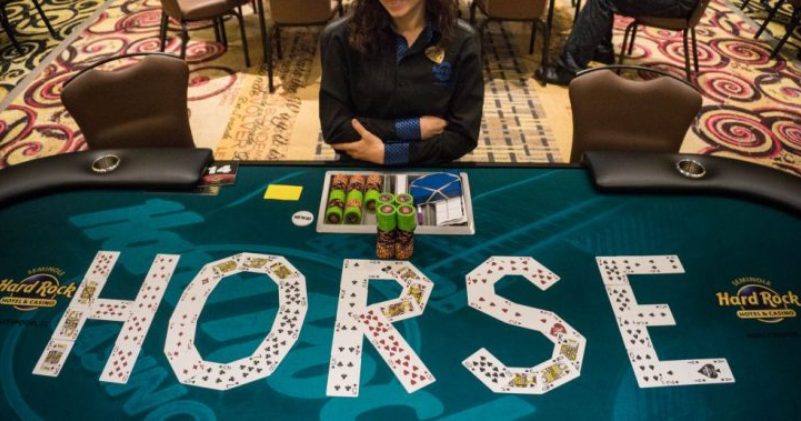 Poker
---
H.O.R.S.E Poker
Horse poker is a mix of all major forms of poker styles. Here is a low down on how it's played: 
What is H.O.R.S.E ?
It's a mix of 5 different types of Poker styles – H (Hold' em). O (Omaha High-low). R (Razz). S (Stud). E (Eight or better). It played predominantly in WSOP championship since 2006. It has grown tremendously from its humble beginnings and is now a $50000 buy-in special event at the WSOP.
It's preferred over other forms of poker as it's a true test of any poker players versatility. The fact that that a player has to be well versed with all 5 types of poker and quickly adapt to the nature of each style makes this game a true nail biter!
How is it played?
H.O.R.S.E is played round wise and all variants of poker carry points. It starts out with a fixed limit Texas Hold' em followed by a fixed limit Omaha Hi/Lo, Razz, Seven Card Stud and finally Seven card Stud Hi/Lo once each round is completed once the game goes back to the Fixed limit Hold'em and the same cycle continues. Usually the Buzzer is paused while switching from the positional variant of Omaha Poker to the Non-positional variant of Razz to avoid unfair blinds during the next cycle of Texas Hold' em.
All the games are played on a fixed limit so as to fit the game into proper segments. Mostly limits such as 2/4 or 5/10 are used for Texas Hold'em and Omaha Hold'em.
Where is it played?
As mentioned earlier it is a major event in the WSOP since, 2006. Apart from that it's played at multiple poker rooms, and has found a following in online poker as well! There are multiple sites like Spartan Poker who host mixed games like these.
Benefits
There are multiple benefits of playing H.O.R.S.E style poker. The most prominent of them being the ability to play multiple varieties of poker. It also increases your skill set and given that there are only a few people who are proficient in all 3 forms of poker, the chances of winning the all high $50000 prize as well.
Check out our online poker rooms section, where you can read reviews on the biggest and best poker rooms in the country, while also taking advantage of their bonuses and promotions. Check out these top poker rooms HERE.
---
---
Comments