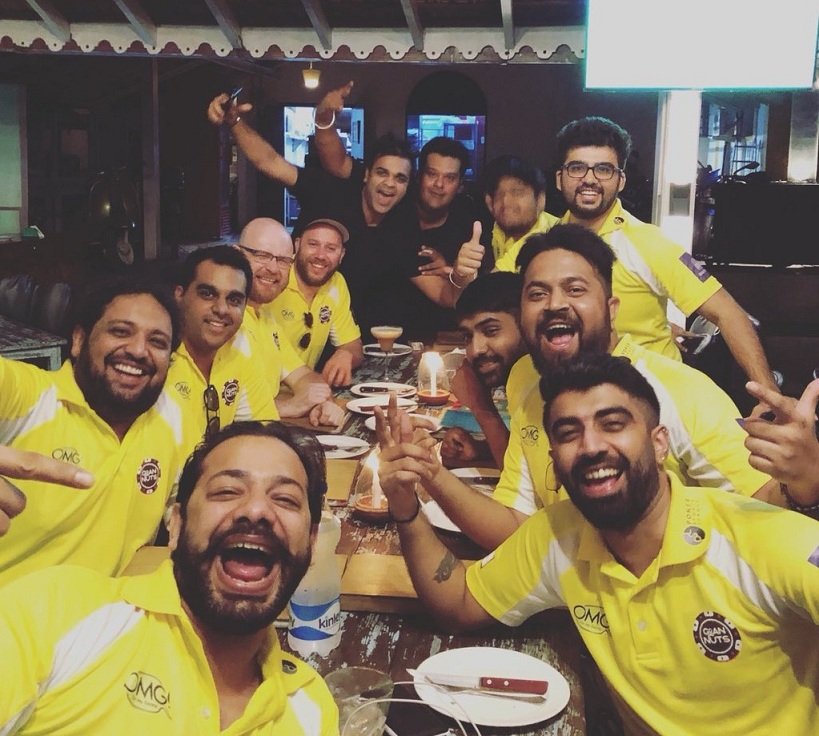 Poker
---
Goan Nuts on top after Day 2 of Poker Sports League
Yesterday, we spoke about Season 2 of the Poker Sports League beginning of 9th May 2018 and 11 teams battling it out for a share in the INR 4.5 crore prize pool. At the end of Day 1, it was Andhra Bullets who were at the top of the points leaderboard but just how consistency is a key in any sport, so it is in poker. The Bullets didn't cash out in a single event on Day 2, which has seen them drop to fourth place. Goan Nuts, who were second on Day 1, are now at the top of the leaderboard after two days of PSL 2.
A small insight into Day 2 here:
Main Event
The day followed the same format as the first day, with teams having to nominate players to represent them in the various tournaments to be played. On Day 1, Bengaluru Warriors lost heads up to the Bullets in the Main Event, and they lost in heads up of the Main Event in Day 2 as well, this time against Goan Nuts. However, they gained vital points for finishing second, which has kept them second on the Day 2 leaderboard as well.
Tag-Team Event
All the 11 teams had to nominate a couple of players to represent them in this event and the defending champions Delhi Panthers won this event, represented by Shashank Jain and Akash Malik. Dhaval Mudgal and Abhinav Iyer took Goan Nuts to a second-place finish while Bengaluru Warriors finished in third, represented by Ratul Steves and Aditya Sushant.
Heads-up Event
Only 2 teams were to be paid out in the heads-up event. On Day 1, Delhi Panthers won this event and they decided to go on and repeat that achievement, winning the event on Day 2 as well, beating Gujarat Falcons and adding an important 66,000 points to their tally, which also helped them finish on #3 at the end of Day 2.
PLO Event
The teams sent out their PLO experts for this event and after finishing third in this tournament on Day 1, Kolkata Kings won it on Day 2, for 50,000 points while Delhi Panthers and Pune Sharks finished second and third respectively.
Turbo Event
This was the last tournament of the day and 4 teams were to cash out in this event. Ultimately, Gujarat Falcons won it, represented by mentor Romit Advani and pro Zarvan Tumboli. They cashed out for the second time in the day and avoided that bottom place on the points table. Punjab Bluffers, Kolkata Kings and Bengaluru Warriors also cashed out as proceedings on Day 2 came to an end.
Mumbai Anchors and Andhra Bullets were the two teams that didn't cash out on Day 2, while two teams who were on 0 points after Day 1, opened their accounts on Day 2 – Gujarat Falcons and Punjab Bluffers. Check out the Poker Sports League Day 2 leaderboard: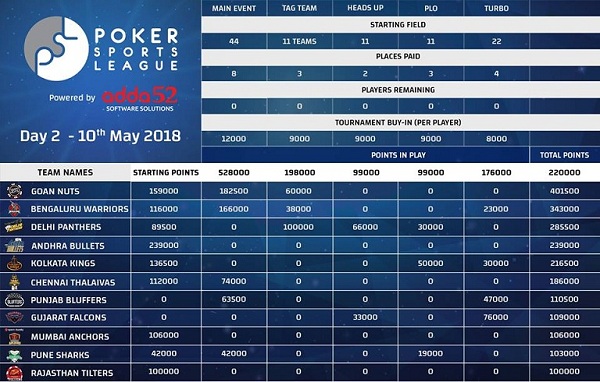 Two more days of this season's Poker Sports League are yet to be played and you can catch all updates of this sports league on GutshotMagazine.com!
Image courtesy: Poker Sports League
---
---
Comments