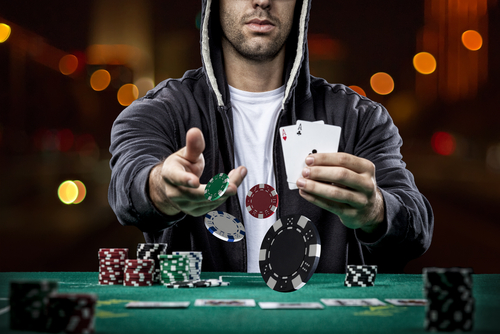 Poker
---
Flow States and Poker
We all have that one book, show or movie that we are so completely consumed by that we seem to ignore everything around us, including our consistent hunger pangs. This is what flow state is all about.
If you've been a regular poker player, chances are that you might have had the chance to experience at least one poker session that seemed to be 'perfect'. You played your A-game from start to finish without any distractions, focussing solely on your cards, opponents and decisions. You did not feel drawn to twitter or Facebook, and you've managed to win more hands than usual and stay surprisingly calm when the odds were not in your favour.
If you failed to notice how fast the 60 minute session passed, then you've probably experienced the state of flow, a fleeting marvel that took the world of psychology by storm from the moment it was introduced more than a decade ago.
What is Flow?
Human beings have a very limited capacity to process data.  Our brain can't process more than 110 bits of information per second, listening to someone speak requires processing around 60 bits of information per second. Over that, we are exceptionally inclined to destruction. It is not hard to imagine how big of a negative effect this can have on us given the limited capacity for processing information.
This is the reason concentrating on one errand at the time is so difficult. The concept of flow is based on the fact that it is possible to invest the 110 bits per second worth of attention that we're able to invest all into one particular activity.
Achieving flow is mostly about minimizing distractions and getting out of your own way. You don't necessarily need to be a Buddhist monk to master this state. Staying in the present moment for a long period of time can feel so foreign because we spend as much as 50% of our time thinking about the past or the future.
How to Achieve the State of Flow?
Now that you know that flow can be extremely beneficial to your performance at a poker table you should know how to maximize the amount of time you're able to spend in that state. The steps necessary to achieve flow are fairly easy to comprehend.
The basic idea to achieving the flow state is all about balancing the difficulty of the task that we're going to perform with our skill level. The flow state is somewhere in between the excitement and control, and it's impossible to achieve if we're too anxious, relaxed or energetic. Knowing that, if you find the task that you're performing boring, increase the challenge. If you're too anxious, you should take steps to increase your skill level. It all boils down to balance.
When it comes to poker, it is important to play at stakes that are both challenging and profitable. Many people make the common mistake of making a number of buy-ins in their bankroll the only variable when deciding which stakes to play. You can avoid that mistake by monitoring how challenging playing on a certain level seems to you and use your short term win rate to make assumptions about the edge that you have over the opposition.
Also, it is important that you don't play more tables that you're able to handle. We all have a tendency to greatly overestimate our attention spans and our ability to process information so it might be a good idea to cut a number of tables that you're playing right now by around 20% and see if that improves your ability to get into a flow state.
Another very important step in achieving the state of flow is eliminating distractions. Make sure your desk space is clean and you log out of the social media sites before starting the session. Set aside an adequate amount of time for playing at the tables and make sure you keep your surroundings as quiet as possible.
Flow is all about self-awareness – until it's not. Once you achieve the state of flow you're no longer keeping track of the state that your body and mind are in, but before that happens it's important to be able to identify what lies between you and the optimal performance. Recognizing that you're too bored or too nervous allows you to readjust your behaviour and re-evaluate the results.
Although it's not easy, but when done correctly the results become self-evident and absolutely astounding. Practice that skill and you'll be playing poker in a flow state in no time.
---
---
Comments