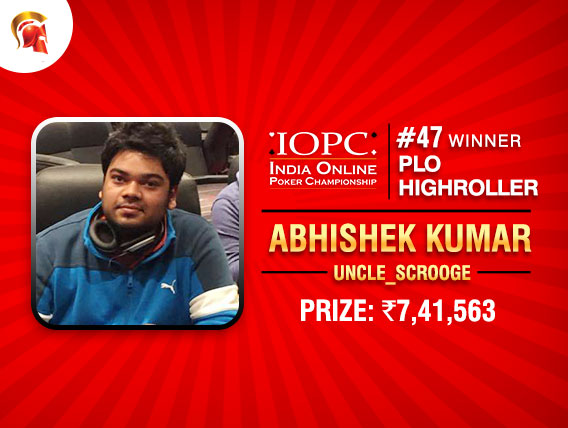 Poker
---
First IOPC title for Abhishek Kumar in PLO Highroller
It's been a series filled with firsts for a lot of players here at the India Online Poker Championship (IOPC) taking place at The Spartan Poker. Event #47 of the IOPC was the penultimate tournament of the penultimate day of this series and a well known reg in the form of Abhishek Kumar a.k.a 'uncle_scrooge' went on to claim his first IOPC title of this series.
This particular tournament drew a large number of participants and shot right past its original guarantee of INR 20 Lakhs. Being a Pot Limit Omaha (PLO) and a highroller at that, meant there was keen interest among the PLO enthusiasts to make a big score in this event. A buy-in of INR 27,500 was required to make your way into this IOPC tournament which was the only PLO event on schedule through the series. Well known names like Aditya 'SuperuSer' Sushant, India's first WSOP bracelet winner finished deep in this event. Sushant finished in 5th place for INR 2,17,525 while PLO specialist Jagdeep 'Nodus Tollens' Singh finished one place below Sushant for INR 1,69,500. Another known reg and 2-title winner in this IOPC, Pulkit 'Championplayer' Goyal solidified his lead atop the IOPC leaderboard with another top finish. Goyal busted in 4th place for a payday of INR 2,69,787. Remember there is a fantastic Jeep Compass awaiting the winner of the IOPC leaderboard and a Bajaj Dominar motorcycle for second place finisher along with other prizes and cash valued at over INR 30 Lakhs!
Heads-up battle came down to uncle_scrooge and 'UtterlyButterly'  with the latter holding 1.81 million chips as compared to uncle_scrooge's 1.01 million. However slowly but surely over a very long heads-up which lasted over half an hour and 60+ hands, uncle_scrooge managed to take hold of the lead and went into the final hand. 
UtterlyButterly 5h Jh Kc Kd vs. uncle_scrooge Ks Jd Qd 5s
A raise and re-raise before the flop got the players to see Jc 2s Th on the board. An action flop got all the chips into the middle to see the turn (9h) and river (Tc). Fourth street spelt doom for UtterlyButterly as uncle_scrooge made a straight to win the PLO Highroller for INR 7,41,562 while runner-up prize of INR 5,19,800 went the way of UtterlyButterly.
 
Gutshot had a chance to speak with 29 year old Abhishek Kumar after his win. This full-time poker player who is based in Gurugram first started playing on Zynga poker and ultra micro stakes live cash games in college. He first heard about poker in 2011 through a friend and started playing for real money soon after he watched international pros Phil Ivey and Tom Dwan's betting wars in a million dollar cash game series back in 2011.
Speaking about his run in this PLO HR, Kumar said, "In the beginning of PLO HR I was struggling to build a stack while I couldn't win a single pot and made several rebuys. I was in for 10 rebuys in this tournament and by the 10th rebuy my total buy-in was already 275k. Looking at the payouts I realized i need to finish in minimum 4th place to at least be break even in this tournament and so had a bit pressure on me. But soon I realized, what has happened has happened and I need to focus on the chips i have right now and play it hand by hand focusing on the best I can do with this stack I have and not think about the rebuys I have made. I patiently waited for spots and soon I got a few double ups to get in the game. After that the journey was smooth till heads up and there we battled for probably 40-45 mins before I finally won it.
Before signing off, Kumar said he was looking forward to some live play, "Right now i am planning for the DPT, and soon will be adding a few more live tournament series in my grind."
---
---
Comments