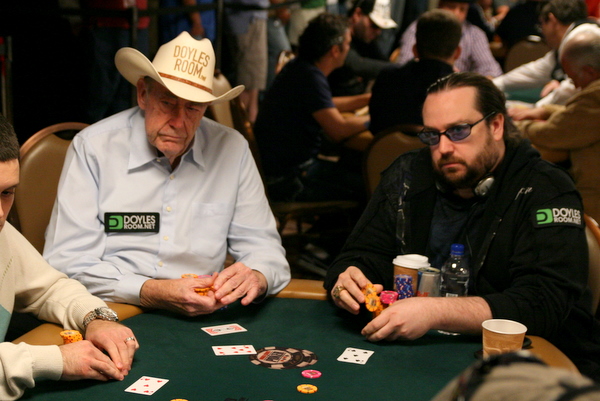 Poker
---
Father-son duo launch new Poker Training Course
He's one of the legends of the sport of poker, with a professional career spanning over 50 years. We're talking about 2-time WSOP Main Event Champion and Poker Hall of Fame inductee, Doyle Brunson. He announced his retirement from the World Series of Poker in June, ending an illustrious career in the game.
However, if you thought he was going to fade away from the poker scene, please think again. Brunson continued to play high-stakes cash game and most recently, he has teamed up with his son Todd Brunson to launch a new poker training course called the Brunson Poker Pro training course.
Their new Poker Learning System guarantees newcomers all knowledge about that game that pros possess, but in a much shorter time period. No longer will you need to be playing at the tables for years to gain that knowledge and experience. The Brunson training course promises the best in just $149.
They have launched their advanced learning system with the first 'WSOP Special' edition and people have already begun buying packages before they get sold out. The $149 package includes a book, flash cards, audio CD, charts, and training website access. It claims to cover everything from player tells, to bluffs, to board textures.
"Now you can learn the game of NL Texas Hold'em and its advanced strategies in a much shorter time and gain professional knowledge without playing for years. We are teaching poker the way your brain processes information faster by seeing, hearing, and doing," claims the Brunson Poker Pro website.
"Todd has been wanting to do it for a couple of years, but I've had too much on my plate, so we are just getting around to it. We cover basic strategy, how to vary your play, situational problems and solutions, watching for tells, and poker in a lot of general areas," Doyle Brunson told PokerNews.
The elder Brunson may be 84-years old but his love for poker and his business mind still seem to be the same as it always has been. The father and son duo took to Twitter to make this announcement a couple of days ago. If you liked what you read, keep coming back to GutshotMagazine.com for more poker updates from around the world.
---
---
Comments