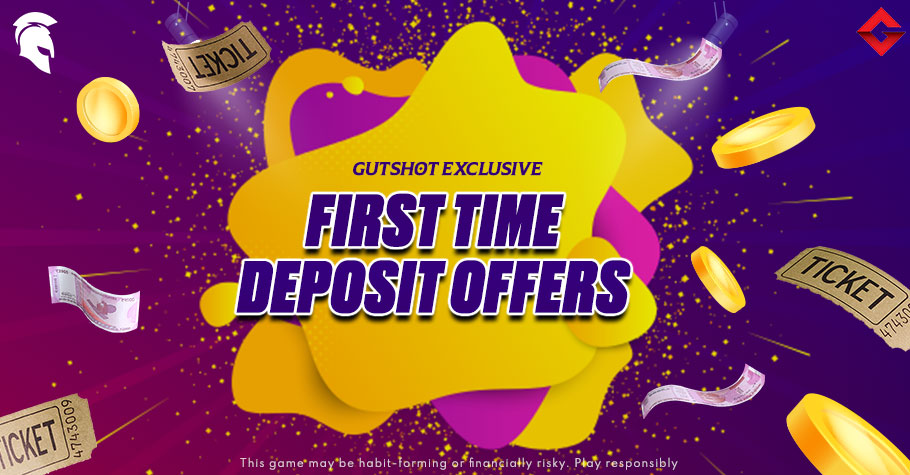 Poker
---
All About Gutshot Exclusive FTD Offer On Spartan Poker
Gutshot's first-time depositor bonus on Spartan Poker is a definite bankroll booster for Gutshot players. All players associated with Gutshot will be given a reward in the form of tickets to larger tournaments for depositing a certain amount of money. These tournaments may not necessarily have lakhs and crores in guarantees, but each tourney will have a pretty decent prize pool.
What does the first time depositor bonus mean?
Spartan Poker's FTD offer is an acronym for first time depositor offer. FTD offer implies that any player who wishes to deposit money into their online poker wallet for the first time will receive a reward in the form of cash, bonuses, and/or free tournament tickets by depositing the amount specified by the platform.
Here at Spartan Poker, the FTD reward for Gutshot users is in the form of a whopping instant bonus as well as free tickets to tournaments with bigger prize pools, which will ultimately add value to players' bankrolls.
What are we offering?
Our first-time depositor bonus on Spartan Poker includes free tickets into a variety of daily poker tournaments. The platform currently has three types of first-time depositor offers – 'Deposit 300,' 'Deposit 1000' and 'Deposit 5000' which is exclusive to Gutshot players only. 
IMP Note: This offer is no longer active. Visit our deposit offers page for the updated offering. 
What you will get on Spartan Poker's platform:
Deposit 300: In this offer, a player can make an initial deposit of ₹300 by entering the code 'GS300'. They will then be given a total of three free tickets to the tournament 'The Centurion'. This tournament has a guaranteed prize pool of ₹1.5 Lakh, and a player who successfully enters this tournament can claim his share of the prize money.The tournament is held every day at 8 PM.
Deposit 1,000: In this offer, a player can deposit ₹1,000 by using the code 'GS1K,' after which they will be eligible to participate in another tournament 'Chip Up,' by receiving three free tickets in rewards. The tournament is held daily at 9 PM and has a GTD of ₹1 Lakh, which means, you get to win from a total GTD of ₹3 Lakh.
Deposit 5,000: While depositing ₹5,000 as part of your first time deposit may appear difficult but remember the greater the deposit is, the greater the rewards will be. Players can take advantage of this offer by depositing the above-mentioned amount using the code 'GS5K' and winning six free tickets to the same 'Chip Up' tournament with ₹1 Lakh GTD. Thus with this deposit code you get the opportunity to win from ₹6 Lakh total GTD.
---
ALSO READ: Interesting Rewards Awaits You At Spartan Poker Cash Leaderboard
---
Why is this offer exclusive to Gutshot ?
Because the moment you decide to begin your poker journey with Spartan Poker as a regular player, you will simply end up enjoying offers that are available to all. But you will only be able to avail these first time depositor offers if you are a Gutshot user.
To top it all off, if you sign up on Spartan Poker through Gutshot Magazine, you will receive a 500% deposit bonus apart from the first time deposit offers. But remember you will be eligible for all these Gutshot exclusive benefits only after you sign-up as a Gutshot player using the code 'GUTSHOT.'
Why should you play on Spartan Poker?
Spartan Poker's most recent offer is an all-new way to win free tickets to larger tournaments. This allows players to begin grinding for larger prize pools and increase their bankroll by Lakhs of rupees. With these exciting codes, the game of poker will become more interesting, and you won't be able to resist picking it up quickly.
Faster, players! Seize this opportunity and don't forget to register on Spartan Poker through Gutshot Magazine to get a 500% bonus by depositing ₹1,000 with code 'GS1K'.
For more news and updates, keep reading Gutshot Magazine. If you're on social media, be sure to follow us on Facebook, Instagram, Twitter, and Telegram. 
IMP Note: This offer is no longer active. Visit our deposit offers page for the updated offering. 

A young and passionate writer with a postgraduate degree in Radio and Television Journalism from the Indian Institute of Mass Communication, Kumar Shubham works as an Executive Content Writer for Gutshot Magazine and enjoys watching movies, making short films, and doing voice overs.
---
---
More News
---
Comments