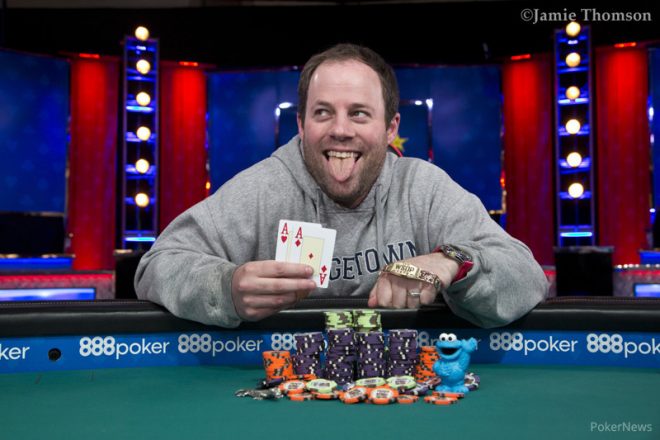 Poker
---
Exclusive chat with WSOP bracelet winner Jeremy Wien
We all have certain dreams and ambitions in life, whether that means becoming a professional sportsman or a lawyer, an engineer, an actor, a pilot or anything else. However, poker players all share the same dream, that of heading to Las Vegas and winning a WSOP gold bracelet.
For those who don't know, WSOP is the World Series of Poker, an annual event that is considered as the most prestigious tournament series in poker. The 2018 WSOP is currently underway and a couple of days back, New York's Jeremy Wien won his maiden gold bracelet after shipping Event #20: $5,000 NLHE.
Gutshot caught up with Wien after he won this major tournament and asked him what it felt like. He said, "I don't think it's fully hit me yet – maybe because I'm already back at work – but I plan to enjoy and celebrate this for a long time to come." He first played in a WSOP tournament over a decade back and it took him quite a while to win his first bracelet. 
"No matter how much I've convinced myself that I'm a good poker player, with some decent results in my limited action, I was convinced that if I could run decently and play my best for a few days, I could actually compete for a bracelet… I still didn't think it would necessarily happen. The joy and fulfilment of that accomplishment – it's beyond incredible," said Wien after overcoming a 1:4 chip deficit and winning against heads up specialist David Laka.
For someone who doesn't play full-time poker, we wondered what was more fulfilling – the money? or the achievement? "Money can come and go in life (for starters, half will be going directly to the government); but the Bracelet can never be taken away. Since the first time I watched WSOP on TV back in college, I've been dreaming of winning a WSOP Bracelet someday. Having it sit on the table during heads-up play kept me focused every hand; ultimately, the Bracelet is the accomplishment that I'll hold dear forever," he answered.
Friends and family
There's almost always someone to thank when you achieve something big in life and for Wien too, his friends and family have played a huge role. "I have the most supportive friends and family I could possibly ask for. My wife Sarah has watched me play countless long and boring days of poker in our 10 summers together. I'm so thrilled that I was able to share this with her. She keeps me level while at the table, which was instrumental in such a long Final Table and heads-up session. My daughter Falcon is only 2 years old, so she couldn't be there, but she sent me some adorable videos wishing me "good luck" and then "yay daddy!" when I won."
"My parents have always been my biggest fans, the rest of my family, my friends – I'm so fortunate, they've all been incredibly supportive over the years, and this week has been no different; it's been as much of a joy to share the victory with them as it's been to win in the first place," said Wien, also jokingly mentioning that he wasn't the easiest child to raise.
Future plans
Wien is now back at work, but he has plans of returning to Vegas with his wife and daughter for a few events during the last week of June, including the Tag Team Event which he will play with his wife. All this will be of course, before he plays in the all-important WSOP Main Event.
We asked him about plans of playing live poker at international venues in the future. He replied saying, "Unfortunately this is tough for me given my full-time job. I can work remotely from time to time, but long international trips are a challenge, so while I'd love to play some of those events, it's probably not in the cards (no pun intended) in the next couple of years."
We concluded our chat by asking Wien what he plans to do with the $537,710 (~INR 3.63 crore) he won by beating 518 entries in that event. "I've got a mortgage and a toddler – the prize money is certainly very helpful, but other than a few shopping items that my wife has wanted for a while, there will be no major spending sprees – sticking it in the bank to buy some peace of mind is the best value I can get," he said.
Gutshot would like to congratulate Jeremy Wien for this big win and would also like to wish him the best of luck for the rest of the events he wishes to play in this summer, including the prestigious Main Event. For similar interviews with Indian and international poker players, keep reading GutshotMagazine.com!
---
---
Comments