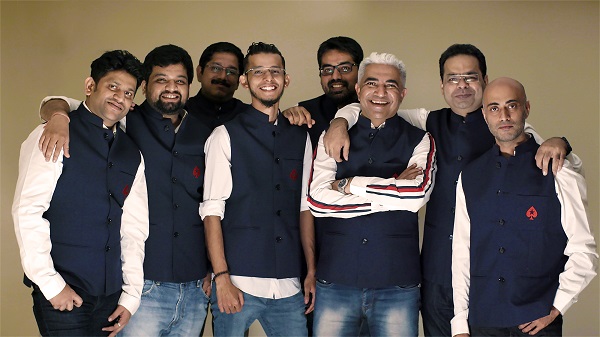 Poker
---
Eight Indians to feature in PSPC Bahamas Main Event
It was in December last year that PokerStars Team Pro Daniel Negreanu made a fantastic announcement on behalf of the company at the PokerStars Championship Prague Main Event. The announcement was that of the first-ever PokerStars Players Championship (PSPC), which was scheduled to take place in January 2019 in The Bahamas.
The PSPC Main Event is scheduled to run Between 6-10 January 2019 and the rake-free $25,000 buy-in tournament is all set to become the biggest ever $25k entry poker event in the world. Right through the year, they have been giving away PSPC Platinum Passes worth $30,000 each, at PokerStars live and online events.
They have given away around 320 Platinum Passes, which creates a $9+ million prize pool, to go with an additional $1 million to be added to the champion's winnings. "One of my dreams has always been to create – if such a thing exists – a perfect poker tournament. For me, this is the opportunity to really do something meaningful that impacts the industry and impacts the players," said PokerStars Marketing Director, David Carrion.
Among this massive field of players who were awarded Platinum Passes throughout the year were also eight Indian players, and they are all set to make the flight to Bahamas themselves, each having a lot of expectations from this tournament. These players include Sumit Sapra, Nikhil Segel, Sharad Rao, Kavin Shah, Raman Gujral, Saurabh Sindhwani, Vivek Singh and Aneesh Nair. The Indian team will be captained by none other than PokerStars Team Pro, Aditya Agarwal.
They will all be working on their game in the next couple of weeks going into this massive global tournament, as they will share the tables with winners from all over the world. Gutshot had a word with some of these Indian winners regarding their expectations and preparations going into the PSPC Bahamas series. Keep reading for more…
Sharad Rao: Rao won his ticket to Bahamas via the Platinum Pass freeroll held on the PokerStars India client, which was a part of the 'Diwali Rush' series hosted last month. Playing under the name 'sordykrd' on PokerStars, Rao beat 408 entries to win this freeroll, with all those having played in 3 or more tournaments in the series getting a ticket to this tournament.
Talking about the upcoming trip, he told us, "It's my first trip to Bahamas and it's the biggest buy-in event of my life, so I'm pretty excited about that. I might play the PCA Main Event and then see what else my schedule allows. Right now, I'm not trying to overload myself with expectations, but I'm just trying to be in a good zone mentally. I'm confident about my study throughout the year and I hope I run better than others and make good decisions. The experience should be amazing."
Nikhil Segel: This 47-year old architect from New Delhi won the Jaime Staples #MyUltimateSweat Challenge which asked entrants to set a goal and document their journey, whether weight loss, or learning a new language or instrument or anything else. Segel quit smoking close to 50 cigarettes a day and lost 17.2kg in weight in just 83 days to win his ticket to Bahamas.
Talking about the experience, he said, "I think winning the pass has been its own roller coaster. I won, and it was this glorious, almost unparalleled rush of adrenaline. I was inundated with love and appreciation and congratulations. I think about 10 days later, when things were getting finalised, the enormity of it all came rushing in. I was suddenly not as pumped as I saw how challenging this opportunity would be. I started to reach out for help as I was obviously nowhere as good as the competition. Jonathan Little was like a godsend. I reached out to him, via his website, pokercoaching.com and he immediately, took me under his wing. I started playing slightly bigger than my normal buy-in tourneys on PokerStars and sharing my hand histories with him, and he sent me video critique. I am studying from his site as well as learning from his webinars and free audio books. Daniel Rezaei, who is exploding on the tournament scene, was a fellow contestant and he has also helped me out with understanding some flaws in my game. Jaime sent me access to Bencb's Raise Your Edge. I guess it's almost like the village coming together to raise this poker child. Now all I need is some run good and to not get into bad spots with the poker pros! I keep getting this dream of waking up to Double As on a AAK board vs Daniel Negreanu's KK, it sounds far-fetched but then, till an hour before the end of the deadline, I didn't know about MyUltimateSweat or the PSPC. If you dream, it will become a reality."
Sumit Sapra: This is one of India's best poker pros, with several wins both in live as well as online poker. In one of his international trips to the APPT Korea, he walked away as a very happy man, having won a 3-round flip-out for a $30k PSPC Platinum Pass. Having crashed out of the Main Event, he wasn't too disappointed as he managed to walk away with a ticket to Bahamas, where he can multiply his winnings significantly.
Mumbai Jetsetters GPL Franchise: PokerStars India also promised 5 PSPC Platinum Passes to the members of the winning team in the inaugural GPL India (Global Player League). After months of training and competition, Mumbai Jetsetters emerged victorious in this tournament, and the 5 team members who were awarded Platinum Passes were mentor Kavin Shah and team members Raman Gujral, Saurabh Sindhwani, Vivek Singh and Aneesh Nair.
Gutshot had a word with Shah after this victory and asked him about the journey, as well as his preparations for the PSPC Bahamas series. He said, "The GPL journey was super exciting. I was selected by Alex (Dreyfus) to represent Mumbai Jetsetters, where I worked hard to build a good team and got lucky in a few spots. PSPC Bahamas is one of the best tournaments to play as it's the softest $25k event across the world. It's the goal we make as poker players to play big tournaments like this. It's just so overwhelming to be playing this, and now is the time to achieve our dreams by winning it. I'm planning to play the Main Event and also a couple of side events."
There will also be plenty of known international pros participating in the Main Event, which is now under 2 weeks away from kicking off. Some of these pros include 2018 Asia Player of the Year Mike Takayama, APT Philippines ME winner Lester Edoc, 2018 PCA Main Event winner Maria Lampropulos, PokerStars ambassador Maria Konnikova, MPC Red Dragon winner Alvan Zhang, high-stakes pro Mikita Badziakouski and hundreds of others.
Gutshot also caught up with Lester Edoc (pictured above), someone who has been creating a storm in the Asian circuit and someone who has over $700k in live earnings. He said, "I'm so excited to be a part of the first-ever PSPC series that's taking place in The Bahamas. My preparations going into it are all physical and mental as of now. I'm expecting a number of worldwide pros to be a part of the field, so I will be wearing complete gear and bringing all my weapons to this series. I'll play the PCA Main Event, some other side events and then will definitely be travelling towards this side of the world for the WSOP later in 2019."
GutshotMagazine.com will be bringing to you all the major updates from the upcoming 2019 PSPC Main Event, as well as interviews with some of the known entities playing in that tournament, so stay tuned for more.
Check out our online poker rooms section, where you can read reviews on the biggest and best poker rooms in the country, while also taking advantage of their bonuses and promotions. Check out these top poker rooms HERE.
Image courtesy: PokerStars India/PokerGuru
---
---
Comments