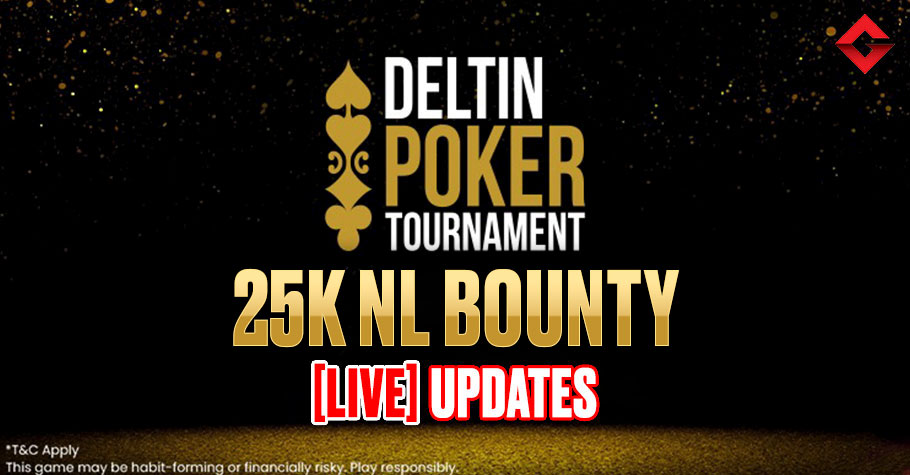 Poker
---
DPT November 2022 25K NL Bounty: Live Updates
22: 30: Final Table Payouts
Varunn Gaala – ₹12,24,237

Vivek Karwa – ₹8,30,809

Saransh Garg – ₹5,39,839

Siddharth Jain – ₹4,03,888

Mandar Darade – ₹3,06,693

Aditya Sushant – ₹2,48,86

Avinash Tauro – ₹2,10,113

Bhuvan Bansal – ₹1,70,743

Eka Vedantham – ₹1,31,988
21: 15: Varunn Gaala Is The 25K NL Bounty Champion
The DPT 25K NL Bounty event has finally come to an end with Varunn Gaala nailing the top spot and pocketing lions share of ₹12,24,237 along with the shiny DPT trophy and the title. Gaala is an regular online player.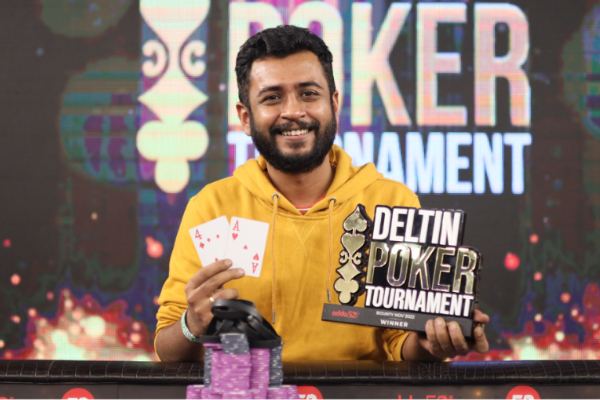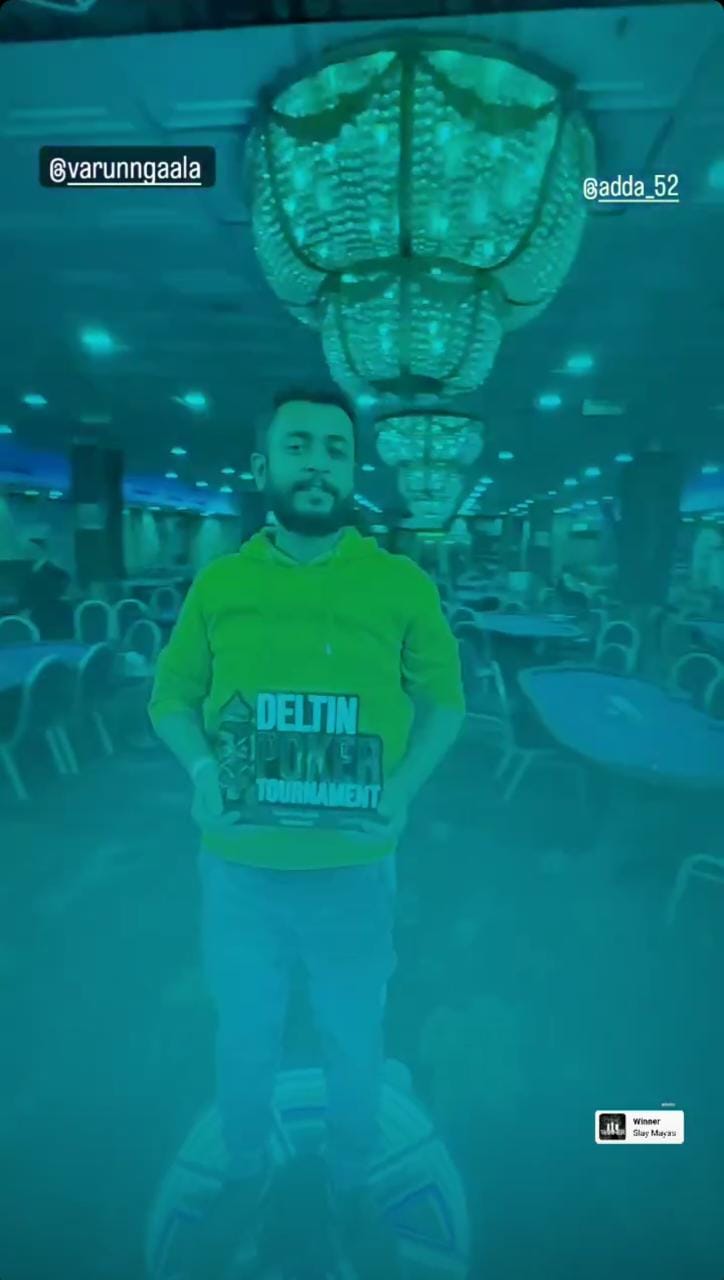 Vivek Karwa finished at the runner-up spot and cashed ₹8,30,809 for his efforts.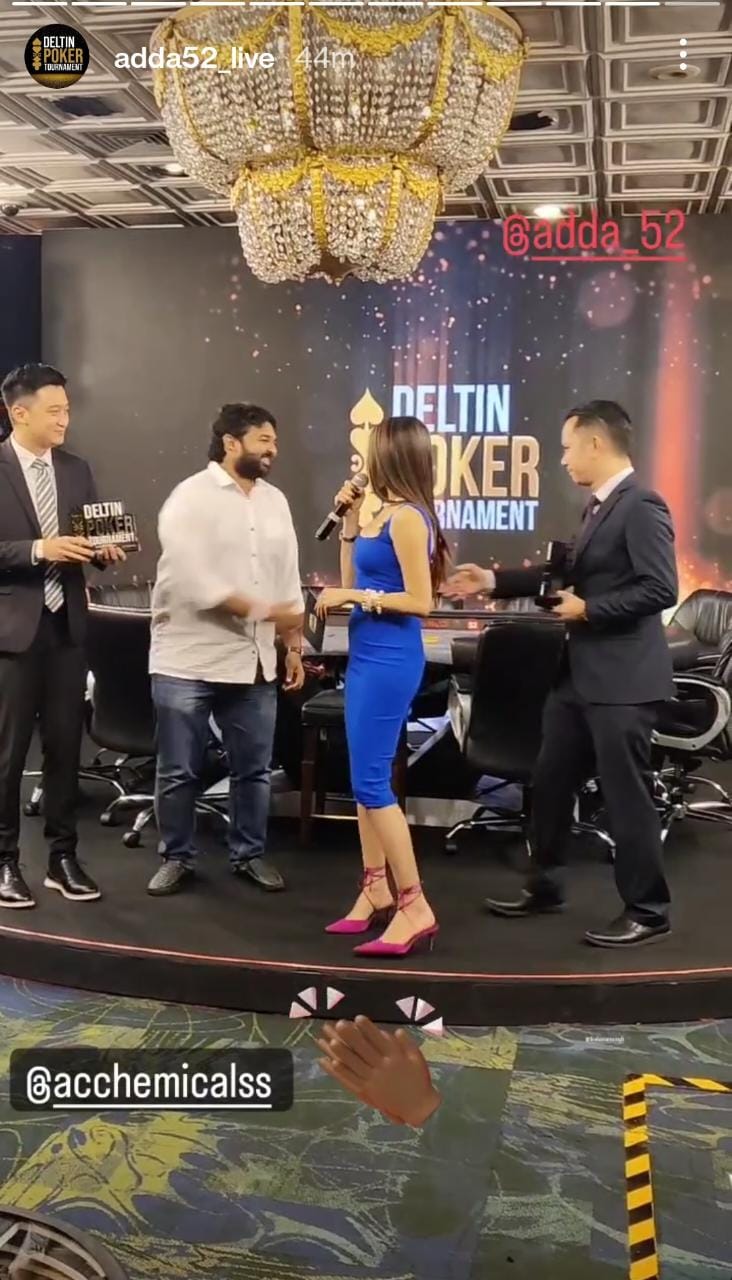 Apart from the prize money, the players also cashed bounties. We are yet to receive more details from the event about the bounties and final table payouts. Stay tuned to Gutshot Magazine for the updates.
20:40: Final Table is set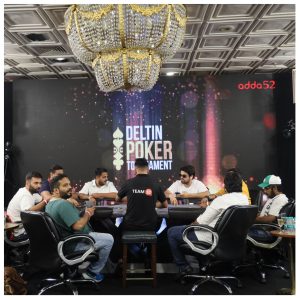 Photo credits: Online Poker News
The final table of the top nine is set with Saransh Garg leading the final table of the DPT 25K NLH Bounty. Garg has 13.8 Lakh chips at his disposal. At the second spot is Avinash Tauro with 11.15 Lakh in chips.
Saransh Garg — 13.8 Lakh
Avinash Tauro – 11.15 Lakh
Varunn G – 8.55 Lakh
Mandar Darade– 7.7 Lakh
Vivek Karwa – 7.15 Lakh
Siddhart Jain – 6.4 Lakh
Eka Vedantham – 6.35 Lakh 
Aditya Shushant – 4.85 Lakh 
Bhuwan Bansal – 65K
The final nine players will take home a min-cash of ₹1,31,988. The winner will pocket a massive ₹12,24,237. 
20: 00: Two notable eliminations from the 25K NL Bounty
Mohit Mehta finishes 14th for ₹85,235
Ashish Ahuja finishes 11th for ₹1,01,230
Check out our story with the lawyer turned poker pro: Follow Your Heart With Ashish Ahuja 
19: 45: Myron Pereira leaves on the 19th spot for ₹68,011
Online reg Myron Pereira took the exit route from the 25K NL Bounty event but not without having a payday of ₹68,011.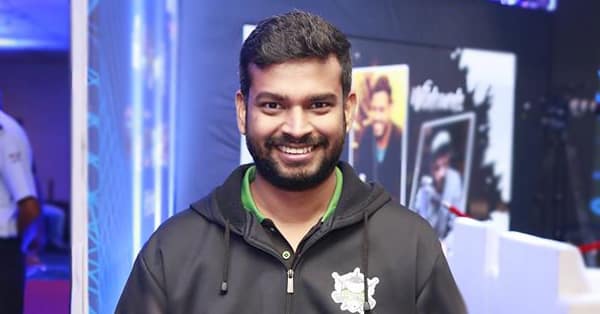 Check out our story with Myron Pereira: Follow Your Heart With Myron Pereira
19: 00: Anant Purohit finishes at the 22nd position for ₹62,475
One of the popular poker players from the Indian circuit, Anant Purohit finished his NL Bounty journey at the 22nd spot and took a pay cheque worth ₹62,475.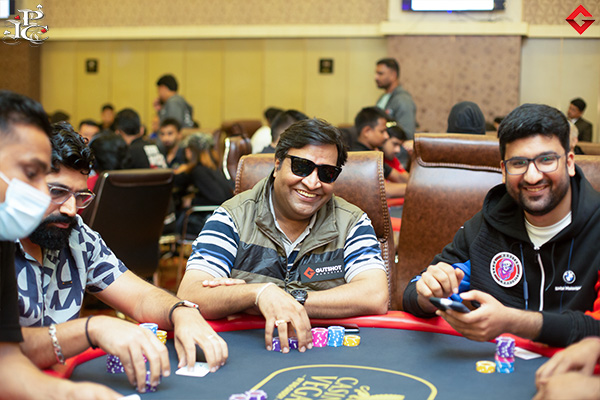 18:45: Field down to the top 23
After the money bubble burst at the 43rd spot, the field is down to the top 23 players. Here are the players who have cashed so far:
Gokul Raj (24th, ₹62,475)
Bhavesh Mandalia (25th, ₹56,938)
Harsh Bubna (26th, ₹56,938)
Priya Agarwal (27th, ₹56,938)
Paawan Bansal (28th, ₹51,402)
Jason Fernandes (29th, ₹51,402)
Ram Kakkar (30th, ₹51,402)
R Priya (31st, ₹51,402)
Vinay Kumar (32nd, ₹51,402)
Akshit Chopra (33rd, ₹51,402)
Meherzad Munsaf (34th, ₹51,402)
Aman Parakh (35th, ₹51,402)
Abhishek Chinna (36th, ₹46,480)
Faiz Alam (37th, ₹46,480)
Bharat Kumar Wadhwani (38th, ₹46,480)
Dhaval Mudgal (39th, ₹46,480)
Anuj Laddhad (40th, ₹46,480)
Ankit Wadhawan (41st, ₹46,480)
Shekhar Agarwal (42nd, ₹46,480)
18:15: Payouts And Prize Pools
The payouts and the prize pool of the DPT 25K NLH Bounty has been announced. The event recorded 338 entries generating a prize pool of ₹61,51,600. The top 42 places will be paid out, with the winner taking home ₹12,24,237 as the top prize and the bounties.
1st: ₹12,24,237
2nd: ₹8,30,809
3rd: ₹5,39,839
4th: ₹4,03,888
5th: ₹3,06,693
6th: ₹2,48,868
7th: ₹2,10,113
8th: ₹1,70,743
9th: ₹1,31,988
10th -12th: ₹1,01,230
13th -15th: ₹85,235
16th – 18th: ₹75,393
19th -21st: ₹68,011
22nd -24th: ₹62,475
25th -27th: ₹56,938
28th -35th: ₹51,402
36th – 42th: ₹46,480
17:45: Saransh Garg Hunting Bounties
Saransh Garg seems to be on a busting spree. He first sent away Kaleem Pasha, who opened to 8K from UTG ti be called by Saransh Garg from the button. The board fanned out T ♣ A ❤ 5 ❤ . Pasha bet 20K. Garg shoved all-in, and Pasha called with a short stack. Pasha showed K ♦ T ♦ , while Garg held queens. The turn and river of A ♦ and 6 ♣ sailed Garg's queen safely as Pasha had to leave the table. 
A few hands later, he successfully scored Harshad Barve's bounty with K ♦ T ♣. Barve succumbed with fish hooks on the board of T ♠ 2 ♦ 3 ♠ 4 ♦ K ♠.
17:15: Gaurav Sood Busted 
Goonjan Mall open-shoves with his 12.5k for K ♦ 10 ♦ . Gaurav Sood shoves too from the button with 58k holding A ♦ 5 ♣. WSOP bracelet winner Aditya Sushant calls with A ♣ 7 ♣ in hand. The board shows T ♣ 3 ♣ 8 ♦ K ♦ 7 ♠. 
Mall took the main pot for two pairs, while Sushant's 7-pair awarded him the side pot. Sood couldn't improve on the board and was busted in the three-way action. 
Mall: K

♦

10

♦

Sood: A

♦

5

♣

Sushant: A

♣

7

♣

Board: T

♣

3

♣

8

♦

K

♦

7

♠
17: 00: 338 Entries Recorded
The event has recorded a total of 338 entries at the end of late registration. The late registrations ended at the end of Level 9. Niyut Shah was leading the chip race at the second break with 215K chips. Bhuvan Bansal is second with 207K chips, followed by poker pro Dhaval Mudgal with 190K chips.
Niyut Shah- 215k
Bhuvan Bansal- 207k
Dhaval Mudgal-190k
Vivek Karwar- 162k
Ashish Ahuja- 149k
Leon Menezes- 133k
Amit Tejura- 128k
Ram Kakkar – 125k
Priya Agarwal- 119k
16:45: Arsh Grover Arrives In Goa
Poker pro Arsh Grover has arrived in Goa to grind at the ongoing DPT November 2022 edition. He shared the update on Instagram stories and captioned it as "Goa for a little bit!"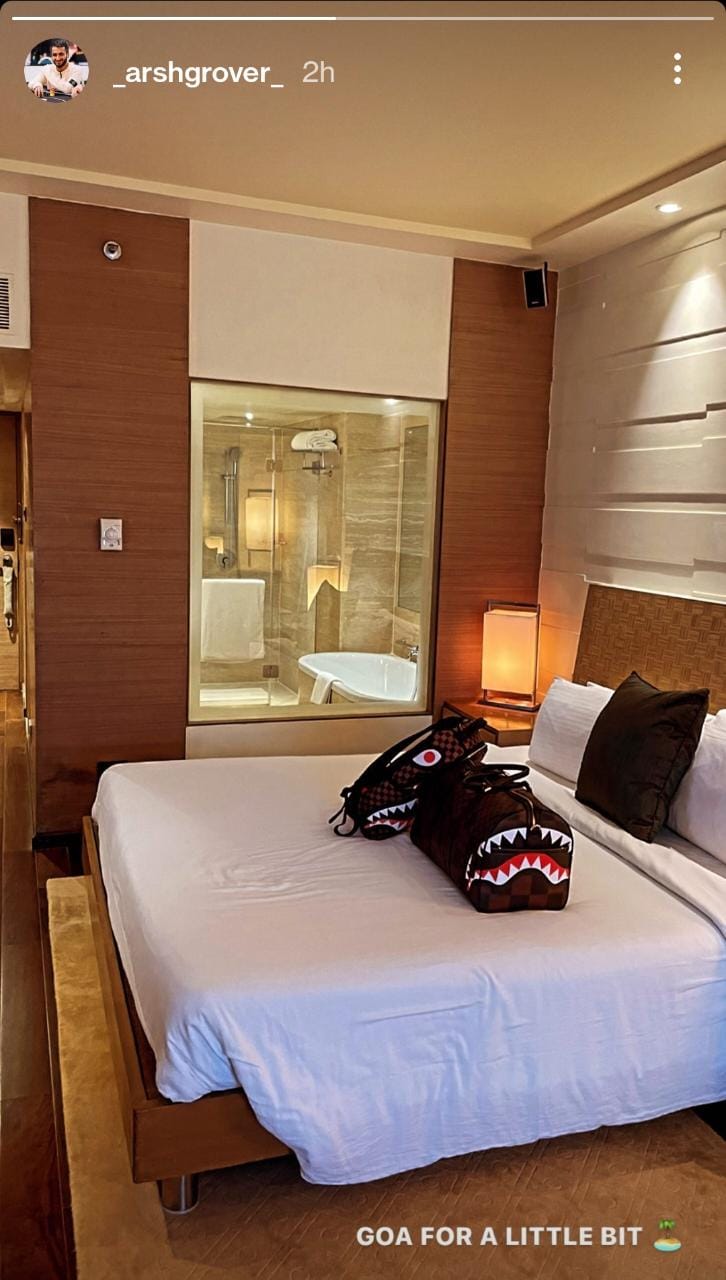 16:20: Harsh Jhirmiria Eliminated
Poker player and streamer Harsh Jhirmiria has been eliminated from the 25K NL Bounty event. In a small blind – big blind battle, Jhirmiria lost to pocket nines with his A9o. The hand had 15 BB effective at Level 10 – 800/600.  He also said that he will now be playing the DPT 45K Main Event flights, which will start tomorrow. GG, Harsh!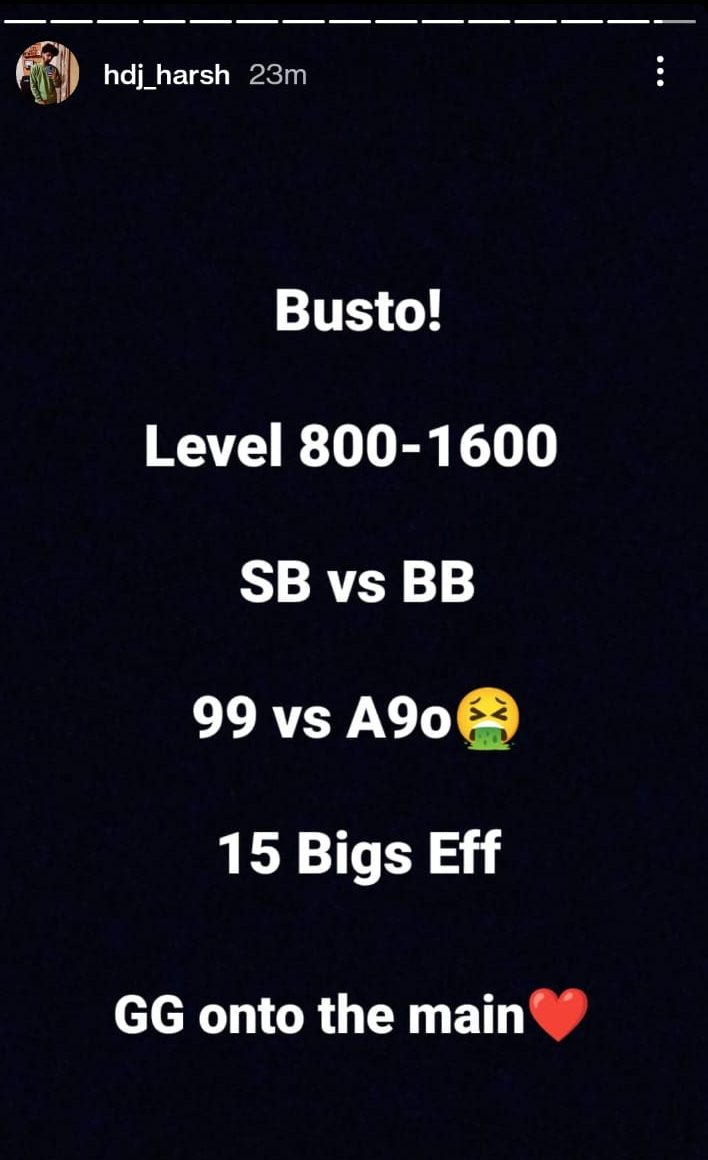 16:00: Vaibhav Sharma And Shardul Parthasarathi's Rivalry Is #BroGoals
Poker pro Shardul Parthasarathi recently a video of Vaibhav Sharma on his Instagram story saying "When everybody on the table is after your bounty." Sharma re-posted the story on his personal Instagram stories calling Parthasarathi "Kamine."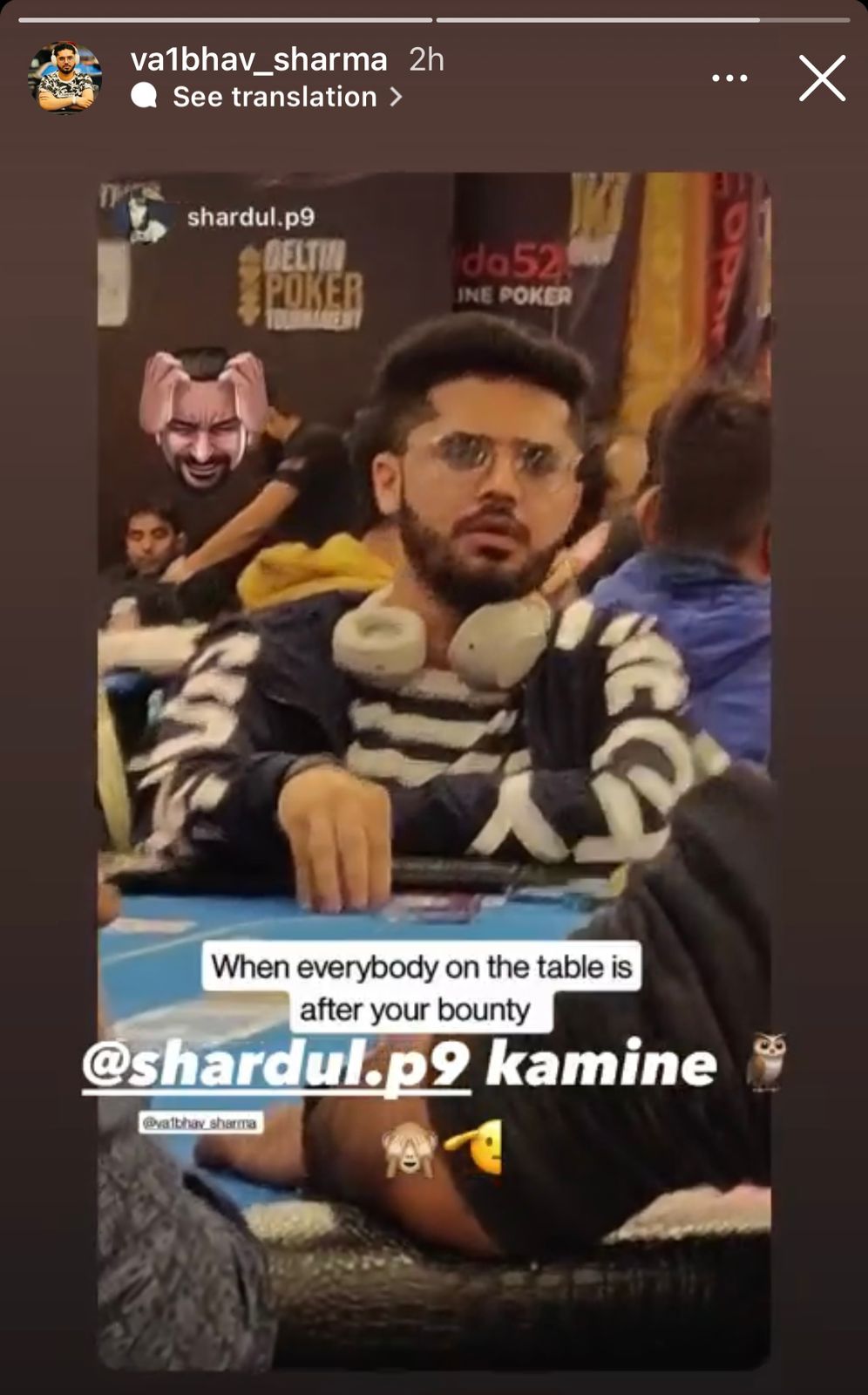 15: 45: Another J4 For Radhika Shankar?
If T2 is Doyle Brunson hand, then by now, it's safe to say J ♣ 4 ❤ is Robbie Lew hand (courtesy the Robbi Lew-Garrett Adelstein scandal). And Female poker pro Radhika Shankar seems to the favourite of J4. Yesterday she shared that she got the J ♣ 4 ❤ hand in the one of the DPT Nov 2022 sattys. Today she shared another Instagram story showing off the hand dealt to her during the ₹16.5K Warm-Up event. Although this time the suits were not the same, but it was J4o.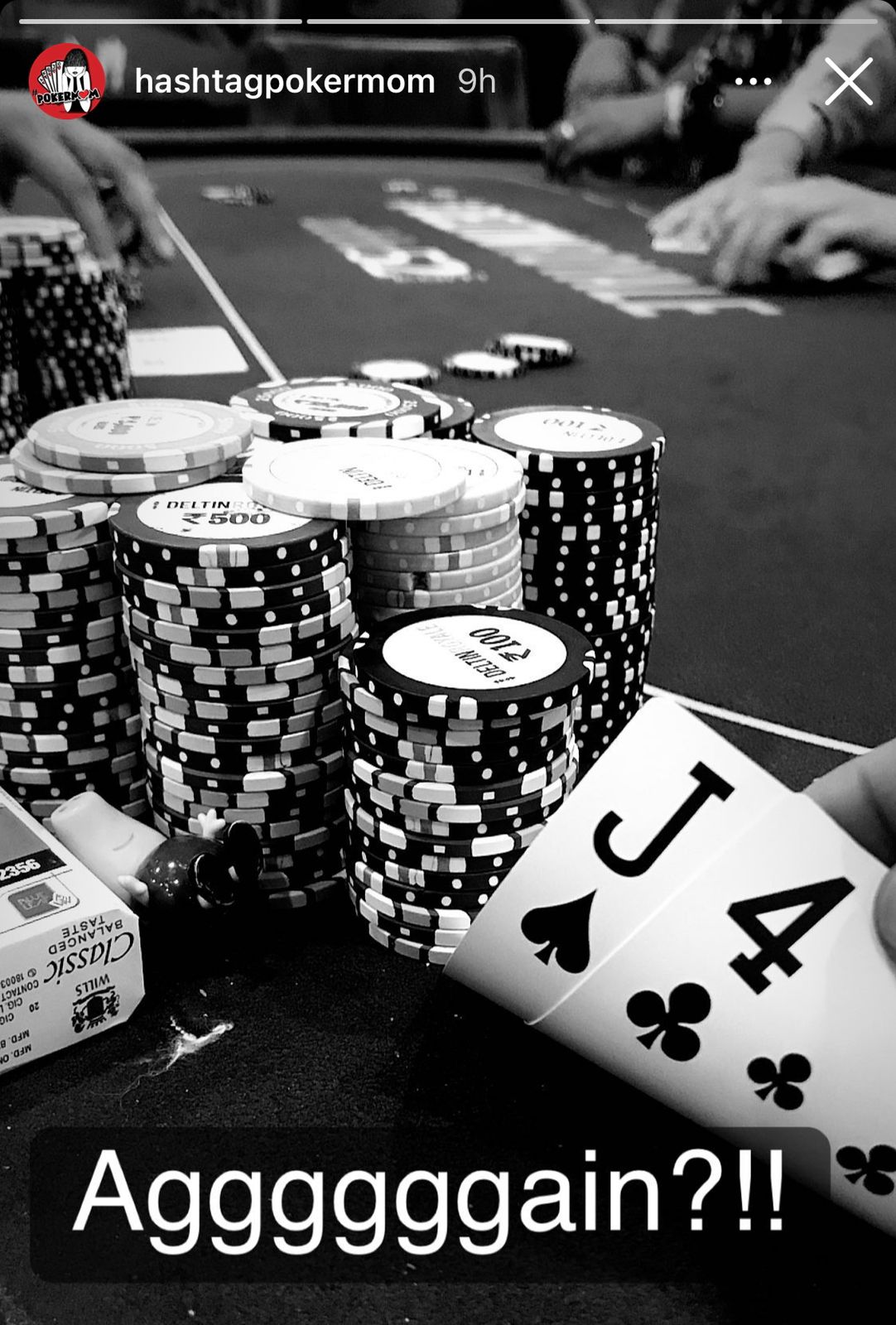 15:30: How Many Bounties Are Too Many Bounties?
Players seem to be on a wild bounty hunt as they sit flaunting their bounty bands. They made use of their Instagram stories to flunt these bands. Ashish Ahuja's chip count update said that the Chandigarh-based pro had two bounties before the first break. 
Harsh Dev Jhirmiria displayed his three bounties alongside his stack.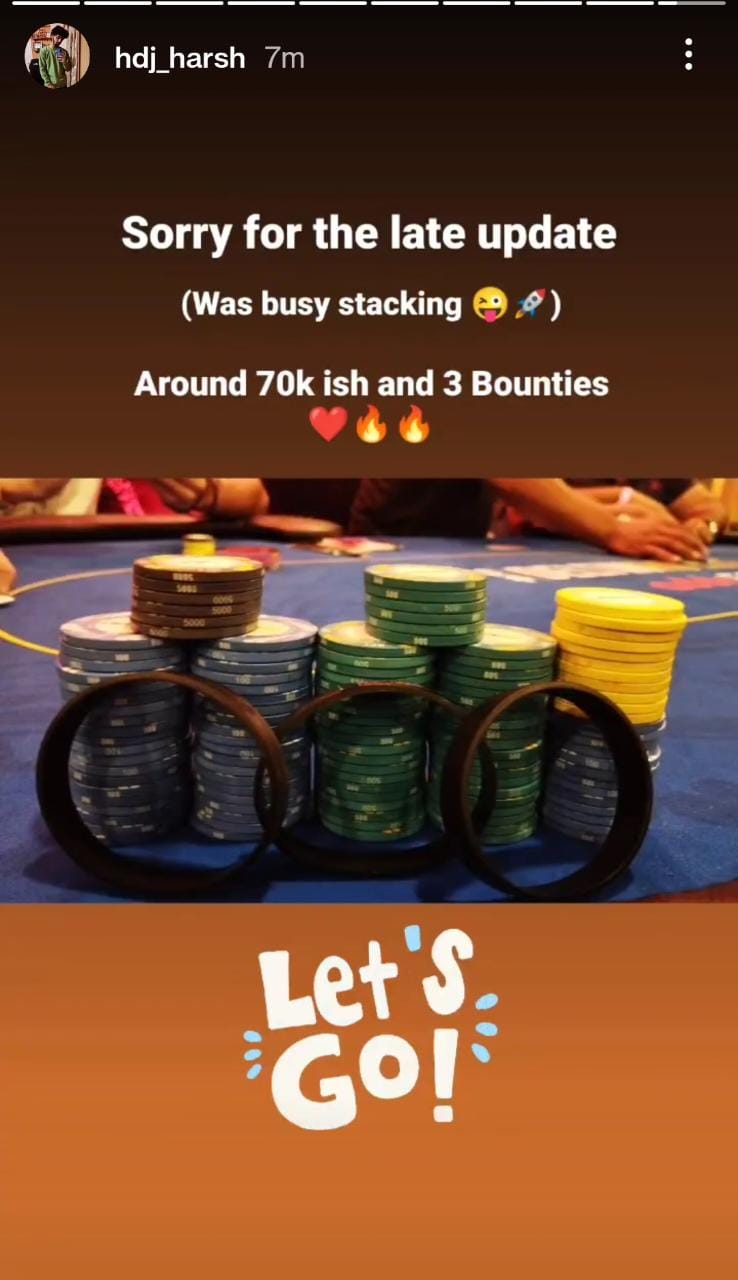 Harsh Bubna flaunted his six bounties perfectly stacked beside his towers of chips and wrote "Early Gains." Now that's picture-perfect we'd say!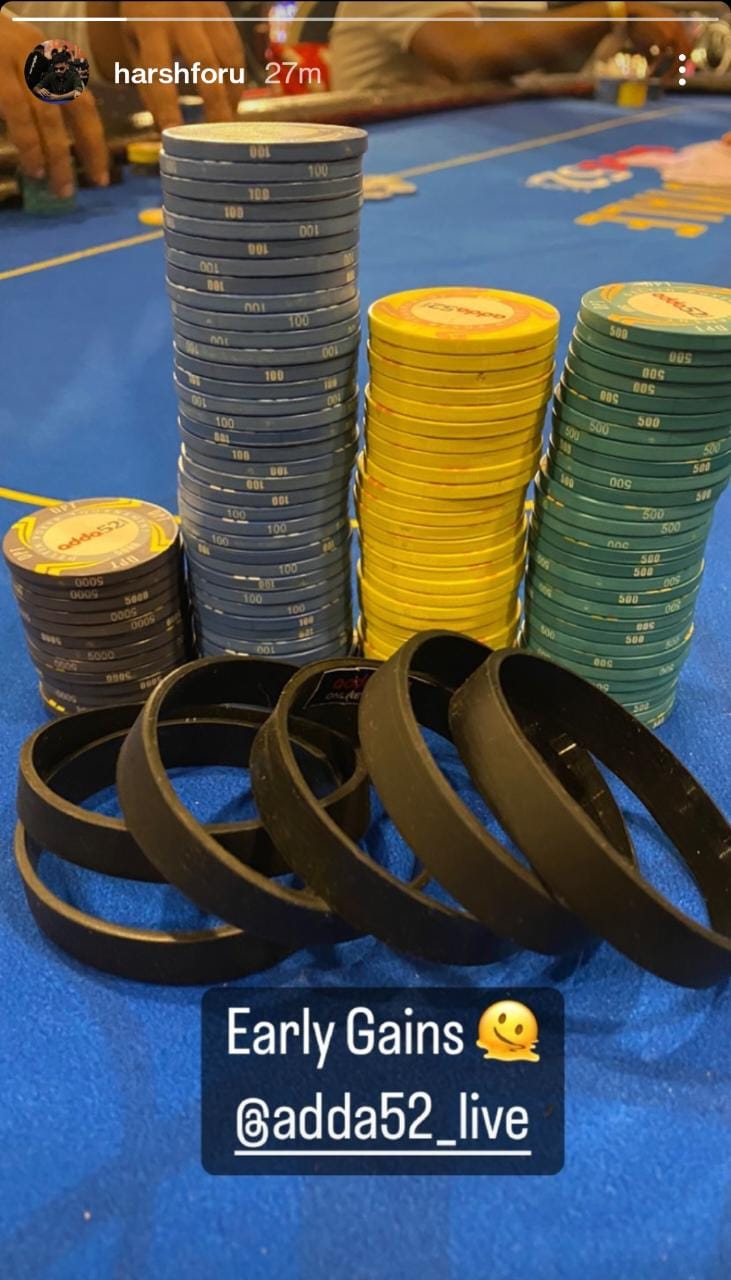 14:55: Chip Counts After First Break 
Players are out on their first break. Among the top stacks are Firoz Khan leading the pack with 81K, followed by Harsh Bubna with the second highest stack of 78.3K chips. Not very far behind is Anuj Laddhad with 72K chips. 
Firoz Khan– 81k
Harsh Bubna– 78.3k
Anuj Laddhad– 72k
Siddharth Jain– 70k
Ashish Ahuja– 69.3k
Shivam Shukla– 67k
Abhishek Chinya– 56.6k
Abhishek Sharma– 53k
Ashish Ahuja shared a story on Instagram talking about how he has managed to chip-up .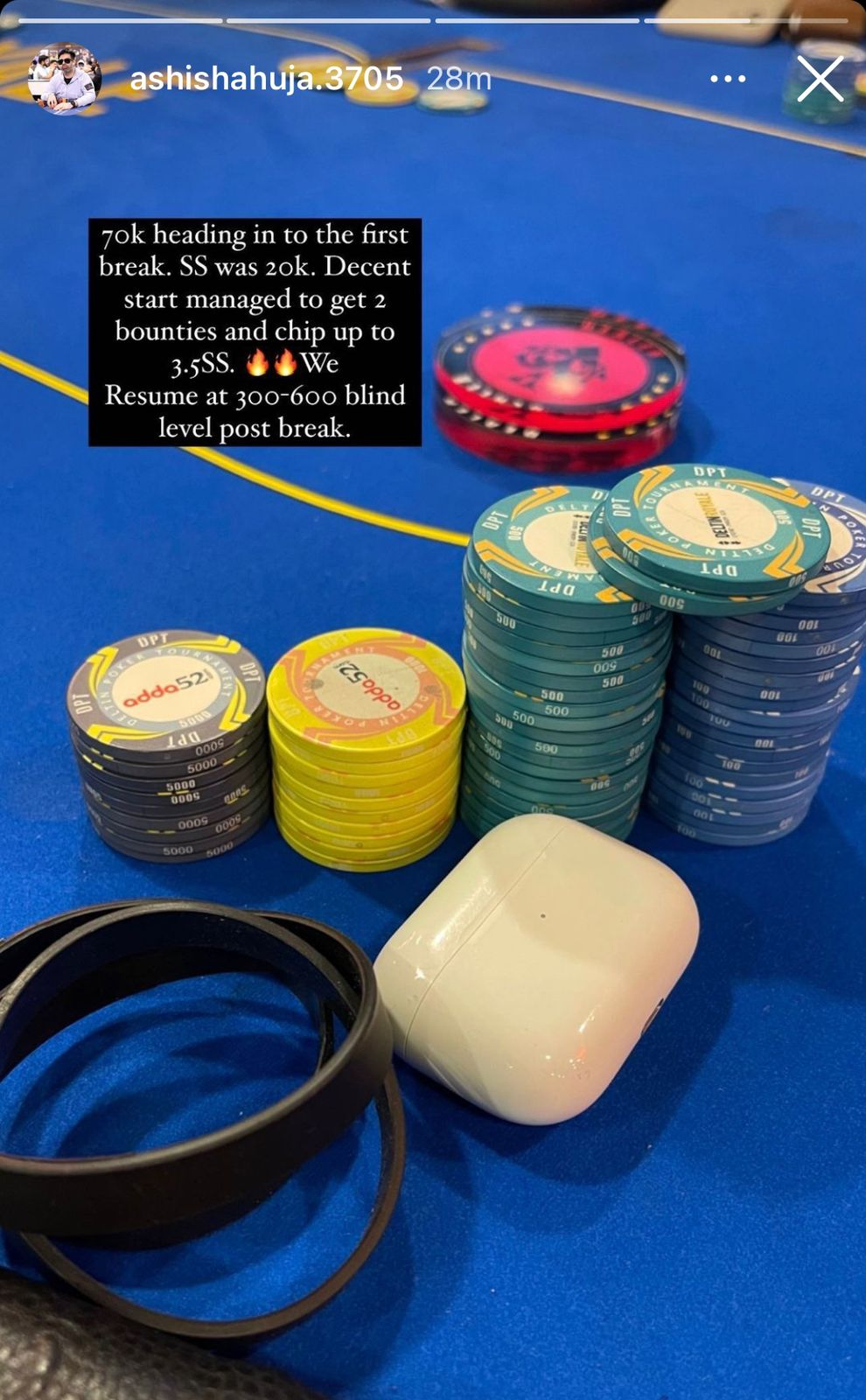 14: 30: Sameer Agarwal Re-enters, Ashish Ahuja Sitting With A Big Stack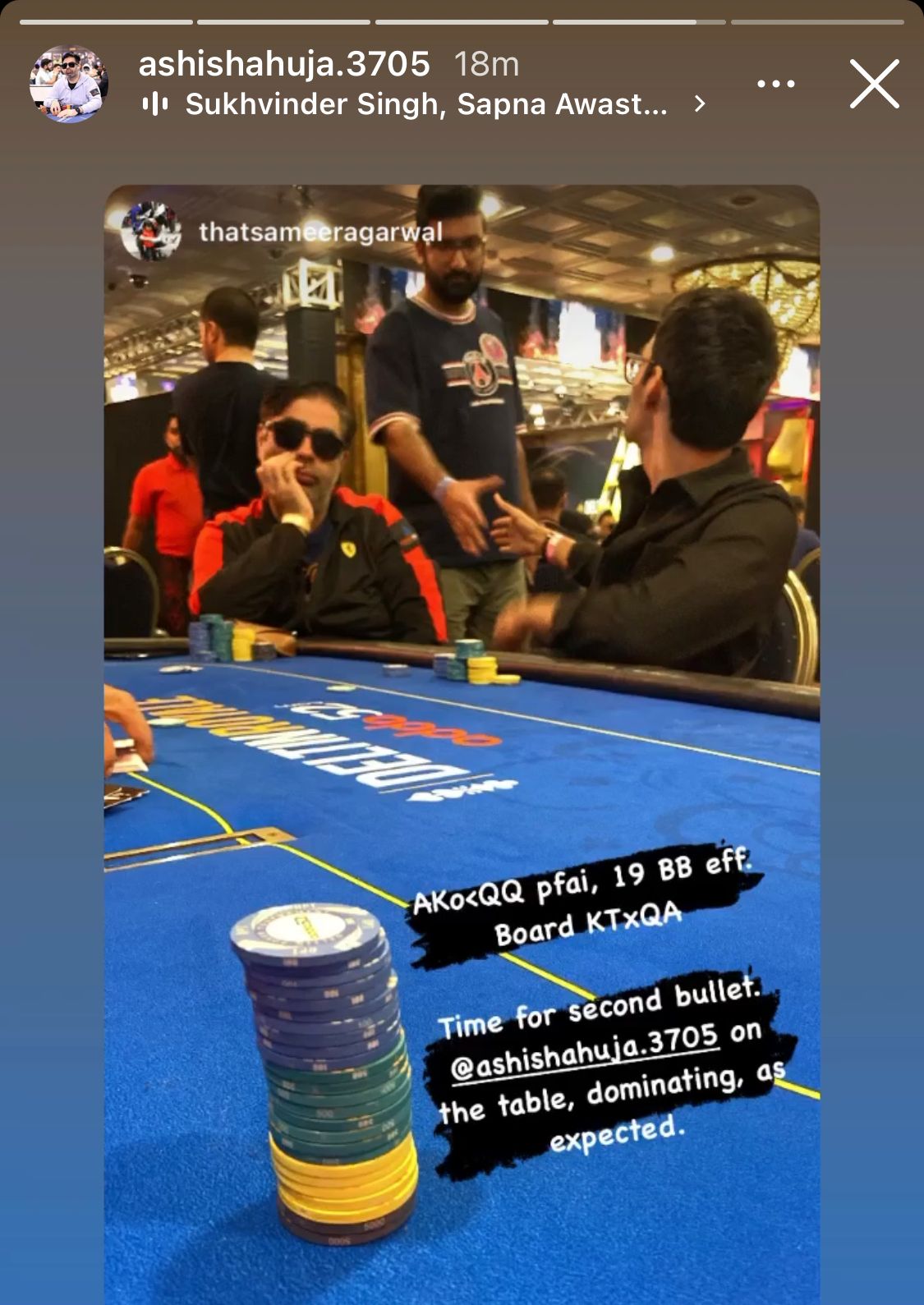 Sameer Agarwal shared on his stories that he has re-entered the tournament after a bust out. He shoved pre-flop all-in with AK off-suited on a board of K T x A Q against queens leading to his elimination. He shot a second bullet and was seated on the same table as Ashish Ahuja, who is seen dominating the table with a huge stack of chips. 
13: 11: RRT Scoops Out The Pot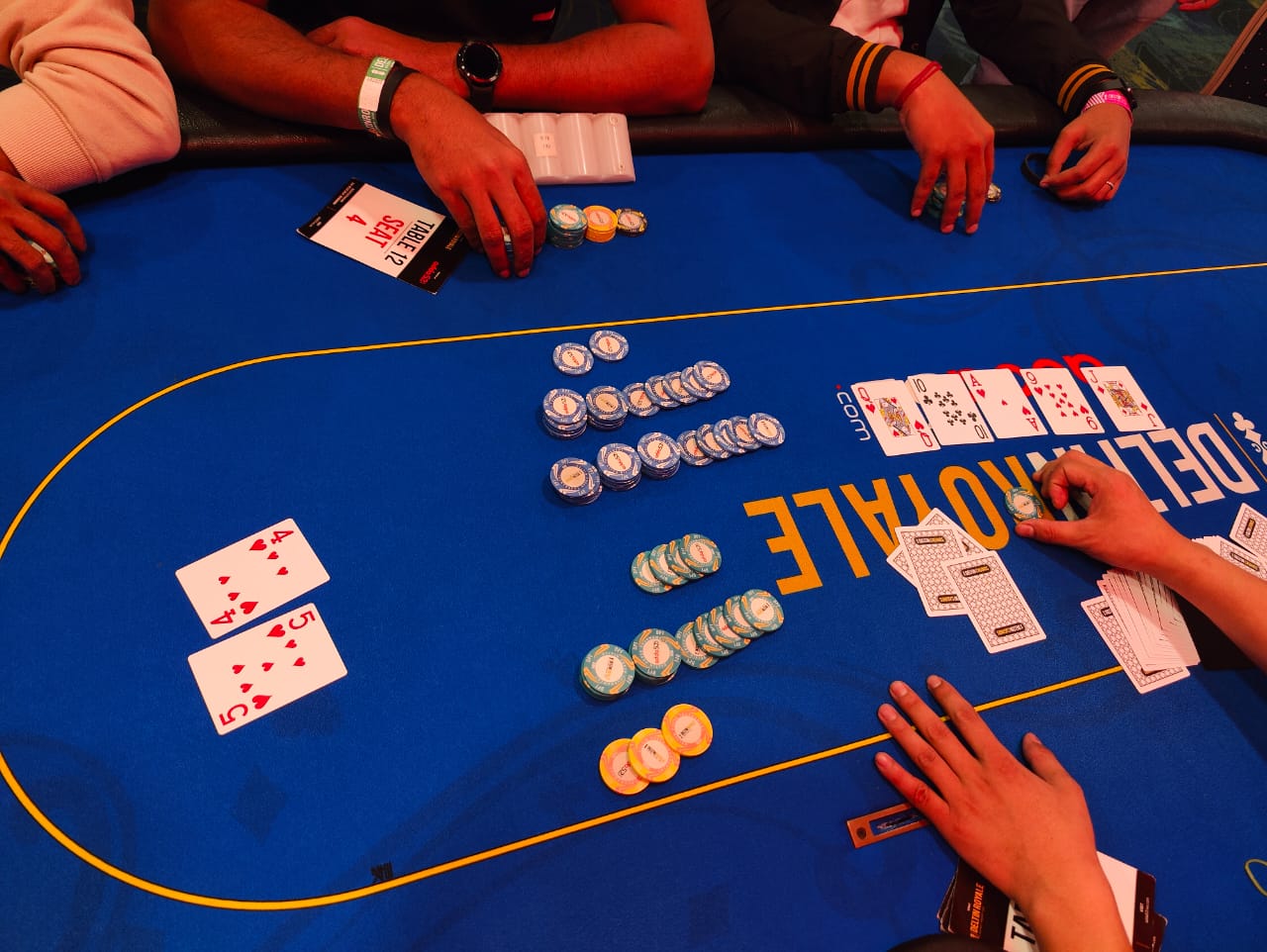 The action folded t0 Kshitij who open-shoved his entire stack. RRT, seemed surprised as he questioned Kshitij for his action, and tank called. Kshitij showed A ♦ T ♦ , and RRT flipped 5 ❤ 4 ❤ . The board showed Q ❤ T ♣ A ❤ 9 ❤ J ♦ . RRT got his flush to restore himself in the game.
13: 45: Throwback to DPT April 2022
As we look at the updates from the current ongoing edition, let's recall the April 2022 edition held between 11th to 14th November 2022. Tushar Bharti shipped this event for ₹4.8 Lakh, while Amrit Kalash finished second for ₹3.1 Lakh. 
13:00: Notables In The Field
The cards are in the air and notables have already joined the grind. Among them are players including Vineet Kumar, Adda52 Game Ambassador Kunal Patni, WSOP bracelet winner Aditya Sushant, Meherzad Munsaf, Ashish Ahuja, Priya Agarwal, Ankita Ajay Malik Gagandeep Malik, Avinash Tauro, Firoz Khan, Abhijeet Sharma, and Cards52 founder Ramesh Rao Thotapalli (RRT).
12:30: Players Are All Set For The Event
After a long day at the 16.5K Warm Up event yesterday, the players are all set for another grind today. While pro Ashish Ahuja shared plans of taking a swim this morning before the long grind, poker player and streamer, Harsh Dev Jhirmiria has already arrived at the venue to take on the battle.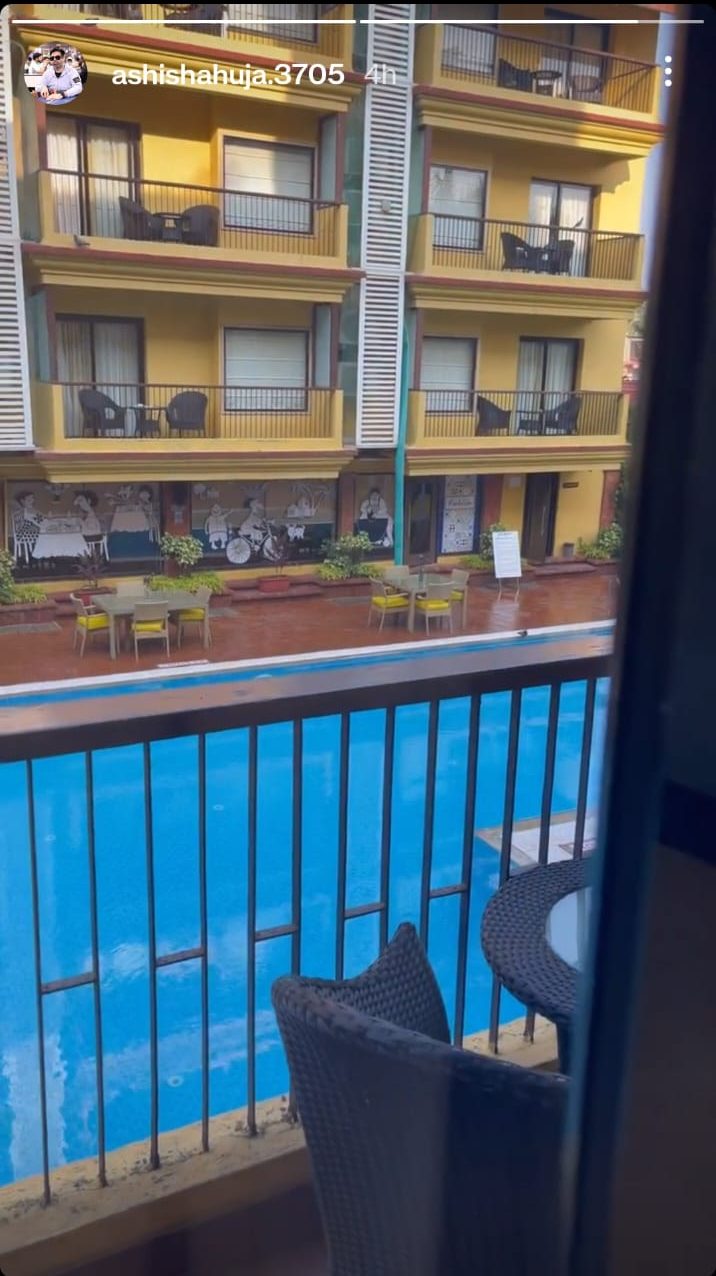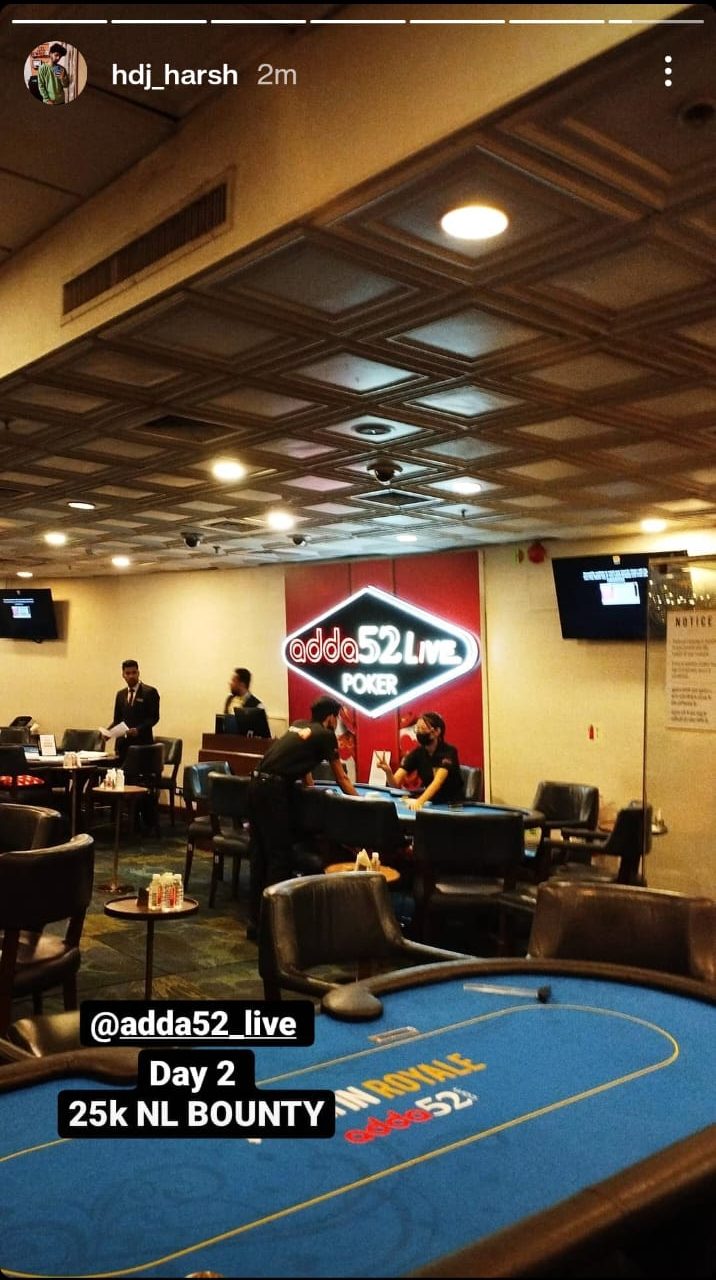 Deltin Poker Tournament (DPT) November 2022 kick-started yesterday in Goa at the Deltin Royale casino. Running between 8th to 14th November 2022, the tournament features buy-ins ranging between ₹15,000 going up to ₹1,10,000. One can play in different formats, including No-limit Hold'em (NLH), Pot Limit Omaha (PLO) and Bounty.
The 16.5K Warm-Up Bounty concluded yesterday with Alok Bhatt clinching the title for ₹9,80,920. The event saw 343 entries, out of which the top 43 places were paid. The min-cash stood at ₹38,875. Bhavesh Mandalia finished at the runner-up spot after a heads-up clash with Bhatt and took home ₹6,94,862. 
Today the casino will host the No-Limit (NL) Bounty 8-Max, which will begin at 12 PM. For a buy-in of ₹25,000, every player will get a starting stack of 20,000 chips. Out of the ₹25,000 buy-in, ₹18,500 will go into the tournament prize pool, ₹1,800 would be the tournament fee, and ₹5,000 would go into the bounty prize pool. Players will be allowed to enter or re-entry till the end of Level 9. Level 1 will start at blinds 100/200, and will have a big blind ante format. The big blind ante at Level 1 will be 100. Just like the 16.5K Warm Up, this event too will run for a total of 30 Levels of 30 minutes each. The players will get six breaks of 15 minutes each and one 20-minute dinner break. Check out our DPT Nov 2022 1.1L High Roller Live Updates.
For more news and updates, keep reading Gutshot Magazine. Follow us on our social handles Facebook, Twitter, Instagram, and Telegram.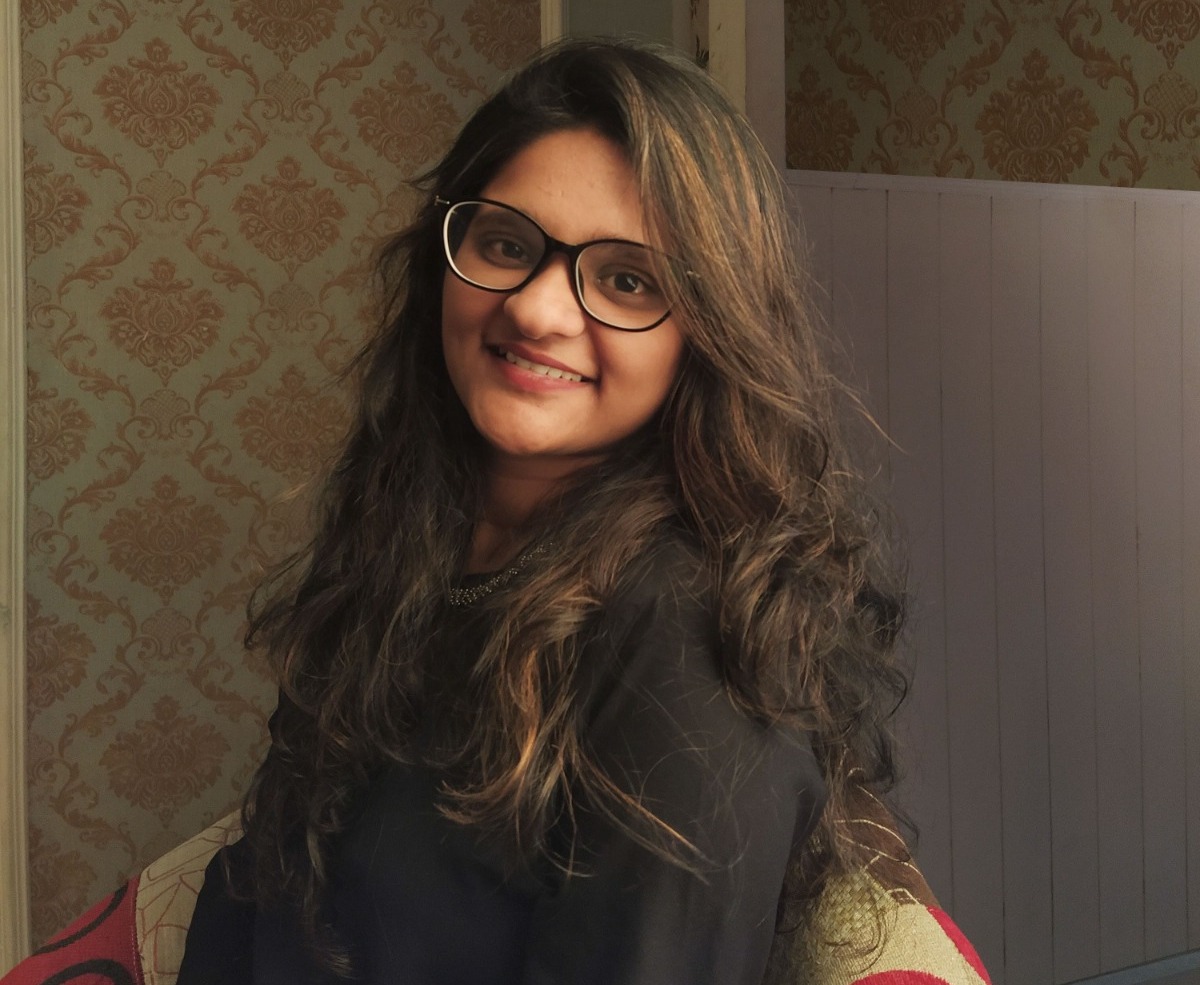 Amarylisa Gonsalves is a Content Writer at Gutshot Magazine. Advancing from a marketing background, she found her calling in writing. She takes delight in exploring genres and is a curious learner. Patient and ambivert, she believes in letting her work speak for itself. Apart from content writing, she finds solace in writing poetry by expressing herself through words. Additionally, she adores indulging in anything that satisfies her creative self, like drawing and DIY crafts.
---
---
More News
---
Comments