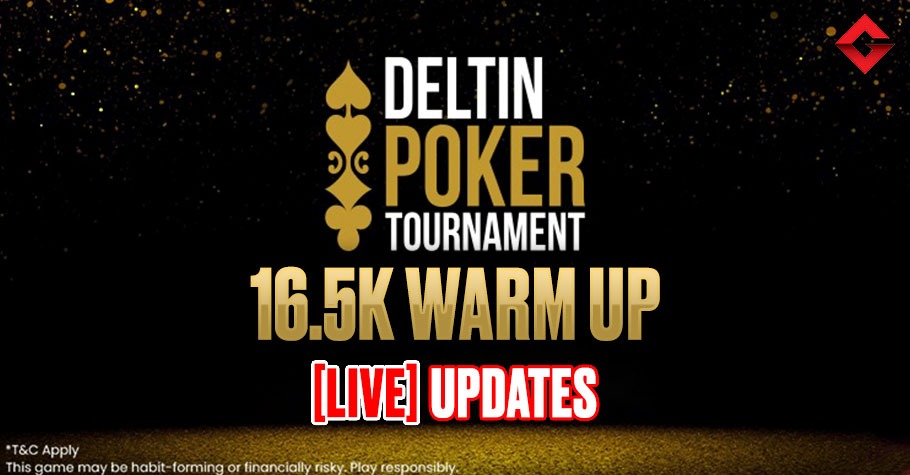 Poker
---
DPT November 2022 16.5K Warm Up: Live Updates
1: 40: Final table payouts
Alok Bhatt – ₹9,80,920

Bhavesh Mandalia – ₹6,94,862

Kaleem Pasha – ₹4,51,504

Hiren Ramani – ₹3,37,799

Bahar – ₹2,56,508

Leon Menezes – ₹2,56,508

Deepankur Gupta – ₹1,75,732

Gaurav Idnani – ₹1,42,804

Aditya Sarin – ₹1,10,390
01: 20: Alok Bhatt grabs victory with just one heads-up hand!
It only took one hand in the heads-up session for Bhavesh Mandalia to shove his tournament life with Q4s and his rival wasted no time in calling with Q8o. Not that Alok Bhatt had some golden hole cards by his side, credit should be given to Bhatt for making a call with a Q8 off-suited hand. When the community cards were revealed, both players hit a Queen-pair but Bhatt's higher kicker prevailed and he was ultimately crowned as the DPT Nov 2022 16.5K Warm Up champion. Bhatt took a pay cheque of ₹9,80,920 while the second place finisher grabbed ₹6,94,862 in prize money.
00: 25: Eliminations boil down the event to final two
Take a look at the recent eliminations at the DPT Nov 2022 16.5K Warm Up event which left Bhavesh Mandalia for a heads-up clash with Alok Bhatt.
Kaleem Pasha (3rd for ₹4,51,504

Hiren Ramani (4th for ₹3,37,799)

Bahar (5th for ₹2,56,508) 

Leon Menezes (6th for ₹2,56,508)

Deepankur Gupta (7th for ₹1,75,732)

Gaurav Idnani (8th for ₹1,42,804)

Aditya Sarin (9th for ₹1,10,390)
23: 45: We have our final nine players 
After a long and hard grind, the DPT Nov 2022 16.5K Warm Up event has its final table (FT) set with nine players. Take a look at our final table contenders. Online reg Deepankar Gupta is leading the FT.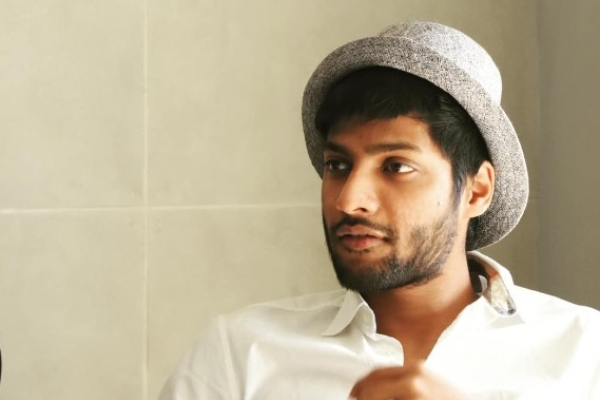 Deepankar Gupta – 13.55 Lakh

Bahar – 4.50 Lakh

Leon Menezes – 10.70 Lakh

Gaurav Idnani – 6.40 Lakh

Kaleem Pasha – 6.65 Lakh

Bhavesh Mandalia – 10.25 Lakh

Alok Bhatt – 3 Lakh

Aditya Sarin – 5.45 Lakh

Hiren Ramani – 3.10 Lakh
23: 00: Take a look at some recent eliminations
Vishal Ojha – 40th for ₹38,875

Naresh Veeravali – 39th for ₹38,875

Anmol Mehta – 36th for ₹42,991

Ritwik Khanna – 35th for ₹42,991

Gaurav Sood – 31st for ₹42,991

Avneesh Munjal – 27th for ₹47,621

Sanat Mehrotra – 24th for ₹52,252

Myron Pereira – 22nd for ₹52,252
22: 30: Rubin Labroo leaves with a pay cheque of  ₹56,882 for his 20th place finish
India Poker Championship (IPC) January 2020 champion Rubin Labroo took the exit route at the 20th spot for ₹56,882. This poker pro busted at Level 17 when Siddharth Jain when the former two pairs (JJ, 44) rendered useless by the latter's better two pairs (AA, 44).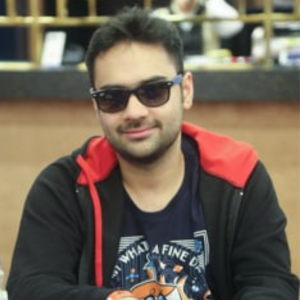 22: 00: Online reg Anmol Mehta eliminated in the 36th position for ₹42,991
On Level 16 when blinds were at 7.5K – 15K, ante 15K, Anmol Mehta went all-in with 75K with KJo
only to run into Leon Menezes' A9s. The community cards gave Menezes a straight which made sure Mehta was heading to the exit door.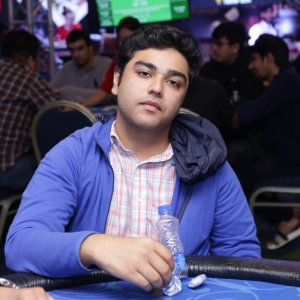 21: 15: Bad news for Puneet
After being the chip leader a few levels ago, its game over for Puneet Sachan as he bubbles the 16.5K Warm Up event. This poker player's Q7s ran into Leon Menezes' Fishhooks. The remaining 43 players will surely take a pay cheque home for their efforts. 
20: 50: Rajat Singla is out!
The eliminations follow one after the other and Rajat Singla was shown the door very close to the money bubble.
20:20: Puneet Sachan leading in chips
Only 75 players remain in the game. Puneet Sachan currently has the highest chip stack of 258K. He is followed by Kaleem Pasha with a 245K stack. Take a look at some of the top stacks.
Puneet Sachan – 258K

Kaleem Pasha – 245K

Ayush agarwal – 225K

Neil Sequeira – 230K

Deepankar gupta – 178K
19:50: Neil Eric Sequeira shows Sameer Agarwal the door
One of the well-known players from the Indian poker circuit, Sameer Agarwal is out of the Warm Up race. Another known name in the poker industry, Neil Eric Sequeira shown Agarwal the door when former's full house beat the latter's three of a kind.
19: 30: Check out the payouts
1st – ₹9,80,920

2nd – ₹6,94,862

3rd – ₹4,51,504

4th – ₹3,37,799

5th – ₹2,56,508

6th – ₹2,08,145

7th – ₹1,75,732

8th – ₹1,42,804

9th – ₹1,10,390

10th – 12th – ₹84,665

13th -15th – ₹71,288

16th – 18th – ₹63,056

19th – 21st – ₹56,882

22nd – 24th – ₹52,252

25th – 27th – ₹47,621

28th – 36th – ₹42,991

37th – 43rd – ₹38,875
17:45: Sanat Mehrotra leading in chip count
After the end of late registration, the players have gone on a short break. Pro player Sanat Mehrotra is leading the chip count with 120K chips at his disposal. Ayush Shukla follows with 101K chips. With the third highest stack is Adda52 Game Ambassador Kunal Patni with 89K. 
Sanat Mehrotra – 120K
Ayush Shukla – 101K
Kunal Patni – 89k
Muskan Sethi – 85k
Mitang Soni – 86.5k
Rachit Parihar – 79k
Akash Singh – 76k
Neil Sequeira – 75k
Pratibh Saluja – 75k
17:30: Late registration ends
The late registration period has finally ended with the end of Level 9. The event has officially recorded a total of 343 entries. 
16: 55: Ankita Ajay Malik is out
This female poker pro is out of the 16.5K Warm Up Warm Up event. The game is at Level 8 and the eliminations spree continues.
16:30: Rachit Parihar and Aditya Sarin among the chip leaders
Rachit Parihar – 79.4K

Mitang Song – 68.7K

Aditya Sarin – 64K

Sameer Agarwal- 63.3K

Archit – 60K

Shivam Shukla – 58K

Kaleem Pasha – 55.5K

Vishal Bajaj – 52K

Amit Kaushik – 50K
16:10: Shardul and Ankit showing some moves!
Shardul Parthasarathi and FTS 3.0 winner Ankit Wadhawan are making sure the live felts of Deltin Royale are witnessing some non-stop poker action. Parthasarathi's Instagram Story is proof that both the pros are going to showcase some incredible poker at the DPT Nov 2022.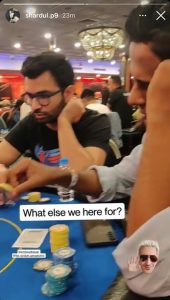 15:45: Ashish Ahuja and Faiz Alam ready to fire up!
Lawyer-turned-poker pro Ashish Ahuja and Faiz Alam are on the same table! This means folks present at the venue can expect some intense poker action. Do you think Ahuja and Alam can make it to the final table?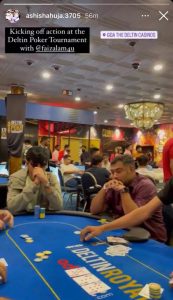 15:30: Harsh Dev out of the Warm Up race!
Poker player cum streamer Harsh Dev is eliminated from the 16.5K Warm Up Warm Up event. Dev shared an update on his Instagram handle wherein he posted how his AK lost to the Ladies. Take a look at Dev's update.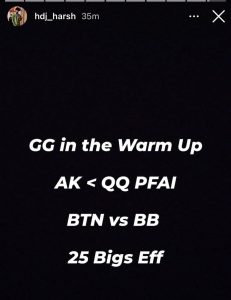 15:10: Laksh Pal Singh keeps you guessing
Our IOPC Jan 2021 winner shared an update on his Instagram Stories about his game at the 16.5K Warm Up Warm Up event. There's no way this poker pro is revealing what his hole cards are and is making sure his followers look forward to his next story.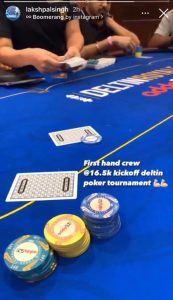 14:40: Radhika Shankar doing a Robbi Lew?
Who in the poker universe is unaware of the famous or the infamous J ♣ 4 ❤ hand? We don't know anyone like that. Our very own Radhika Shankar aka 'Poker Mom' has shared an image of her hole cards which happen to be J ♣ 4 ❤ . This picture looks like it is from one of the DPT Nov 2022 sattys. Shankar captioned it by saying, "All in." We don't know if she actually went ahead with that all-in call, but we surely know that J ♣ 4 ❤ is doing an impeccable Robbi Lew.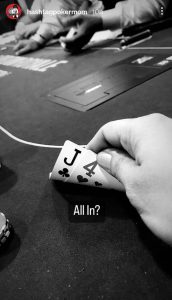 14:10: These pros are in Goa! Expect fireworks!
Apart from the names we've mentioned in our earlier updates, a few more pros are expected to join the felts. Who are they? Well, India Online Poker Championship (IOPC) Jan 2021 champ Laksh Pal Singh is in Goa. He shared an update on his Instagram handle about his breakfast scenes at Deltin Suites. Looks like this pro is all set for a fiery Day 1 at DPT Nov 2022. Another pro, Harsh Bubna also shared a picture of the city from his plane. Anish Arora is already in Goa and also played in the High Roller satty. Which pro are you looking out for?
13:45: Amit Kaushik joins the Warm Up action!
Online reg Amit Kaushik posted an update on his Instagram handle wherein he shared a glimpse of his stack. This poker pro grabbed headlines when he shipped a title at the Asian Poker Tour (APT) Summer Festival Hanoi 2022. kaushik won the Deep Stack Hyper Turbo event for VN₫ 50,645,000. Many from the circuit will be keeping a close eye on this pro who's a postgraduate in Applied Mathematics from IIT Roorkee.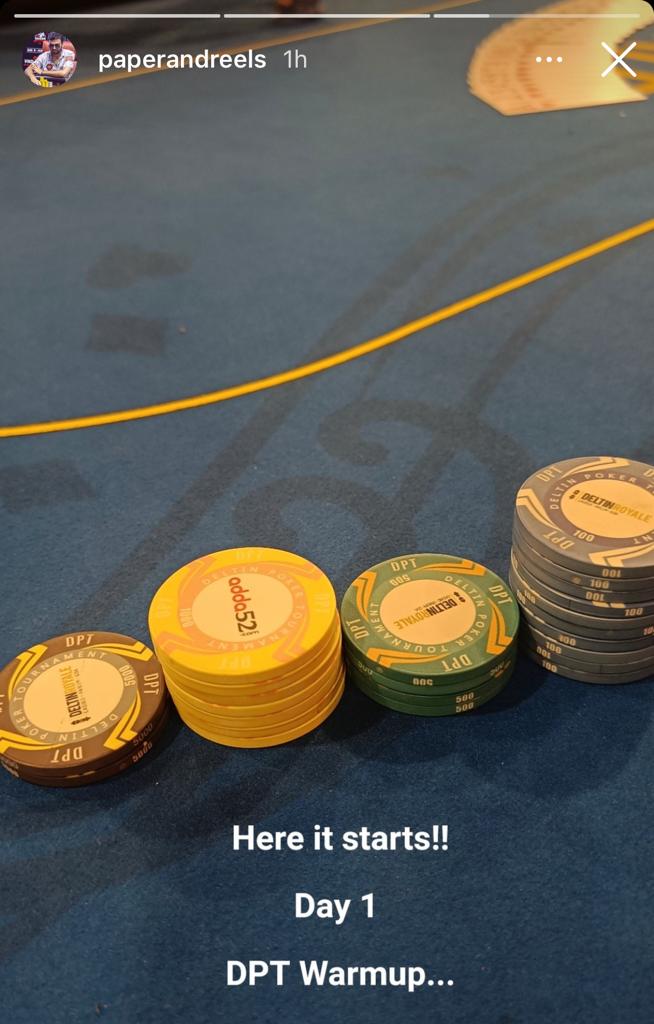 13:18: More players join the Warm Up event
Players like Gagandeep Malik, Ankita Ajay Malik, Meherzad Munsaf and Pranav Bagai mark their attendance at the DPT Nov 2022 16.5K Warm Up Warm Up event.
13:15: Harsh Dev shares an update from Warm Up event
The poker player cum streamer shared a picture of his stack from the 16.5K Warm Up event. The young chap is all excited about the event and is ready to battle it out alongside the pros of the Indian poker circuit.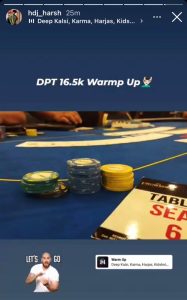 12:20: DPT Nov 2022 to begin shortly
The first event of the Deltin Poker Tournament (DPT) Nov 2022 will begin shortly. The Warm Up event is expected to pull in an exciting player field. Well-known pros from the Indian poker circuit like Shardul Parthasarathi, Abhishek Goindi, Kunal Patni and Nikita Luther will be grinding in this massively popular live series. In the meanwhile you can take a look at what the Adda52 Game Ambassador has to say about this highly anticipated event in Goa.
---
ALSO READ: What Is Kunal Patni Up To?
---
The most awaited Deltin Poker Tournament (DPT) November 2022 is all set to begin today at Deltin Royale casino in Goa. One of India's top poker platforms, Adda52, along with Deltin casino, will be hosting the tournament between the 8th to 14th of November 2022. With buy-ins ranging between ₹15,000 up to ₹1,10,000, and games in formats including No-limit Hold'em, Pot Limit Omaha and Bounty on schedule, this event has something for everyone. 
The last successful edition of DPT was held in April 2022 and attracted over 1,800 entries. The April edition saw Avadh Shah shipping the ₹11K Warm-up event for ₹5.16 Lakh, Aayush Arya nailing the ₹65K High Roller for ₹36.64 Lakh, and Amit Kaushik clinching the ₹15K Bounty title for ₹5.6 Lakh. On the other hand, the coveted Main Event was taken down by Sumit Lalchandani who pocketed ₹35.6 Lakh. The edition also featured three special tournaments namely ₹15K PLO Bounty, ₹15K Freeroll and the ₹10K Women's Special which were shipped by Tushar Bharti, Anant Purohit and Kanchan Sharma for ₹4.8 Lakh, ₹3.3 Lakh and ₹90K respectively. 
---
ALSO READ: Deltin Poker Tournament Is Coming This November!
---
Coming back to the November 2022 edition, the first event on the schedule is the ₹16.5K Warm Up tourney. The No-Limit Hold'em tourney will begin at 12 PM. Each player will get a starting stack of 20,000 chips for a buy-in of ₹16,500, of which ₹15,000 will go into the prize pool and ₹1,500 will be the tournament fee. This re-entry tournament will allow players to enter till the end of Level 9.  The tourney will follow a big blind ante format, and Level 1 will start with blinds 100/200, the big blind ante being 100. The tournament will last for a total of 30 Levels of 30 minutes each. The players will get a 15-minute break at the end of every 4-5 levels. At the end of Level 17, players will get a 20-minute dinner break. Check out our DPT Nov 2022 1.1L High Roller Live Updates.
For all the latest updates from the event delivered freshly to you stay tuned Gutshot Magazine. Follow us on our social handles Facebook, Twitter, Instagram, and Telegram.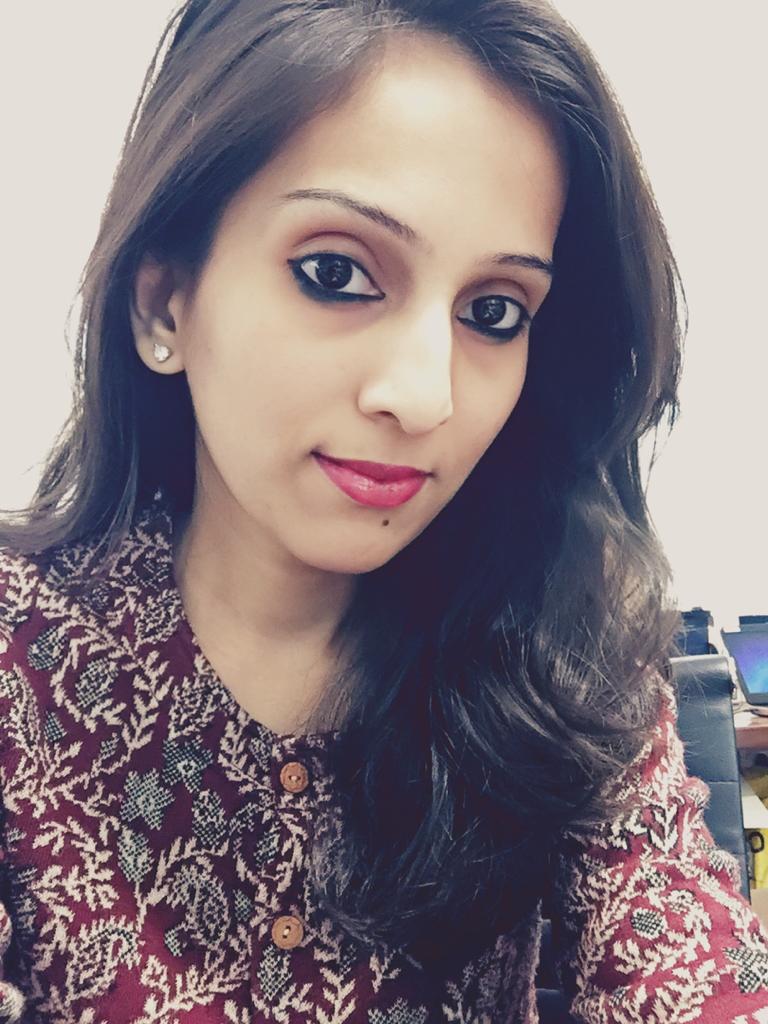 With a Masters Degree in Journalism and Communication, Mrinal Gujare currently is cruising through an exciting genre of writing and editing at Gutshot Magazine. Apart from being an Editor, Mrinal is an avid reader and a former contemporary dancer. She is also perennially hungry for intriguing scoops from across the globe. No holds barred is the rule Mrinal follows in life.
---
---
More News
---
Comments