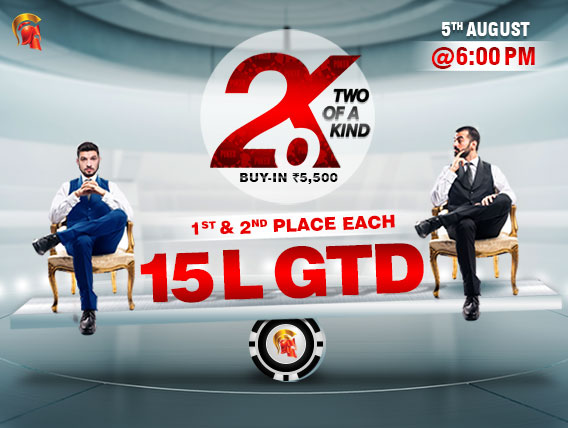 Poker
---
Don't miss out on August's 2.o.K on Spartan
The Spartan Poker has always been a company that introduces new products and innovations every now and then. Recently, they also launched three new tournament offerings, which is surely going to excite their loyal user base. However, innovation has been important for Spartan right from the beginning.
A huge example of their unique offerings is one of their signature tournaments called 'Two of a Kind' or just '2.o.K'. The tournament ensures that not one, but two players are paid out. Yes, the top two finishers of the tournament are paid out the same prize, and this tournament takes place monthly.
The tournament has a buy-in of INR 5,500 and takes place on the first Sunday of every month, which falls on 5th August this month. We're just a couple of days away from this popular tournament and the top poker players from around the country are already preparing to take part in this major tournament.
The major motivation to play in this tournament is that the top two players are paid out massive prizes of INR 15 lakh each. Yes, you heard that right. Spartan is giving you the chance to turn a small investment into a big prize, in a tournament where there isn't any discrimination between the top two and coming second is as good as coming first.
This month, the timing of the tournament has changed to 6pm IST and the company is also giving you the chance to get a free entry into this tournament. By depositing INR 25,000 and using the code '2KIND', you will receive a free entry to the tournament, but will have to hurry as just a few seats remain. Last month, popular Indian pro Shravan Chhabria won the 2.o.K tournament along with fellow winner 'fake news'.
GutshotMagazine.com will be back in a couple of days with a roundup of the popular 2.o.K tournament, with details of the tournament and interviews with the winners. So, stay tuned.
---
---
Comments