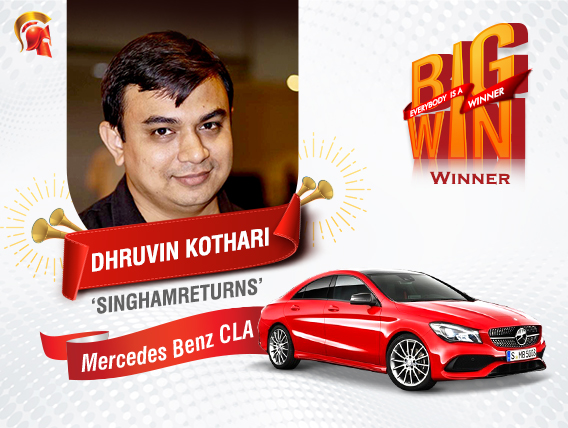 Poker
---
Dhruvin Kothari wins a Mercedes in Spartan's BigWin
The Spartan Poker, known for its tremendous tournament structures and massive promotions, had launched the BigWin promotion for the month of September. It was a month-long promotion in which players had to build VIP points and after a certain number, could redeem these points for exciting gifts and prizes. The top prize was a Mercedes Benz CLA (200 CDI style), which could be won by gathering a total of 3,50,000 VIP points. Rishab Jain was the first to accumulate the required points last week, redeeming it for his brand-new Mercedes Benz.
Dhruvin Kothari aka 'singhamreturns' was the second to do so as he too accumulated the required VIP points to redeem it for his new ride – a stunning Mercedes Benz. Having kicked off at the start of the month, BigWin grabbed a lot of attention from online poker players and Kothari too participated. The 32-year-old from Bhavnagar is an MBA and a Chartered Accountant and runs his own CA practice under the name of KMK & Associates LLP.
Dhruvin played high stake cash games ranging between 200/400 and 1k/2k in both formats, Texas Hold'em and Pot Limit Omaha. Having to balance between family life, work and poker, Dhruvin gave in most of his time at night. Playing mostly from his phone as he had travel plans for the month due to his business in the US, Kothari seemed to have dropped his average playing hours during his travel but was still able to play through his phone for a few hours a day.
Gutshot caught up with Kothari to ask him a few questions. We wanted to know how he got introduced to the game and when he started playing for real money. He said, "I started my poker journey when I was introduced by a family member around 2011. However then lost touch of the game. I first saw people playing live poker at Goa which really intrigued me towards the game. It was then that I decided to play online. I picked up the game in 2013 by joining PokerStars. I played a lot there. I have played live poker only a couple of times. Have played 3 live tournaments where I ended up winning one at Atlantic City ($215 buy-in), played one at Goa a couple of years ago and finished 9th, and the last one was at Goa – WPT Main Event where I finished 10th. So my live results have been very encouraging."
He also spoke about winning the top prize on Spartan's BigWin, saying, "Winning the Mercedes was one part of the whole thing. I am happy that I could achieve the same without losing my buy-in investment. To reach 3,50,000 one had to lose a rake of around Rs.50 Lakh. So actually, it was a very difficult challenge. I feel great that I could do it without losing the amount which I had deposited at the starting of the month. In fact, I ended up in a profit which gives me a greater joy. The Mercedes was definitely the big icing on the cake."
Q. What was the reaction of your friends/family when you told them you've won a Mercedes?
"My entire family is against me playing poker. So, I didn't tell them at the start of the month that I am participating. I used to play during office hours and more at night between 10pm and 2am when they were asleep. In fact, even I was not sure at all whether I would be able to go the distance because if I had lost my initial buy-in I would have left the contest halfway. I actually told them when I reached around 2 Lakh points when I felt that there was a realistic chance of me reaching 3.5 Lakh points. So, the initial reaction was of disbelief but then slowly they kept on checking my performance and then my wife Nisha and my Uncle got convinced that I could get it done. They encouraged me to go for it. The achievement made everyone really happy."
Q. Any tough competitor during the entire competition?
"I played several players which are considered to be big pros in the Indian poker circuit during the month. The same included 'Titumama' (Rishab Jain) – against whom I played the most and it was real fun. I played higher stakes against him which I don't usually play and was happy to survive him over the month. I am really happy for him to also complete the task and win the car. Other players included westworld123, lion king, confident fish, Championplayer etc. Don't know their names but was very happy I could survive against all of them."
Q. Your thoughts on the BigWin promotion and what, in your opinion, should be the next big prize?
"The BigWin promotion has been incredible. Pokerstars never came out with such promotions over the years. So, for The Spartan Poker to share more than 80% of the rake back to players is just amazing. Their user interface is fantastic, and they are by far the best online poker platform in the country by a very big margin. I suppose Spartan has already launched BigWin 2. I have gone through the prizes and they are really great. I hope they make it a quarterly or half yearly affair with higher targets and higher prizes as it is difficult to replicate my performance on a monthly basis as I am more of a recreational player rather than a professional. Moreover, with business and family commitments it becomes difficult to achieve such a lot of points and put in so many hours on monthly basis every month. A bimonthly or quarterly thing would be great."
He also discussed with us about his future plans in poker, saying, "There are no future plans as such. I won't be turning into a professional player. I like to be considered a fish on the table and play for recreation and fun. The winnings will come if I am good at the game. I will be playing online on Spartan as they are the best out there. Would be playing occasional tournaments both online and live. Rest will be concentrating on high stakes cash games which would be mostly online."
The upcoming BigWin 2 promotion has already started for the month of October and it's has even better rewards and prizes and top prize in it will be a brand new a Ford Mustang. Other prizes include Lexus ES, Land Rover, Ducati XDiavel, an international couple trip, and so much more. Keep reading GutshotMagazine.com for more updates.
Don't have an account on The Spartan Poker? Don't miss out on their bonuses, promotions, and guarantee-smashing tournaments. Sign-up now by clicking HERE.
---
---
Comments