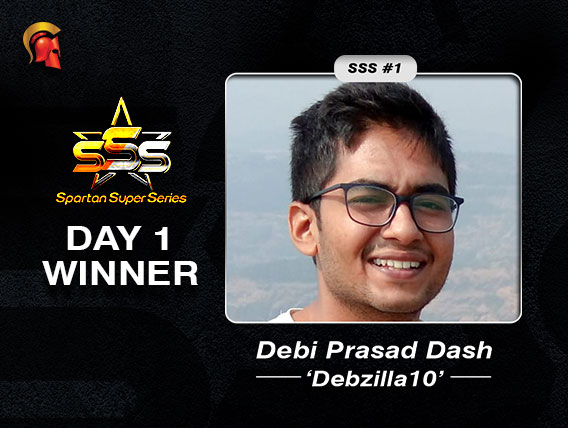 Poker
---
Debi Prasad Dash among winners on SSS Day 1
The Spartan Super Series (SSS) is back in action to host a weeklong series only on Spartan Poker. Always occupied with numerous participants, this series provides an opportunity for the mid/high stakes players to enter and win big. Yesterday concluded the initial day of the same. Read the complete summary of SSS Day 1…
SSS Event #1 80K GTD
The series began on a modest note with an INR 80K GTD. A total of 400 players signed up for the tournament, all chipping in the INR 220 buy-in amount. The first tournament crushed the guaranteed amount to create a new prize pool of INR 1.46 Lakhs to be paid among the top 39 receiving a min-cash of INR 790. The player of the day was Debi Prasad Dash, 'Debzilla10' emerging victoriously and taking home a fair amount INR 22,977 after he beat 'E-dawg' in heads-up to bag this title.
In Level #33 and blinds at 7,000/14,000 ante 1,400, 'Debzilla10' (Jh Jd) entered the final hand with a larger stack of 1.6 million against 'E-dawg' (As Ts) with 344k chips. The board opens 9d 3d 9s Qs 2d, and the former holding two pairs of jacks and nines sent his opponent to the runner-up position.
SSS Event #2 Afternoon Showdown INR 4 Lakhs GTD
The afternoon event on Spartan Poker began with a buy-in of INR 2,200 and a decent number of 214 entries registered. A prize pool of INR 4.28 Lakhs was drawn to be shared among the top 17 players with a minimum amount of INR 6,719. The tournament saw the rise of 'Tonyslark' winning the night and making an addition to his poker bankroll. 'ASH1578' was titled the runner-up for the event. The showdown saw 'Tonyslark' ending the tournament with a flush while the opponent hoped to excel with a straight.
SSS Event #3 Afternoon Hi-Fi INR 3 Lakhs GTD
The third tournament of the day registered 330 players who entered for a buy-in of INR 1,100. The guaranteed amount was slightly crushed, and a new prize pool of INR 3.30 Lakhs was drawn to be shared among the top 24 players, each receiving a min-cash of INR 3,300. The champion 'ReshadBangdo' took home an enormous amount along with the title after beating 'adshark1' in heads-up.
In the final hand of the tournament, 3 players enter with 'adshark1' (Qs 8d) carrying the largest stack of 1.12 million followed by 'ReshadBangdo' (9c As) with 1.02 million chips and Arjanveer Chadha aka 'bazzingaa' (Qc Jd) with 323k chips. 'adshark1' without taking any further step immediately folds. The board opens 4c Ac 4s 3s 8h, with 'ReshadBangdo' holding two pairs of Aces and fours triumphs the competition.
SSS Event #4 INR 2 Lakhs GTD
Yesterday's tournament crowned player 'madnutscrazy' as the winner topping a massive field of 334 unique players. The tournament demanded a buy-in of INR 660 and only 27 people received a paycheck shared among the top from the prize pool of INR 2,00,400. 'madnutscrazy' won the title after beating 'ddtheking' in heads-up. Both players settle for a deal with 'madnutscrazy' carrying a larger stack wins and collect from the pot.
SSS Event #5 ReCharge INR 14 Lakhs GTD
This event was a featured tournament for Monday and saw a massive field of 644, each chipping in for the biggest tournament and its buy-in of INR 2,200. The prize pool was distributed among the top 55 spots receiving a minimum amount of INR 6,860. The top prize was won by 'BatteryDead' bagging prize after beating 'BollywoodNight' with two pairs of aces and tens. 'BollywoodNight' eventually settled for the runner-up position.
SSS Event #6 Hi-Fi INR 8 Lakhs GTD
The day ended with the last event being Hi-Fi INR 8 Lakhs GTD tournament. A total of 538 players entered, each paying INR 1,650 buy-in. The guarantee slightly surpassed, creating a prize pool that is to be shared among the top 45 places with a min-cash of INR 4,438. The tournament was excelled by 'bluffpolice' who grabbed the title after beating Anirban Das aka 'pokernooob', a frequent player on Spartan Poker in heads-up. In the final hand, 'bluffpolice' (9c 6c) won with three sixes on a board of Js Qd 6h Ah 6d, while Das (Jh Ad) held single pair of Aces and Jacks.
For latest updates on the current poker news and tournaments around the world, keep reading GutshotMagazine.com and stay tuned!
Check out our online poker rooms section, where you can read reviews on the biggest and best poker rooms in the country, while also taking advantage of their bonuses and promotions. Check out these top poker rooms HERE.
---
---
Comments