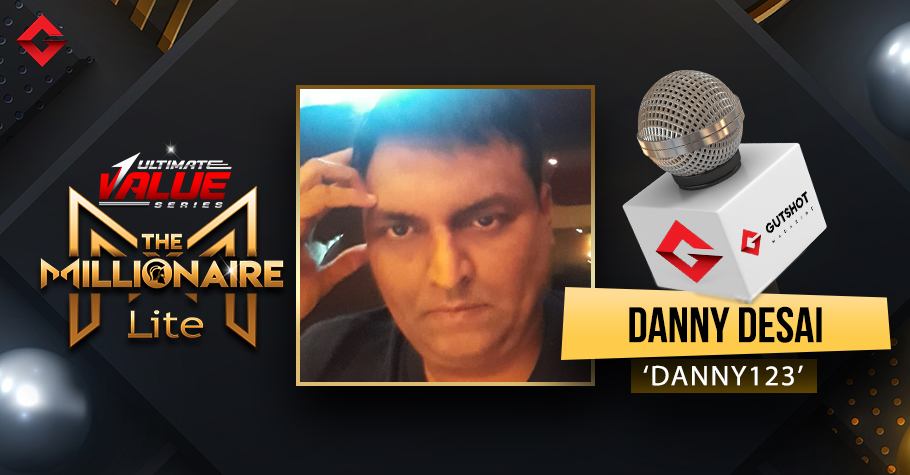 Poker
---
Danny Desai on his latest UVS Millionaire Lite victory
Spartan Poker is always leading the charge when it comes to innovative designs and latest offerings. The April month on the platform was dedicated to several Millionaires and it all ended with the UVS Millionaire Lite! The 7-day Ultimate Value Series (UVS) kicked off on 20 April assuring INR 1+ Cr GTD. Lining up a number of tournaments with buy-ins ranging between INR 110 to as high as 1 million to the first place.
Playing under the username 'danny123', Danny Desai could not sleep that night after taking down the UVS #48 Millionaire Lite INR 35 Lakhs GTD. The one-day multi-flight tournament pulled out 3,446 entries enough to smash the guarantee and create a juicy INR 51.69 Lakhs in prize pool. Only 231 survivors started off Day 2 and as the night progressed, we eventually had Desai clinching on to his biggest ever win and a 7-digit score! The champion outlasted the 2019 IPC 10K Freezeout winner Siddharth Mundada aka 'Sidddhu' in heads-up with his TT77.
Born in Gujarat, currently living in Mumbai, Desai is a computer engineer and an amateur poker player who loves grinding online. The 44-year-old entered the poker world after watching James Bond Casino Royale movie. Fascinated by the game of poker, Desai also made an appearance in the 2019 India Poker Championship (IPC) in Goa.
Quite recently, Desai also added the Spartan's SSS Destiny Junior title to his poker CV. And Gutshot caught up with the latest Millionaire who spoke about his fantastic Sunday run and how it feels to be crowned the Millionaire on Spartan Poker. So, keep reading…
 Hi Danny, congratulations on your victory. So, how does it feel to be crowned the Spartan Millionaire?
"I cannot describe this feeling! It was a big tournament and I'm so proud to win it. You will not believe after winning at 4 am I hardly could sleep the entire time. I still don't know how to react!"
Can you share some interesting hands that you played in the tournament?
"Prior to the Millionaire, I cashed in several tourneys and ended up in between 15th to 20th position. Coming to Millionaire, when I started the tournament, I thought it was a short one, but I kept my count, somewhere around 3,000 entries eventually led to only 231 players progressing to Day 2. My strategy was quite simple. I planned on making it to the top 50 and if that happens, I wanted to give my best shot. So, I decided not to play aggressively and go with the flow. I guess, thrice in the tournament I held a strong position, faced bad beats but somehow managed to battle it out and survive the night. Guess what? I am elated!"

How was the pressure on the final table? Also, you were playing against winner of 2019 IPC 10K Freezeout Siddharth Mundada in heads-up. Tell us about your strategy for the heads-up match?
"I guess I was in the second or third position and I had Ace King. I raised and my opponent went all in with Queens and I took the risk of calling that hand. I would have lost and slipped all the way down to 7th position or so. Fortunately, I won that hand and thereafter I was leading in chips."
"Talking about heads-up with Siddharth Mundada, I remember he was playing a bit aggressively and I made up my mind to play accordingly. Mundada kept raising in every game and at one point I was with pocket 10s and he raised with his 25 percent stake. I went all in thereafter and so did he with Ace Ten and the board displayed 67K87. That's how I became a Millionaire!"
Let's talk about your poker life. When and how did you discover this game?
"Back in the year 2000, I along with my friends used to play 3 patti. And the card game kept fascinating me each time. Eventually in the year 2010 I discovered poker and I have been playing since then. I met Saumil Shah who eventually became a dear friend of mine and we started spending several hours playing poker. And now, every two months, I make sure to visit Big Daddy in Goa."
What do you think about the various offerings of Spartan Poker?
"A few years back, I asked one of my friends to suggest the best application to play poker and he recommended me Spartan and since then I have been playing on this platform. After several ITM finishes I finally won last month's Destiny Junior, so, that really boosted my confidence."
How has COVID-19 affected your poker routine? Has this given you more time for poker?
"The recent COVID-19 outbreak has certainly given me plenty of time. I love spending time around my family and of course poker. There's a right saying, "when life gives you lemon make a lemonade" and that's what I have been doing."
Who are the international poker players that you look up to?
"They have always been Tom Hanks and Daniel Negreanu."
So, you are a millionaire now, any plans for this prize money?
"Now this is a tough one! Right now, I guess I will be looking forward to playing more tournaments with less worries!"
Stay tuned to GutshotMagazine.com for latest updates on online poker tournaments in the country.

---
---
Comments